5 Questions With...
1.12.2021
5 Questions With... Mike & Lara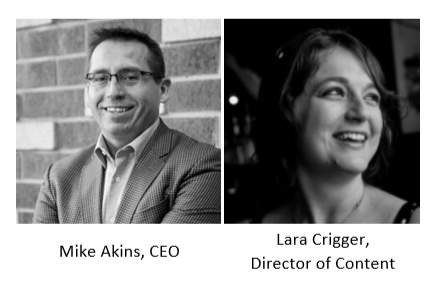 Kicking off our 2021 webinar series are Mike Akins, one of the three founding members of ETF Action, and new team member Lara Crigger.
Mike is the CEO of ETF Action. Prior to co-founding the company, he served as SVP, Head of ETFs for ALPS Advisors, where he oversaw all aspects of the firm's $15 billion ETF suite. Mike also has held management positions in product development, research & analytics, risk management, and more for ALPS, UMB and State Street Global Advisors.
Lara is ETF Action's new Director of Content and Editor-In-Chief. In these roles, she oversees the platform's content strategy and direction, including the newsletters, reports, webinars and more. Previously, she spent 15 years as a financial journalist, most recently serving as Senior Staff Writer at ETF.com.
In this relaxed, get-to-know-you session, Mike and Lara will highlight ETF Action's past, present and future of ETF Action, including a sneak peek at what new functionalities subscribers can expect in Q1 and beyond.
1. Mike, tell us how you, Alex and Brian got the idea for ETF Action.
Back at ALPS, we kept meeting advisors who thought of ETFs not as an asset class, or as investment vehicles per se, but as stories. They thought in terms of themes, ideas, convictions.
Nowadays, ETFs map the market so well that with a touch of a button, you can find, say, the top value stocks, or the top clean energy stocks. Meaning, you can use ETFs as a lens on the market, focusing all that noise down into just the themes, risks, ideas—the stories—that matter most to you.
So it was really our clients who helped us realize that ETFs were in fact a massive idea factory, just waiting to be exploited by financial professionals with the right, easy-to-use tools. As financial professionals ourselves, we realized we already had a good idea of what those tools should look like—and that it would be up to us to build them.
2. Lara, why did you leave journalism to join a fintech start-up?
Honestly, it's because I'm a huge nerd. [laughs] I have always loved numbers, data, visualizations. The way to my heart is through a good chart. That's probably why I gravitated to finance as a beat in the first place.
The first time I came across the ETF Action platform, I was blown away by how simple and easy it was to use to answer even the trickiest data questions I had when researching articles. Data points I'd usually have to calculate by hand—such as the percentage portfolio overlap between two or three ETFs—I now could access in seconds, at the literal click of a button.
I was hooked. When the opportunity arose to help spread the word about ETF Action, I leapt at the chance.
3. Mike, how has your vision of what ETF Action could be evolved since you first started the company?
The fintech element was a surprise! Mapping the extraordinary growth in the ETF market, and leveraging ETF transparency to create actionable research -- that was always at the core of our business model. But originally, we thought we'd be creating a lot more repeatable data/chart packs that folks could subscribe to, as compared to a fully automated fintech platform.
A big hat tip goes to Brian, who told us early on, "If you can think it, I can code it." While I'm certain that some days he regrets making that statement, anyone who's been on our site knows that he wasn't kidding!

4. What Q1 update to the site are you most looking forward to?
Lara: The update I was most looking forward to has already begun to roll out: the Morning Focus newsletter! (Sign up using the form here.) Looking ahead, the thing I'm most excited about next is our new webinar series. We've been working hard on lining up just some awesome guests and topics over the next few weeks. I almost wish I wasn't in charge of moderating them, so I could just sit and watch!
Mike: In its current form, ETF Action offers access to institutional-level data and tools, via a user-friendly web portal. But in the coming weeks and months, we're going to roll out a wealth of new data and research reporting capabilities, including on-demand playbooks, macroeconomic dashboards, and our ETF All-Star Lists (you are not going to want to miss these!).
Subscribers can already download some of these right now, but Alex has been hard at work ensuring that very soon, you'll be able to customize and integrate these reports right into your own investment workflows. That's what I'm most excited about—making all that powerful data come to life.
5. What is something that most people don't know about you?
Mike: Once upon a time, I was pretty good at golf. I actually went to college on a golf scholarship. Unfortunately for my Phil Mickelson dreams, I wasn't that good: I was a scratch golfer, which is a dime a dozen in the college world. Real golfers are about plus 5 or better. Ah well.
Lara: As long as we're talking about our athletic might-have-beens, most folks don't know that I used to be a semi-pro dancer. I was part of a small, local troupe that did gigs mostly at festivals and such, though we did perform once at a car manufacturing plant—my fleeting taste of the big leagues!
"A Fireside Chat With ETF Action" will take place January 13, 2021 at 12:00 PM Eastern/10:00 AM Mountain. Register for the webinar here.