Performance (as of 5/20/2021)
Index First Value Date is Dec 31 2016. The index Launch Date is Jun 11 2021. All information for an index prior to its Launch Date is hypothetical back-tested, not actual performance, based on the index methodology in effect on the Launch Date. Index performance calculated by Indxx. Past performance is no guarantee of future performance. Investors cannot invest directly in an index.
*Since Common Inception Date
Establishing a consensus for Thematic Investing.
The ETF All-Stars Thematic Indexes are the first ever suite of indexes harnessing the growth and transparency of thematic ETFs to establish a consensus view on which companies best align with popular investment themes based on publicly available ETF ownership data.
Potential advantages of the ETF All Stars Thematic Indexes include:
Access to a diversified basket of companies most widely owned by thematic ETFs.


Indexes are built using an objective methodology that follows a transparent and repeatable rules based process.


Indexes dynamically adapt to ever changing ETF landscape (new launches and closures) and investor sentiment (ETF flows).
---
Portfolio Insights
ETF All-Stars: Online Retail
5.5.2021
Top 10 Online Retail Stocks
By and large online retailers have outperformed traditional brick and mortar retail over the last several years as technology adoption has increased, particularly amid the pandemic. Then came February 2021. Yes, the world was continuing to open up in February but we began to see the upward trend in yields which effectively compressed stretched valuation multiples on a number of tech focused strategies. Today we look at what those strategies look like and what companies they hold.
While there are only a few ETFs that cover the space, it is growing quickly in assets and may stand to benefit from the strong secular trend still. Hence, we explore the ETFs and the companies that make up ETF All-Stars Online Retail Select Top 10 List.
Let's begin by looking at the current Online Retail ETF landscape...keep in mind, we only are looking at ETFs that are globally focused and not country or region specific ETFs (ie: China consumer ETFs).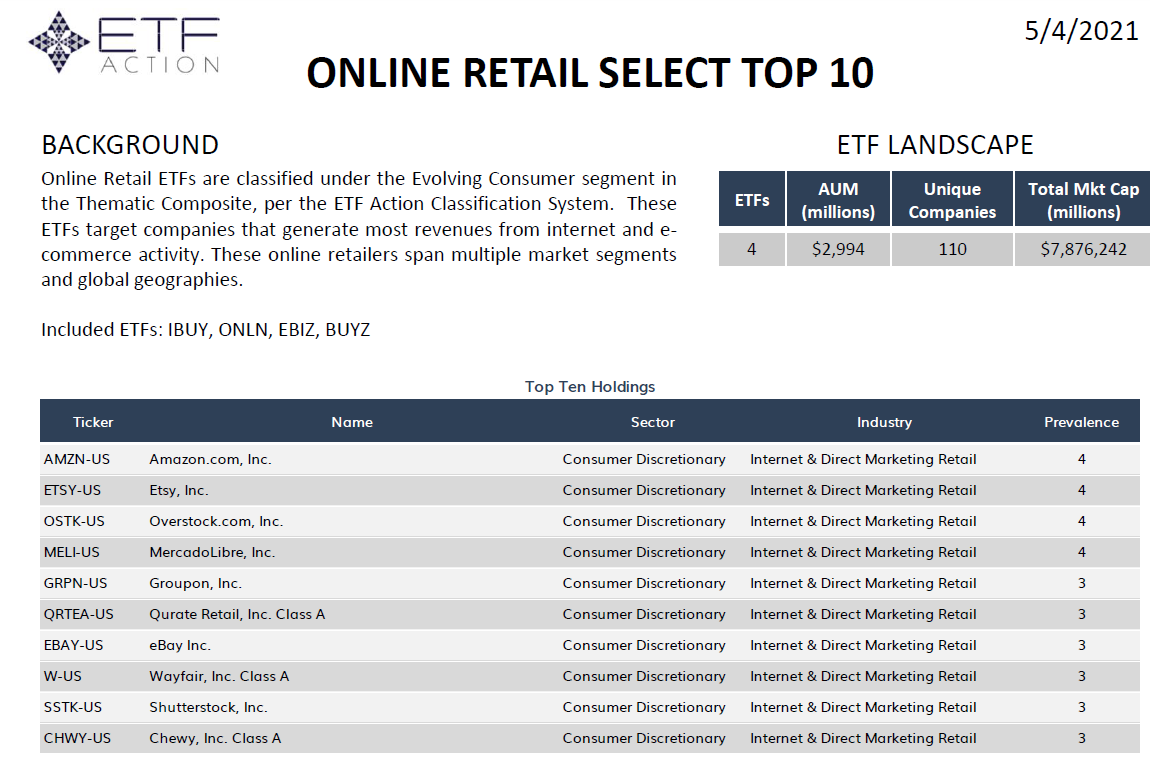 ETF All-Stars: Advanced Materials
4.14.2021
Top 10 Advanced Materials Stocks: A Great Place To Start Upstream
Over the last several weeks we have discussed the potential multi-trillion dollar infrastructure bill in the works in Washington and the impact that may have for investments in 5G/Connectivity and NextGen Transportation. The Biden administration has already come out and said it plans to jump start the electrification of America's roads by offering nationwide charging station infrastructure, tax incentives for electric vehicle buyers, and money to boost domestic supply of materials. That's exactly why this week we thought we would look further upstream from the NextGen Transportation segment into Advanced Materials.
While there are only a few ETFs that cover the space, it is growing quickly in assets and may stand to benefit from strong battery demand over the next decade and onward. Hence, we explore the companies that make up ETF All-Stars® Advanced Materials Select Top 10 List.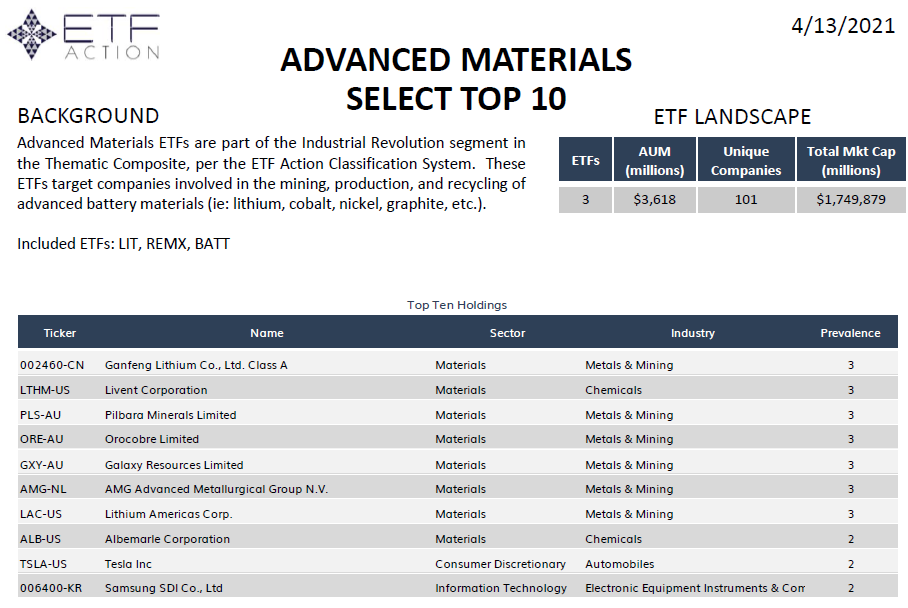 ETF All-Stars: The Security Selection Paradox
4.7.2021
What Kind Of Company Is Tesla?
How do you classify Tesla within a classification system? According to GICS classification, Tesla falls within the automobile industry in the consumer discretionary sector. But what else is it? Is it a clean energy company because it is the posterchild for creating a network of vehicles that reduces carbon emissions? Or is it a robotics & AI company because most of its production lines are automated…by robots?
Or is it an advanced materials company because it is exploring and developing new battery technologies? I could go on and on but the point here is that when it comes to thematic investing, classifying companies into specific buckets can be difficult.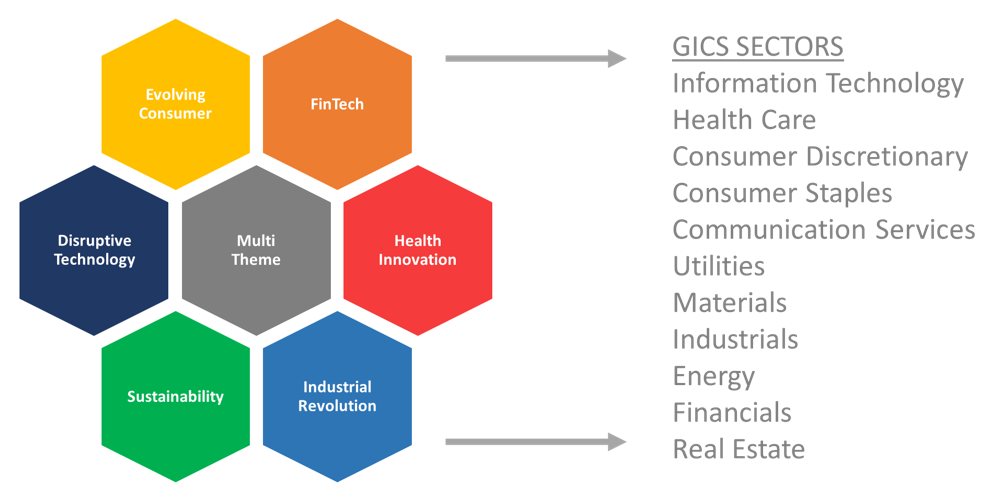 This leads to the problem in thematic investing that we here at ETF Action call the Security Selection Paradox. Growth in thematic investing has been nothing short of explosive over the past several years and the Security Selection Paradox is the expectation that ETFs with similarly stated investment objectives that aim to capture the same narrow thematic segment will have a high overlap in common holdings. However, oftentimes this does not hold true across the thematic ETF landscape. This leaves investors with choices that don't necessarily align with their true investment objective. Let's explore…
ETF All-Stars: NextGen Transportation
3.31.2021
Top 10 NextGen Transportation Stocks:
Infrastructure Part Deux
Last week we discussed the new administration's desire to pass a massive infrastructure bill with not only a focus on upgrading roads, bridges, and waterways, but also digital infrastructure and clean energy initiatives. That led to our highlighting of the 5G/Connectivity All-Star Select 10 stocks.
In the multi-trillion Dollar plan, details out this week show a $174 billion plan to jumpstart development and adoption of electric vehicles. This includes incentives for building out a nationwide charging infrastructure, tax incentives for EV buyers, and money to boost domestic supply of materials needed and factory updates. Tesla has long been the posterchild for the electric vehicle revolution but a closer look at NextGen Transportation ETFs shows other companies that are also common among these strategies. That's why this week we felt it appropriate to highlight the ETF All-Stars® NextGen Transportation Select Top 10 List.

ETF All-Stars: 5G/Connectivity
3.24.2021
Top 10 5G/Connectivity Stocks:
3 Trillion Reasons To Be Interested
Interested in infrastructure buildout? The new administration is. The need for new domestic infrastructure has long been a topic of discussion among lawmakers on both sides of the aisle but hasn't been fulfilled. Enter a new administration that has its sights set on a massive infrastructure bill (currently rumored at $3 trillion) with a focus on not only upgrading roads, bridges, waterways and alike; but also digital infrastructure and clean energy initiatives. The new administration is focusing less on trying to slow others down (ie: China) and more on speeding us up via a digital infrastructure overhaul.

With a robust macro backdrop, where does that leave the investment action? We look to the 5G/Connectivity investment landscape for potential opportunity this week as we highlight the ETF All-Stars® Connectivity Select Top 10 List.
ETF All-Stars
3.18.2021
Top 10 Water Stocks:
The Overlooked Sustainability Investment
Water is the Rodney Dangerfield of ESG: It just don't get no respect.
As one of the oldest thematic plays in the ETF industry, water ETFs have been available for more than 15 years; in fact, of the five water ETFs on the market, only one even launched this decade. Yet for most of that time, the total invested assets in water ETFs have remained small and stable, even as other sustainability plays—namely, clean energy—began to pick up flows, especially over the past 12 months: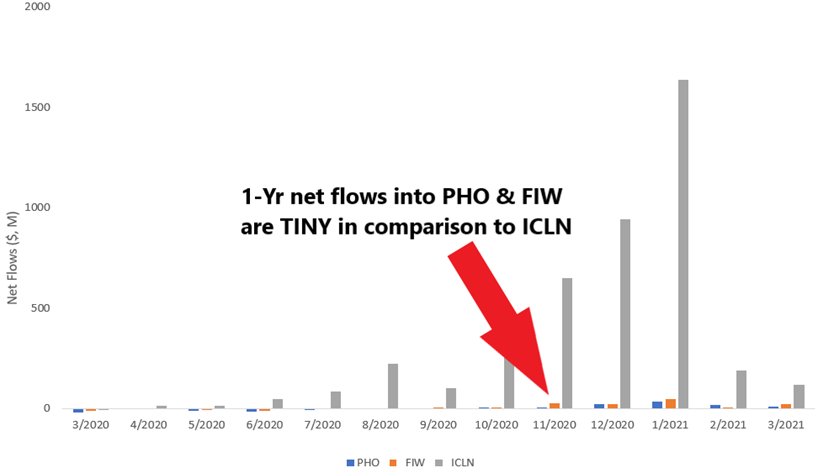 Arguably, though, water is the more pressing sustainability investment. All the wind turbines and solar farms in the world do no good, if the people using them don't have easy, cheap access to clean water. Which is why this week, we're highlighting the stocks in our ETF All-Stars® Water Select Top 10 List.
ETF All-Stars
3.11.2021
The Top 10 Cybersecurity Stocks
Finding The Cream Of The Crop
Earlier this month, hackers from the state-sponsored Chinese hacking group Hafnium broke into Microsoft Exchange email servers, breaching accounts for as many as 60,000 customers around the world, including the European Banking Authority.
It's the latest in a slew of high-profile attacks over the past few years, a trend only exacerbated by the onslaught of remote work. Last year's victims ranged from Carnival Cruise Lines to Facebook, from T-Mobile to the government of Polk County, Florida.
Data protection has never been more important. We've seen accelerating expansion in the burgeoning cybersecurity sector, and there are now hundreds of companies offering products and service to combat this growing threat.
Yet despite the massive growth that has already taken place, the ETF All-Stars® prove there's still plenty of room left to grow.

ETF All-Stars
3.4.2021
Top 10 Cloud Computing Stocks:
A Theme Matures
Probably no industry or subsector was better suited for a global pandemic than cloud computing. The sudden and complete shift to remote work and learning left employers, teachers, consultants, everyone scrambling to find ways to collaborate and connect virtually.
As a result, cloud computing stocks—and the ETFs tracking them—went through the roof. Over the past year, all four cloud computing ETFs have posted double-digit returns, ranging from 54% for the Wedbush ETFMG Global Cloud Technology ETF (IVES) to 94% for the WisdomTree Cloud Computing ETF (WCLD).
There's clearly significant difference in how the four cloud computing funds classify as a "cloud computing" stock, But for the moment, let's set aside those differences, and instead look for where the consensus lies.

ETF All-Stars
2.25.2021
Top 10 Space Stocks:
Space Stocks Take Off On New ETF Filing
On January 13, the issuer behind the $26.6 billion ARK Innovation ETF (ARKK) and the $12.0 billion ARK Genomic Revolution ETF (ARKG) registered to launch its next fund: the ARK Space Exploration ETF (ARKX).
The fund won't launch for a while yet. But in the weeks since ARKX's filing, share prices for the purest-play space stocks have shot up. Year-to-date, broadband satellite makers ViaSat (VSAT), Loral Space & Communications Inc (LORL), and Gilat Satellite Networks (GILT) have risen 64%, 105%, and 135%, respectively; while commercial spaceflight company Virgin Galactic (SPCE) is up 86%.
We take a look at the ETF All-Stars Space Select Top 10 for context clues aobut what names the new fund might hold.

ETF All-Stars: Blockchain
2.18.2021
Top 10 Blockchain Stocks: Blockchain Goes Mainstream
In just a few short years, blockchain has grown up, moving from pie-in-the-sky idea to mainstream tech. Far from the start-ups that dominated the space when the first U.S. blockchain ETF launched in 2018, our ETF All-Stars® Blockchain Select Top 10 List reveals a diverse set of large caps with institutional knowledge now throwing their weight behind the transformative technology.