ETF All-Stars: Online Retail
5.5.2021
Top 10 Online Retail Stocks
By and large online retailers have outperformed traditional brick and mortar retail over the last several years as technology adoption has increased, particularly amid the pandemic. Then came February 2021. Yes, the world was continuing to open up in February but we began to see the upward trend in yields which effectively compressed stretched valuation multiples on a number of tech focused strategies. Today we look at what those strategies look like and what companies they hold.
While there are only a few ETFs that cover the space, it is growing quickly in assets and may stand to benefit from the strong secular trend still. Hence, we explore the ETFs and the companies that make up ETF All-Stars Online Retail Select Top 10 List.
Let's begin by looking at the current Online Retail ETF landscape...keep in mind, we only are looking at ETFs that are globally focused and not country or region specific ETFs (ie: China consumer ETFs).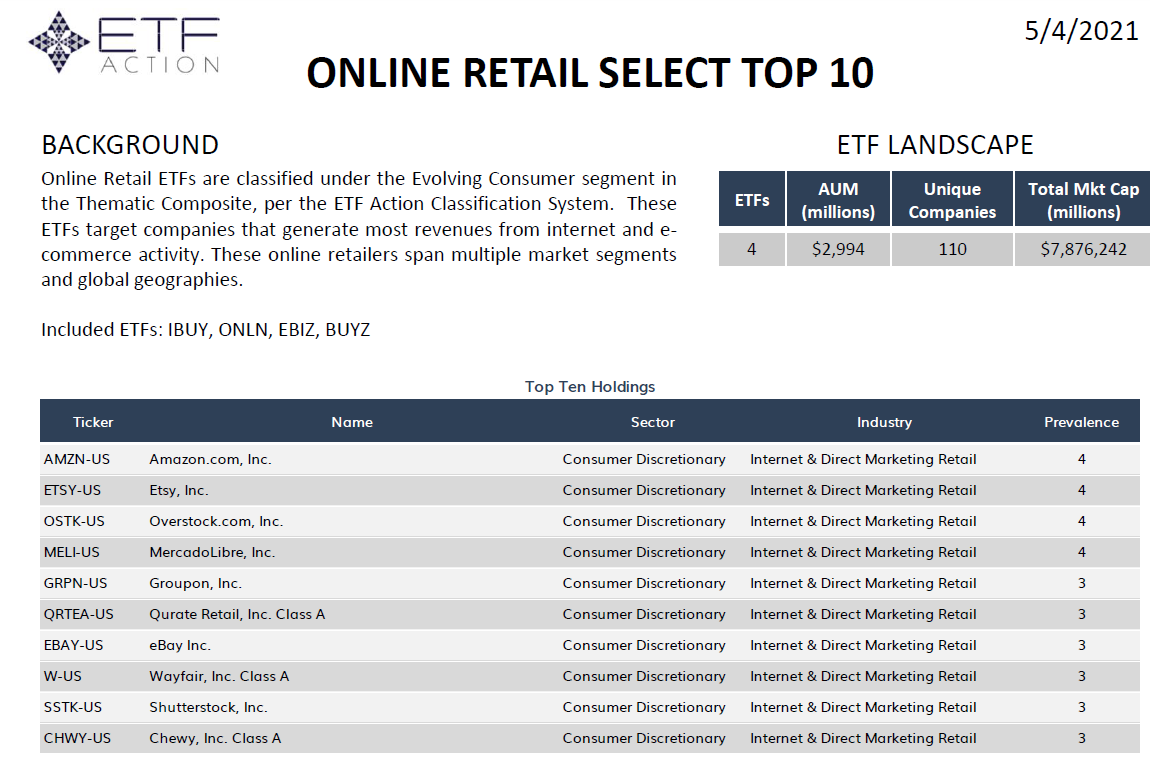 Lower Multiples, More Value: Rebalancing U.S. Factor AIM Portfolio
4.19.2021
Since the last rebalance in November, the U.S. Factor AIM Portfolio has returned 20.31%, outpacing the S&P 500 by nearly 300 basis points. The rebalance across all of the AIM portfolios in November was specific to positioning for a cyclical recovery which proved to be beneficial. While we believe the cyclical recovery is still underway, this week's rebalance is focused specifically on three things:
Lowering the portfolio valuation multiple
Increasing value characteristics to stay aligned with ongoing cyclical recovery
Increased financials exposure and size tilt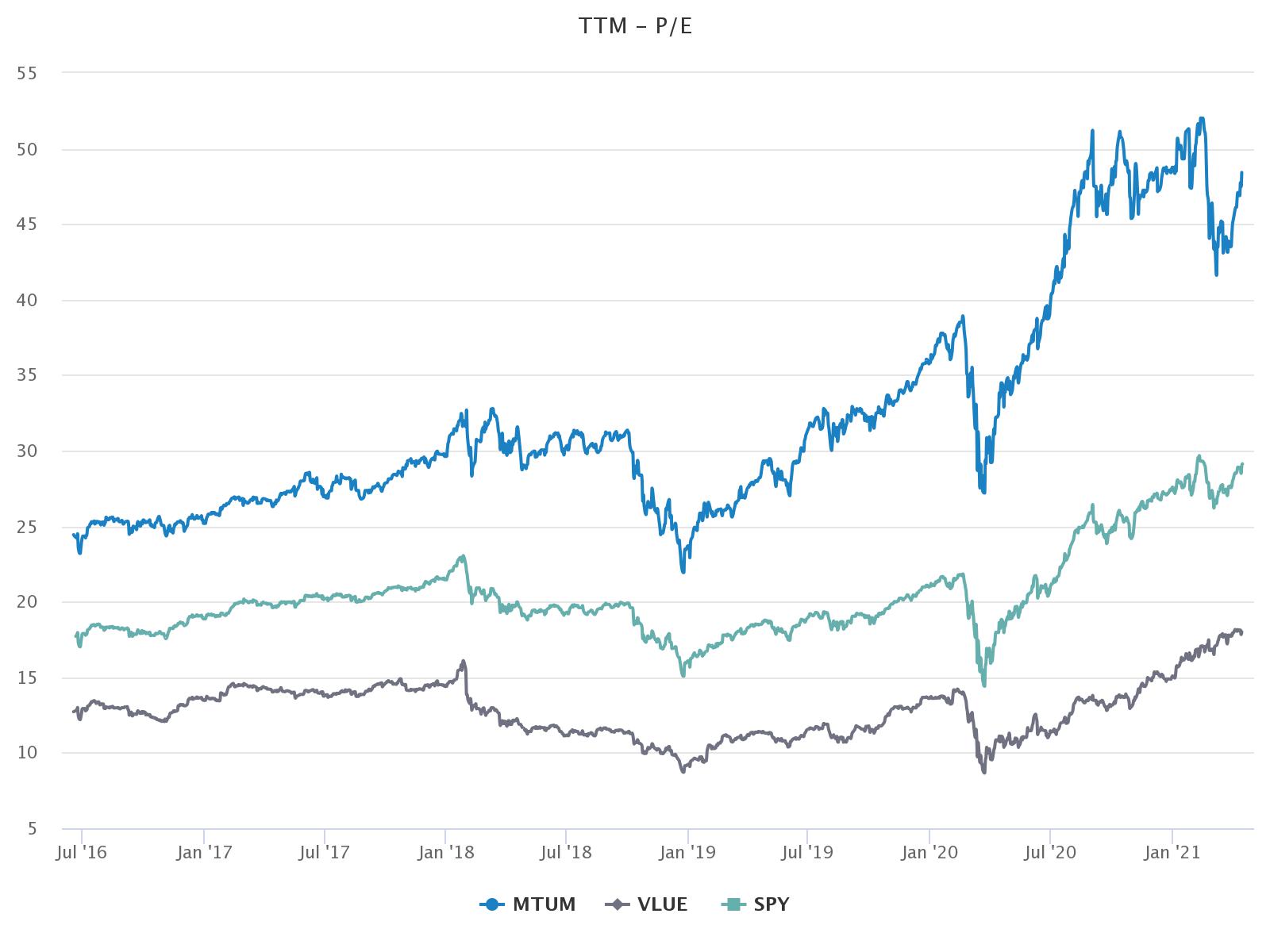 ETF All-Stars: Advanced Materials
4.14.2021
Top 10 Advanced Materials Stocks: A Great Place To Start Upstream
Over the last several weeks we have discussed the potential multi-trillion dollar infrastructure bill in the works in Washington and the impact that may have for investments in 5G/Connectivity and NextGen Transportation. The Biden administration has already come out and said it plans to jump start the electrification of America's roads by offering nationwide charging station infrastructure, tax incentives for electric vehicle buyers, and money to boost domestic supply of materials. That's exactly why this week we thought we would look further upstream from the NextGen Transportation segment into Advanced Materials.
While there are only a few ETFs that cover the space, it is growing quickly in assets and may stand to benefit from strong battery demand over the next decade and onward. Hence, we explore the companies that make up ETF All-Stars® Advanced Materials Select Top 10 List.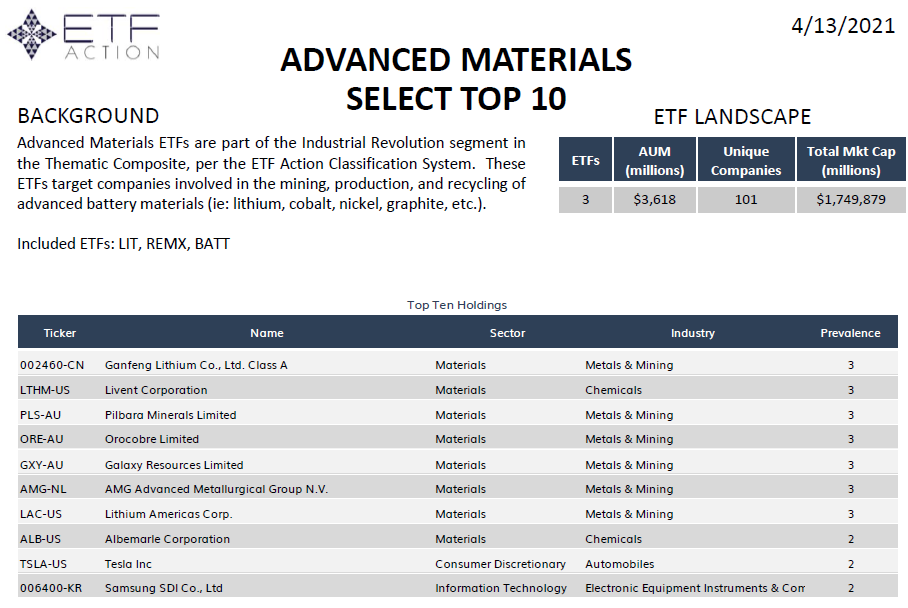 Monday Morning QB - April 12 Preview
4.12.2021
Short preview of this week's Monday Morning QB: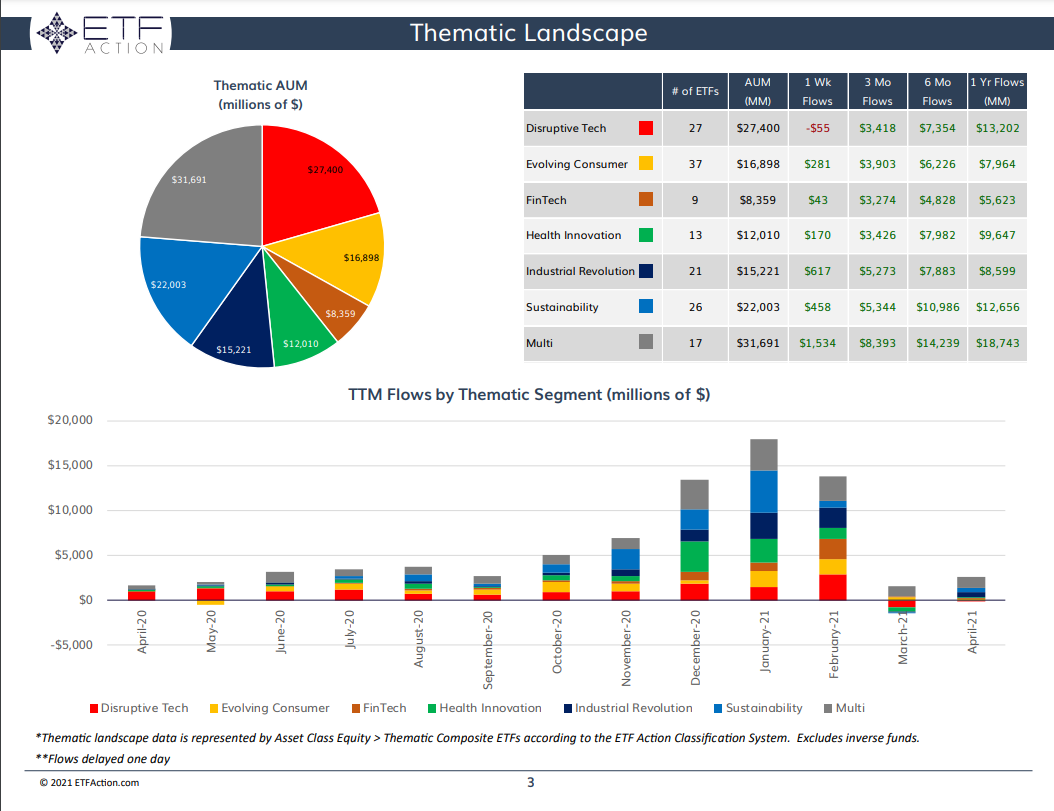 This Week In ETFs
4.9.2021
This Week In ETFs
Week of April 5-9, 2021
Latin America ETFs Continue to Rebound
Energy Falters, XLE Close to Correction Territory
Flows Remain Positive
Chart of the Week: Strong Market Breadth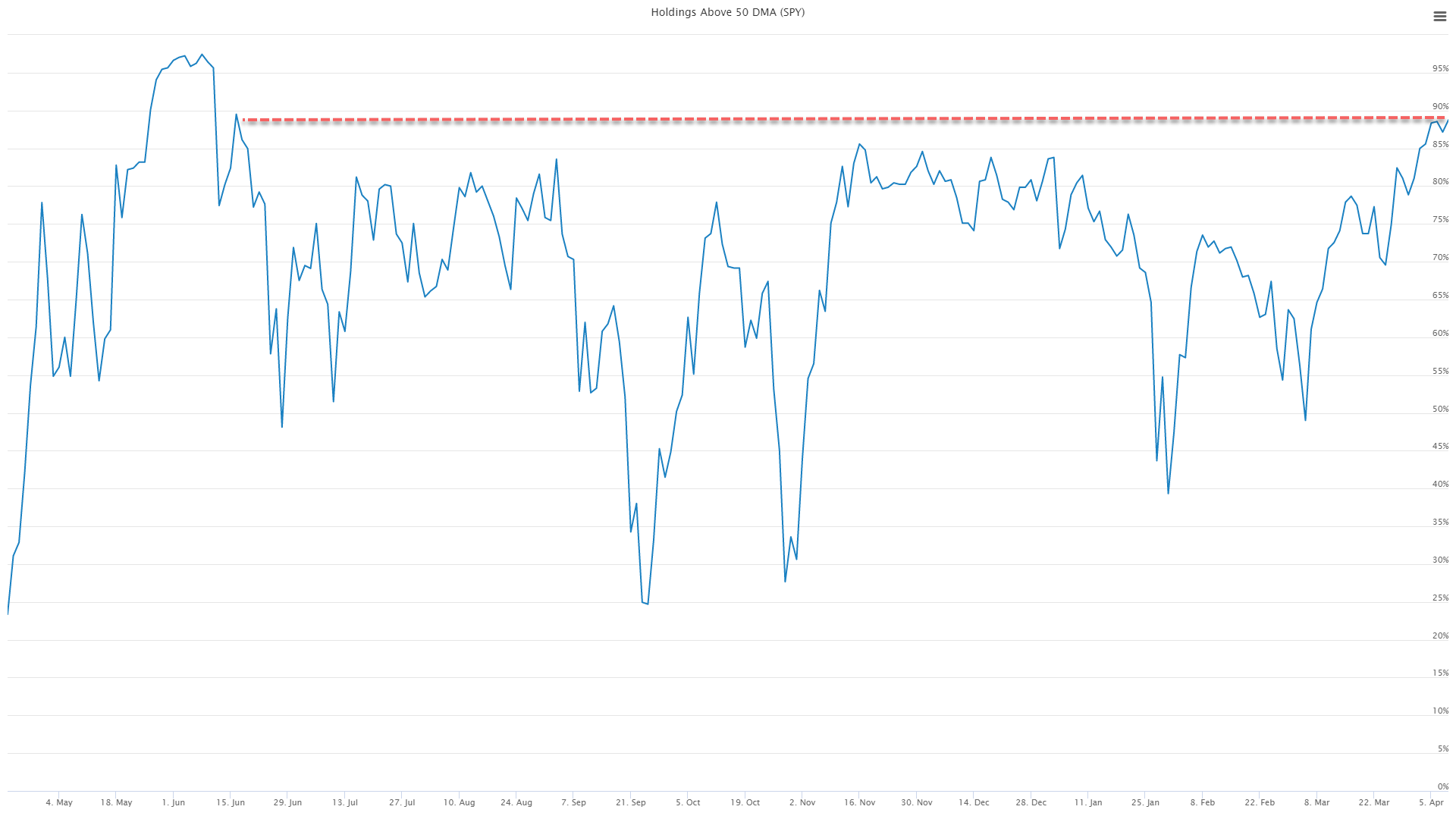 ETF All-Stars: The Security Selection Paradox
4.7.2021
What Kind Of Company Is Tesla?
How do you classify Tesla within a classification system? According to GICS classification, Tesla falls within the automobile industry in the consumer discretionary sector. But what else is it? Is it a clean energy company because it is the posterchild for creating a network of vehicles that reduces carbon emissions? Or is it a robotics & AI company because most of its production lines are automated…by robots?
Or is it an advanced materials company because it is exploring and developing new battery technologies? I could go on and on but the point here is that when it comes to thematic investing, classifying companies into specific buckets can be difficult.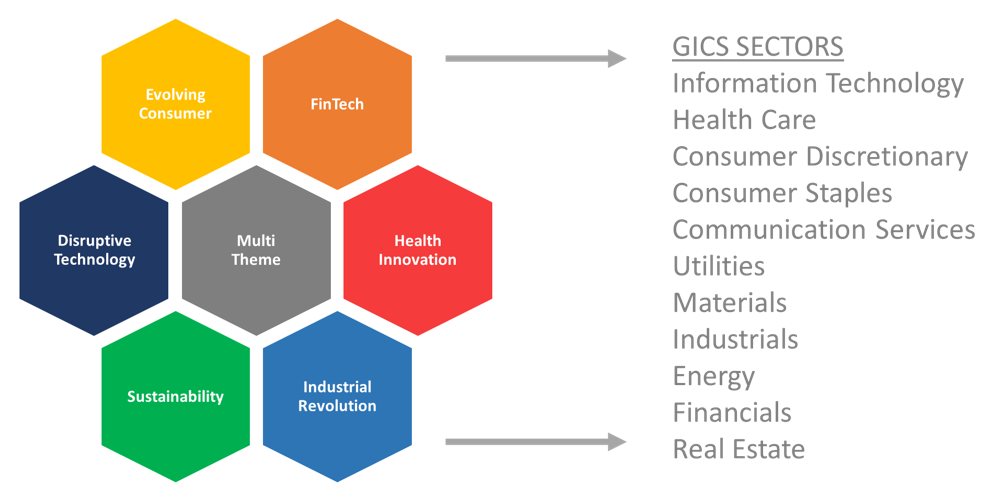 This leads to the problem in thematic investing that we here at ETF Action call the Security Selection Paradox. Growth in thematic investing has been nothing short of explosive over the past several years and the Security Selection Paradox is the expectation that ETFs with similarly stated investment objectives that aim to capture the same narrow thematic segment will have a high overlap in common holdings. However, oftentimes this does not hold true across the thematic ETF landscape. This leaves investors with choices that don't necessarily align with their true investment objective. Let's explore…
AIM Portfolio Rebalance: Infrastructure Exposure Adjustment
4.5.2021
With an infrastructure bill front and center in Washington, the following changes will be made to the ETF Action U.S. Sector & Industry Active Index Model (AIM) Portfolio and the ETF Action Global Thematic AIM Portfolio. These changes will be made using closing prices as of April 8, 2021.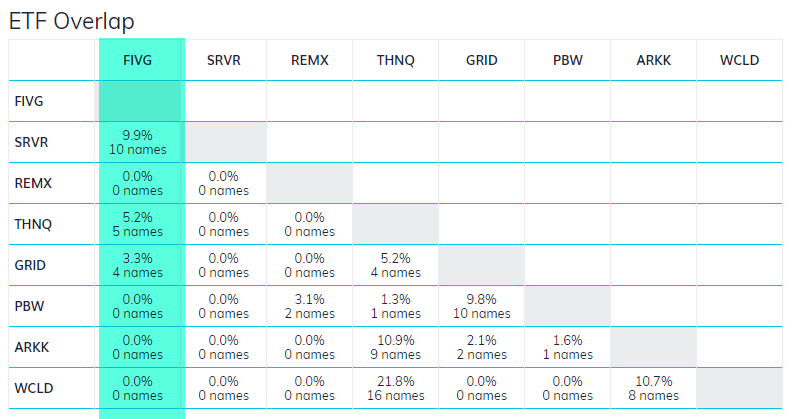 ETF All-Stars: NextGen Transportation
3.31.2021
Top 10 NextGen Transportation Stocks:
Infrastructure Part Deux
Last week we discussed the new administration's desire to pass a massive infrastructure bill with not only a focus on upgrading roads, bridges, and waterways, but also digital infrastructure and clean energy initiatives. That led to our highlighting of the 5G/Connectivity All-Star Select 10 stocks.
In the multi-trillion Dollar plan, details out this week show a $174 billion plan to jumpstart development and adoption of electric vehicles. This includes incentives for building out a nationwide charging infrastructure, tax incentives for EV buyers, and money to boost domestic supply of materials needed and factory updates. Tesla has long been the posterchild for the electric vehicle revolution but a closer look at NextGen Transportation ETFs shows other companies that are also common among these strategies. That's why this week we felt it appropriate to highlight the ETF All-Stars® NextGen Transportation Select Top 10 List.

Screen of the Week: Quality on the Cheap
3.31.2021
U.S. Large Cap ETFs with Quality Traits Trading at a Discount
This week's screen is designed to identify U.S. large cap ETFs that trade at a discount to the broader market but in aggregate are made up of companies with higher quality traits. The broad objective being to gain exposure to a continued value rally with less risk than pure value screens. To create today's list we will be focusing in on ETFs that have higher margins, return-on-equity (ROE) and interest coverage than the S&P 500 (SPY) but still trade a 20% discount based on trailing twelve month (TTM) price-to-earnings (P/E).
Before we dive into the details lets first review U.S. factor performance YTD using the popular iShares MSCI USA Factor ETF suite. As the first quarter comes to an end there's been no bigger story line across factor ETFs than the value comeback. The iShares MSCI USA Value Factor ETF (VLUE) is by far and away the top performing strategy YTD returning more than 18%. That's 10% better than second place, the iShares MSCI USA Size Factor ETF (SIZE) at just under 8% and more than 20% better than iShares MSCI Momentum Factor ETF (MTUM) which is the only factor in the suite with negative returns on the year.

AIM Portfolios: Evaluating Valuation Multiples
3.30.2021
If you have taken a look at the ETF Action AIM Portfolio Positioning Guides, you may be aware that we score market segments using five primary critieria in calculating portfolio allocation weights: Macroeconomic, Fundamental (Quality & Growth), Relative Valuation, Momentum, and Timing. Each criterion is evaluated and included in the final allocation determination made by the ETF Action Investment Committee. Today we focus on the valuation component and what specifically we look at when determining relative valuation scores within a specified universe such as sectors and industries. Broad topics include: