ACTIONABLE ETF RESEARCH
Data & Analytics | Research | Model Portfolios
OUR VISION
ETF Action is an independent technology and research firm focused on helping investment professionals build better portfolios, create engaging experiences with their clients, and navigate the vast ETF landscape. We're unlocking the numerous ways ETFs can be used to meet specific investment needs via three guiding principles:
ETF ACTION PLATFORM
Data & Analytics
The ETF Action platform is your home base for ETF data and analytics. Centered around our ETF Terminal, we aggregate thousands of data points for users to search, select, compare, and create models of ETFs based on their own portfolio objectives and market assumptions.
---
ETF Screens
ETF Screens expedite your research process. Create and save your own custom screens and starting universes or select from hundreds of pre-built ETF Action screens built around:
Factors
Sectors
Themes
Model Portfolios
---
ETF Visualization
Powerful visualization tools enable in depth portfolio exploration and analysis across multiple data sets.
Returns
Flows
Composition
Fundamentals
Technical Analysis
Don't take our word for it, sign up for free today. You'll get full access to the ETF Action platform and the option to set up a 45-minute custom demo to make sure you're getting the most out of it.
FEATURED RESEARCH
Earnings & Movers
2.13.2020
Daily review of stock specific news including ETFs w/ greatest exposure, curated links and running tally of S&P 500 earnings results for the current reporting period.
Macy's Stock Is Becoming More of a Real-Estate Play - Barron's via MarketWatch
CVS Q4 beat buoys health insurers - Seeking Alpha
Coronavirus Spurs Demand for Niche Raw Materials - WSJ
Shopify Stock Is Soaring Because Earnings Blew Past Expectations - Barron's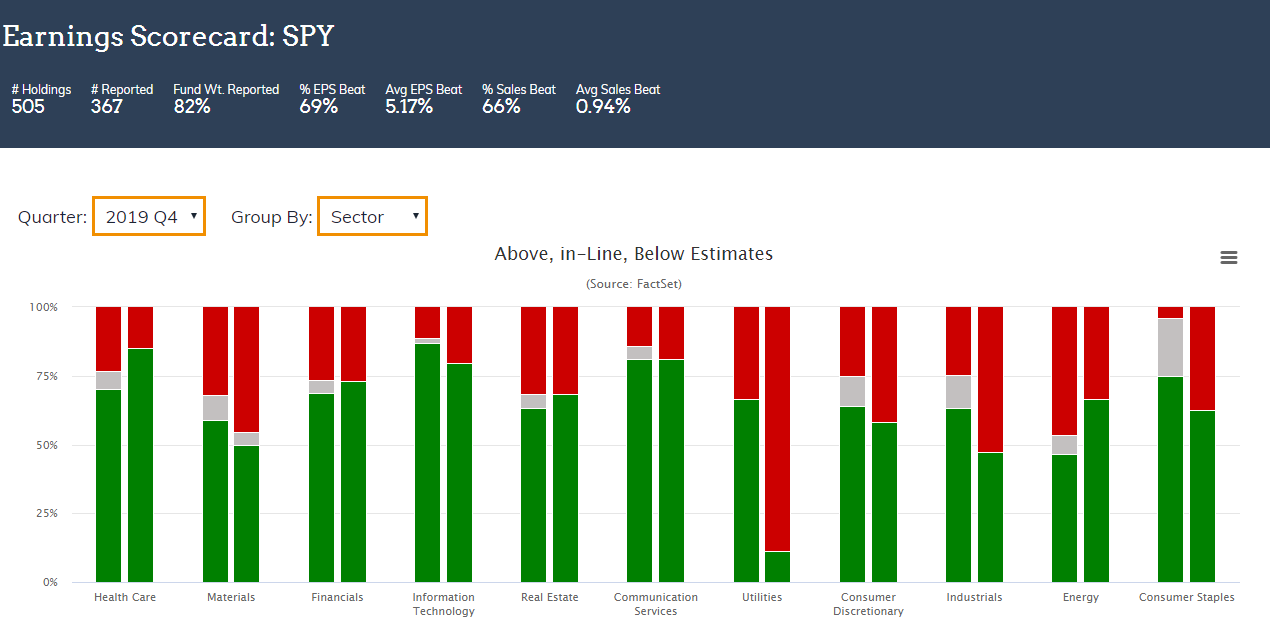 Video of the Day: Online Retail (IBUY) vs S&P Retail (XRT)
2.5.2020
Macy's announced today that it would be closing up more stores while Amazon topped analyst estimates last week on earnings and revenues. The trend towards Ecommerce and away from big box retailers has been happening for years.
Using the SPDR S&P Retail ETF (XRT) and the Amplify Online Retail ETF (IBUY), how have online retail ETFs performed vs aggregate retail ETFs and what are key composition differences?