ETF All-Stars: Blockchain
2.18.2021
Top 10 Blockchain Stocks:
Blockchain Goes Mainstream

Big news in Bitcoin Land: The first North American bitcoin ETF just went live for trading today.
Canada's Purpose Bitcoin ETF (BTCC) isn't just any bitcoin ETF, either, but the Holy Grail of bitcoin ETFs: It's physically backed, meaning it holds actual bitcoins, as opposed to futures or other derivatives based on the cryptocurrency.
Meanwhile, our wait for a bitcoin ETF in the U.S. continues; and whether the SEC will ever approve a physical crypto fund remains to be seen. But the trend seems favorable, not just for bitcoin, but for blockchain, the technological infrastructure upon which the digital currency is based.
In just a few short years, blockchain has grown up, moving from pie-in-the-sky idea to mainstream tech. Far from the start-ups that dominated the space when the first U.S. blockchain ETF launched in 2018, our ETF All-Stars® Blockchain Select Top 10 List reveals a diverse set of large cap companies with long histories and institutional knowledge now throwing their weight behind the transformative technology.
Inside the Four Blockchain ETFs
Within the ETF Action Classification System, we classify four ETFs in our "Blockchain" Group: The $965 million Amplify Transformational Data Sharing ETF (BLOK); the $267 million Siren Nasdaq NexGen Economy ETF (BLCN); the $63 million First Trust Indxx Innovative Transaction & Process ETF (LEGR); and the $27 million Capital Link NextGen Protocol ETF (KOIN).
Together, these four funds account for $1.3 billion in assets under management and 163 unique stocks, ranging in size from the $173 million Bitfarms Ltd (BITF-CA) to the $1.84 trillion Microsoft (MSFT).
Intriguingly, the four blockchain ETFs exhibit a fair amount of portfolio differentiation: Of the 163 unique stocks, 104—or 64%–appear in only one ETF. That's led to significant variation in performance, as well:

Source: ETF Action
How We Did It: Input tickers for the four blockchain ETFs into the ETF Navigator, then select the "Performance" tab.
Why Is BLOK Outperforming?
It's worth a brief detour to explore why BLOK's returns are consistently so much higher than the competition. The fund outperforms all other blockchain ETFs on all time frames tracked, and in fact, is one of the best performing ETFs of the past 12 months. BLOK is up 190% over the past year, making it the fifth highest-returning of any non-leveraged/inverse ETF on the market.
BLOK differs from the other blockchain ETFs in two key ways. First, it has a small allocation to the Greyscale Bitcoin Trust (GBTC), which has provided a modest performance bump for the fund as bitcoin prices rocket back upwards. (The only other U.S.-listed ETF to hold GBTC is the ARK Next Generation Internet ETF (ARKW)).
Second, and more impactful for its performance, BLOK weights a significant amount of its portfolio in mid- and small-cap blockchain companies (32% and 22%, respectively). These stocks include names like Riot Blockchain (RIOT), Argo Blockchain Plc (ARB-GB), and Voyager Digital (VYGR-CA), all of which have seen off the charts performance over the past 12 months:

Source: ETF Action
How We Did It: Input ticker into the Portfolio Visualizer > Summary Stats toolset, then select "Data Point: 1 Year."
Over the past 12 months, Riot Blockchain is up 3,528%; Argo Blockchain is up 3,512% and Voyager Digital is up 4,515%. Whew -- No wonder BLOK is a top performer!
ETF All-Stars®: Inside The Top Blockchain Stocks
While plenty of daylight exists between the four blockchain ETFs, there are twelve stocks on which all four funds agree: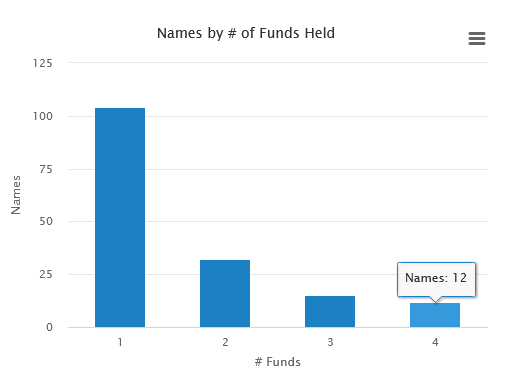 Source: ETF Action
How We Did It: Input tickers for the four blockchain ETFs into the ETF Overlap Screener, which can be found on the left-hand sidebar.
From this set of consensus stocks, we then construct our ETF All-Stars® Blockchain Select Top 10 List, ranking each company by prevalence. (See below.)
As a reminder, prevalence is determined both by the number of ETFs holding a given stock as well as the total market value of that stock held. For example, all four ETFs hold IBM Corp (IBM) and Accenture (ACN), but the four ETFs together hold $13.97 million of IBM's total market value, compared to $10.92 million of Accenture's. As a result, IBM makes the cut-off for inclusion, while Accenture does not.

Source: ETF Action
Our ETF All-Stars® Blockchain Select Top 10 List is largely comprised of Information Technology companies, though within that grouping there's some diversity: IT services firms, semiconductors, and software companies. One ETF All-Stars® stock, Baidu, Inc (BIDU), falls within Interactive Media & Services; while another, CME Group (CME), is an exchange selling bitcoin futures.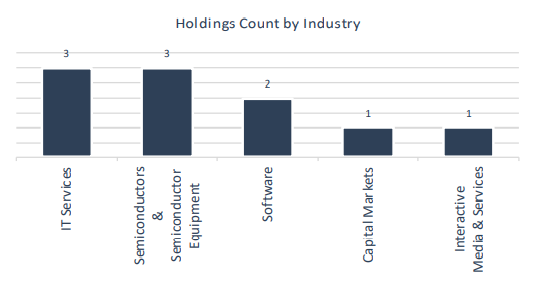 Source: ETF Action
Notably, all the ETF All-Stars® blockchain stocks have sizable market capitalizations, comfortably classifying as large caps, or even mega caps:

Source: ETF Action
How We Did It: In the Model Tracker, select the "Blockchain Select Top 10 List" from the left sidebar. Click "Stock Visualizer" in the top right corner. Then select: "Data Point: Market Cap"
Blockchain Stocks Include Big Tech, Payment Processing Firms
At first glance, some of the stocks on our ETF All-Stars® Blockchain Select Top 10 List may seem surprising: How is Microsoft (MSFT) a blockchain company, you might wonder, or Visa (V)?
While it's true that these companies have much broader interests beyond blockchain, they are still deeply involved in the adoption and "mainstream-ing" of blockchain in their technology and payment applications:
PayPal (PYPL)

lets users transact in cryptocurrencies, including bitcoin.

NVIDIA (NVDA)

graphics cards are used in mining cryptocurrency.

Baidu (BIDU)

, the "Google of China," offers a blockchain-based operating system.

Taiwan Semiconductors (TSM)

makes chips used in mining cryptocurrencies.

Microsoft (MSFT)

's cloud computing service, Azure, supports blockchain app development.

Advanced Micron Devices (AMD)

makes processors used in crypto mining.

IBM (IBM)

offers enterprise blockchain solutions (though its blockchain future is uncertain after significantly missing revenue targets).

Oracle (ORCL)

offers a cloud-based blockchain platform.

Visa (V)

offers crypto payment solutions and uses blockchain technology in bank-to-bank lending.

CME Group (CME)

is the sole exchange offering bitcoin futures.
So while there's a lingering perception that blockchain is some underdeveloped, "out there" niche, the reality is that the most commonly held, "consensus" blockchain stocks are no riskier than the stocks you'd find in any FAANG or tech sector fund.
Which makes sense in context, right? Blockchain, as a technologicla infrastructure, is shifting from initial innovations to wider adoption; and the companies driving that adoption of blockchain aren't going to be the small developers. They're going to be the big tech giants—the legacy hardware makers, software developers, even payment firms—who increasingly are adding and integrating blockchain-driven solutions into their offerings.
If you do want those purest blockchain plays, then BLOK's portfolio, with its small/mid-cap tilt, may be a good starting point. But if you're looking for the stocks that best reflect the growing "mainstream-ing" of blockchain, then the ETF All-Stars® Blockchain Select Top 10 List offers a handy list for further research.
Lara Crigger is the Editor-In-Chief of ETF Action. Contact her at lara@etfaction.com.
Want to get this story and stories like it delivered right to your inbox?
Sign up to receive The Morning Focus newsletter.