ETF All-Stars: NextGen Transportation
3.31.2021
Top 10 NextGen Transportation Stocks:
Infrastructure Part Deux
Last week we discussed the new administration's desire to pass a massive infrastructure bill with not only a focus on upgrading roads, bridges, and waterways, but also digital infrastructure and clean energy initiatives. That led to our highlighting of the 5G/Connectivity All-Star Select 10 stocks.
In the multi-trillion Dollar plan, details out this week show a $174 billion plan to jumpstart development and adoption of electric vehicles. This includes incentives for building out a nationwide charging infrastructure, tax incentives for EV buyers, and money to boost domestic supply of materials needed and factory updates. Tesla has long been the posterchild for the electric vehicle revolution but a closer look at NextGen Transportation ETFs shows other companies that are also common among these strategies. That's why this week we felt it appropriate to highlight the ETF All-Stars® NextGen Transportation Select Top 10 List.
Let's begin by looking at the current NextGen Transportation ETF landscape...
6 NextGen Transporation ETFs: A Look At The Landscape
(Note: VCAR is excluded because it uses options)
There are six NextGen Transportation ETFs that total a little more than $1.5 billion in total assets under management, $1.2 billion of which has come in net inflows over the past 90 days. These ETFs all fall under the thematic segment "Industrial Revolution" in the ETF Action Classification System but range in holdings, weighting methodologies, and discipline.
For example, the SmartETFs Smart Transportation & Technology ETF (MOTO) is the only actively managed ETF in the group while the Global X Autonomous & Electric Vehicles ETF (DRIV) holds over half the assets in the category with $823 million. The SPDR S&P Kensho Smart Mobility ETF (HAIL) was launched in 2017 and is the oldest in the group (not that old). With only $10 million in AUM the Capital Link NextGen Vehicles & Technology ETF (EKAR) was launched in early 2018 along with the KraneShares Electric Vehicles & Future Mobility Index ETF (KARS....$192 million in AUM). Lastly, of course there is an iShares product, the iShares Self-driving EV & Tech ETF (IDRV) with $320 million in AUM.
Flows have really begun to accelerate over the past 90 days with the majority of category assets coming in that time period. The lion's share has gone to the Global X product DRIV (+$702 million) while MOTO (+$9 million) and EKAR (+$6 million) have some catching up to do. That being said, all NextGen Transportation ETFs have seen net inflows. Note that DRIV saw over $500 million in net inflows during January of this year.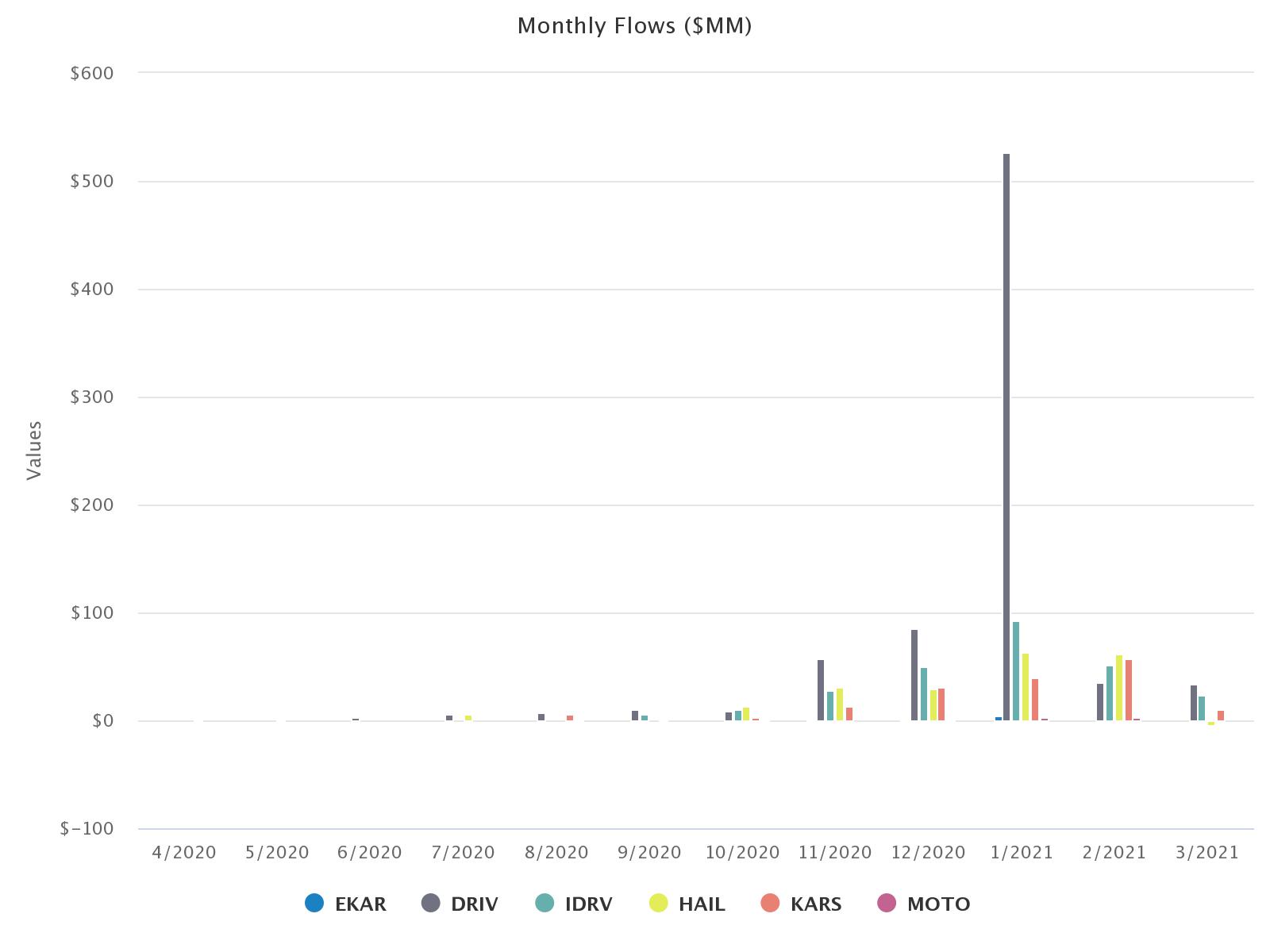 Source: ETF Action
Performance Has Been Relatively Close With One Outlier: HAIL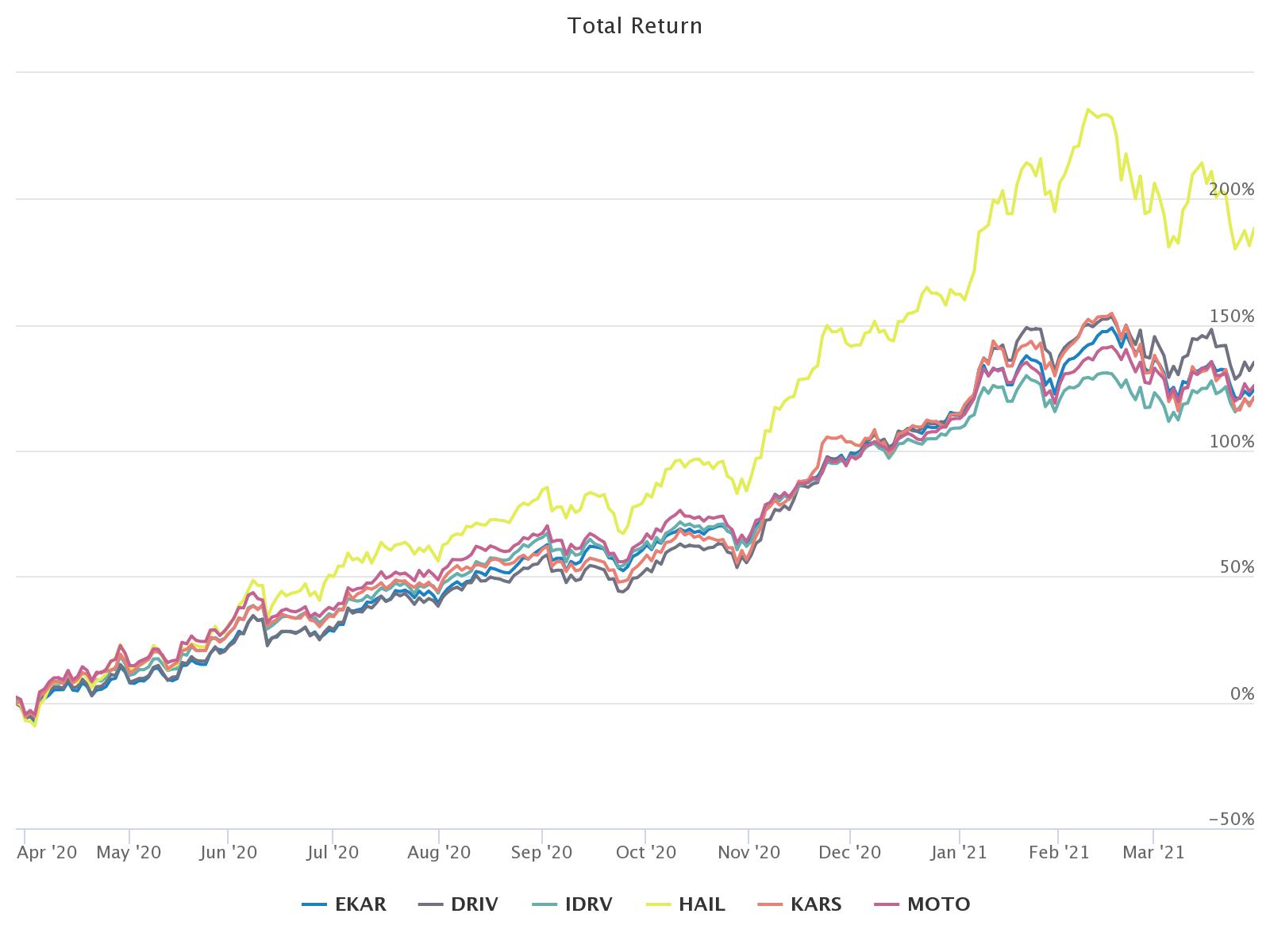 Source: ETF Action

For the most part performance among these ETFs has been close with exception to the SPDR S&P Kensho Smart Mobility ETF (HAIL). HAIL has returned 188% over the past 12 months while the rest of the group has ranged between 120-135%. The close performance is somewhat of a surprise after looking inside these ETFs side by side.
Holdings Vary Considerably Despite Similar Returns
All of the NextGen Transportation ETFs favor the tech and consumer discretionary sectors with additional exposure coming from industrials, comm services, and materials. Sector movement may seem to be the explanation for similar returns and the overweight to the Industrials sector by HAIL may explain part of the outperformance recently as we have seen a cyclical resurgence over the last several months.
Look closer at the holdings and you'll see that between these 6 ETFs, there are 236 unique companies. You'll see that the greatest overlap between any of these ETFs is 46%. That's it, 46% (between EKAR and IDRV). In fact, of all the 236 unique companies, only 3 companies can be found in common in all six of these ETFs. Following that, only 6 companies in common can be found in at least five of the ETFs. Despite all targeting a similar investment theme, there are large discrepancies among the holdings. This is what we refer to as the Security Selection Paradox in thematic investing but I digress, more on this in coming weeks...

Source: ETF Action
Inside The ETF All-Stars® NextGen Transportation Select Top 10 List
From the holdings of the six NextGen Transportation ETFs, we can construct the ETF All-Stars® NextGen Transportation Select Top 10 List, a ranking of stocks based on their prevalence among the funds. (As a reminder, prevalence is a measure of the frequency of appearance (ie: ABC company is held by all 6 ETFS = 6 prevalence) while tiebreakers are settled by the total market value held.
The ETF All-Stars® Connectivity Select Top 10 List is depicted below:

Source: ETF Action
Similar to their parent ETFs, the vast majority of the ETF All-Stars® fall in the information technology and consumer discretionary GICS classifications, primarily in the Semiconductors & Semiconductor Equipment industry. Outside of semis, Tesla, Toyota, and NIO fall in the automobile industry while Aptiv PLC falls into the auto components industry. So not surprisingly to gain exposure to NextGen Transportation, you'll want exposure to companies within the automotive and semiconductors industries that are primarily U.S. based. Of note, the semiconductor exposure is extremely interesting because that does not just apply to NextGen Transportation but should apply to a number of other themes as the focus of the bill is digital infrastructure buildout.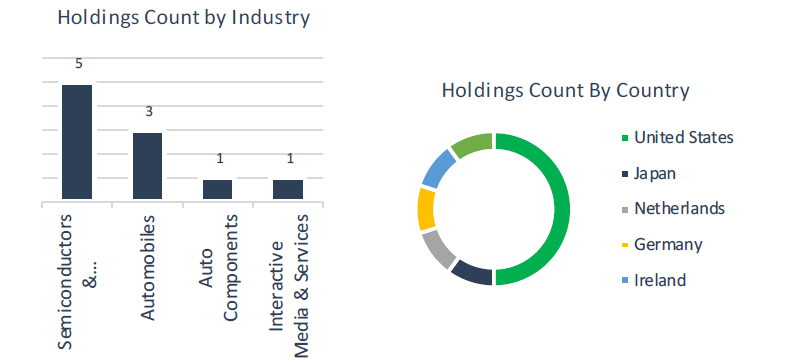 Source: ETF Action
NextGen Transportation All-Stars® Have Performed Well Along With The Category
While the entire NextGen Transportation ETF space has performed extremely well over the past 12 months with the top performer being HAIL, up 188%, the ETF All-Stars® have done better on an average basis. Similar to what we did last week with the 5G/Connectivity Select Top 10, if you were to take the NextGen Transportation All-Stars and equal weight them, you would outperform over the past year and three years (note fewer products have lifespan of three years or longer). The list of companies that are most in common among these strategies have appeared to outperform or remain in the upper tier performance wise.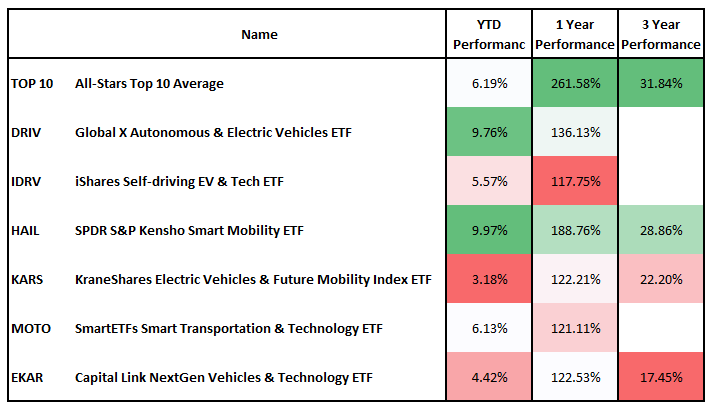 Source: ETF Action
Conclusion: NextGen Transportation Offers Opportunity With Infrastructure Bill, All-Stars Provide A Great Starting Point

NextGen Transportation was already a long-term secular trend and a multi-trillion dollar infrastructure bill should provide a shot in the arm in the near/intermediate-term. That being said, keep an eye on valuatons with the recent ascent of the 10-year treasury yield. Money has clearly been flowing towards the NextGen Transporation ETF space at an accelerating pace and we beleive that to be a trend to continue. The ETF All-Stars Select Top 10 provide exposure to companies in the automotive and semiconductors industries that may stand to benefit immensely from this growing theme.
Alex Shepard is the Director of Research for ETF Action. Contact him at alex@etfaction.com.
Want to get this story and stories like it delivered right to your inbox?
Sign up to receive The Morning Focus newsletter.