ETF All-Stars: 5G/Connectivity
3.24.2021
Top 10 5G/Connectivity Stocks:
3 Trillion Reasons To Be Interested
Interested in infrastructure buildout? The new administration is. The need for new domestic infrastructure has long been a topic of discussion among lawmakers on both sides of the aisle but hasn't been fulfilled. Enter a new administration that has its sights set on a massive infrastructure bill (currently rumored at $3 trillion) with a focus on not only upgrading roads, bridges, waterways and alike; but also digital infrastructure and clean energy initiatives. The new administration is focusing less on trying to slow others down (ie: China) and more on speeding us up via a digital infrastructure overhaul.
So with the rollout of 5G and a pressing desire to blanket the world in better communication and digital networks, let's begin by looking at the current Connectivity ETF landscape.
4 Global 5G/Connectivity ETFs: A Look At The Landscape
(Note: KFVG is excluded because it is specific to China exposure only)
There are four global connectivity ETFs that total a little more than $2.5 billion in total assets under management. These ETFs range from the First Trust Indxx NextG ETF (NXTG) which launched back in 2011 to the newest launching in March of last year, the Esoterica NextG Economy ETF (WUGI). The Defiance Next Gen Connectivity ETF (FIVG) has the most assets with $1.121 billion while the Global X Internet of Things ETF (SNSR) launched in 2016.
From a flows perspective, the segment has raked in over $1.3 billion over the last twelve months which accounts for more than 50% of total assets. FIVG has gotten the lions share over the past year but other products such as NXTG and SNSR have also seen an uptick in net inflows. Performance wise, the landscape has been tight year to date (1.44% - 5.68%) but over the past year has ranged from 84.60% (FIVG) on the low end to 112.06% (SNSR) on the high end. This data is very positive but what does it look like when we look at a more concentrated portfolio of these underlying companies? (more on this later!)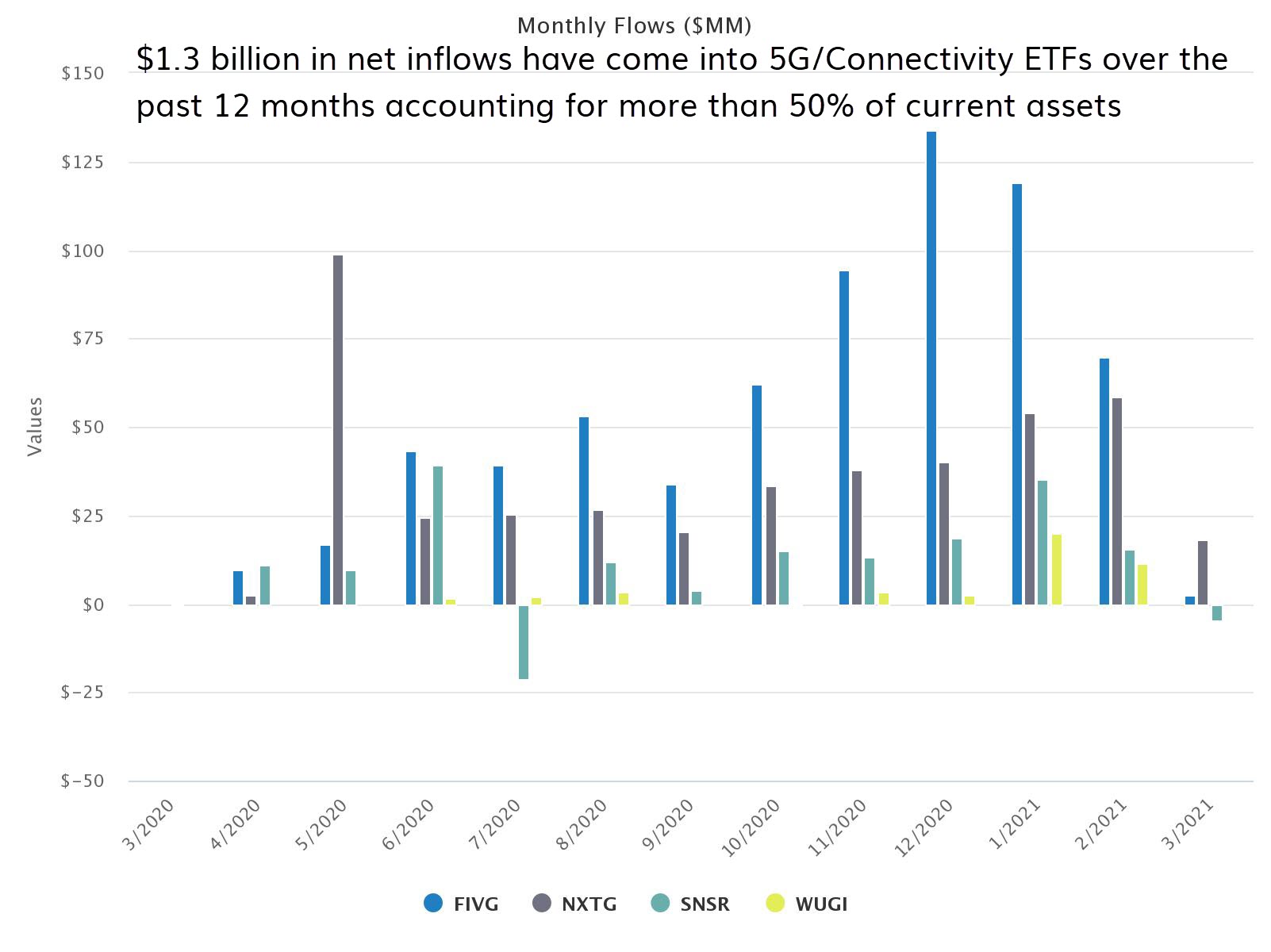 Source: ETF Action
Composition, Fundamentals, Overlap of Connectivity ETFs: Same But Very Different
All four Connectivity ETFs (FIVG, NXTG, SNSR, WUGI) all fall under the Disruptive Tech segment in the ETF Action Classification System. From a composition standpoint, all ETFs have a global exposure that is near 50% U.S., 30% developed ex-U.S., and 20% Emerging markets (with some small variance throughout the group). Exposures skew towards large-caps and not surprisingly have the majority of their makeup in Information Technology at the sector level (at least 60% across the board). Getting a bit more granular, all favor semiconductors and semiconductor equipment at the industry level.
Fundamentally speaking, the connectivity space is actually reasonable on a valuation basis relative to some other areas of the thematic space (ie: clean energy, evolving consumer groups) when looking at premiums vs historical levels. While not consistent across the entire landscape, there are some promising estimated 2021 and 2022 sales per share growth estimates that also appear attractive (oftentimes we put a greater weight towards sales per share metrics over earnings per share when analyzing thematic investments due to the early stage, high reinvestment, lack of positive earnings for many of these companies).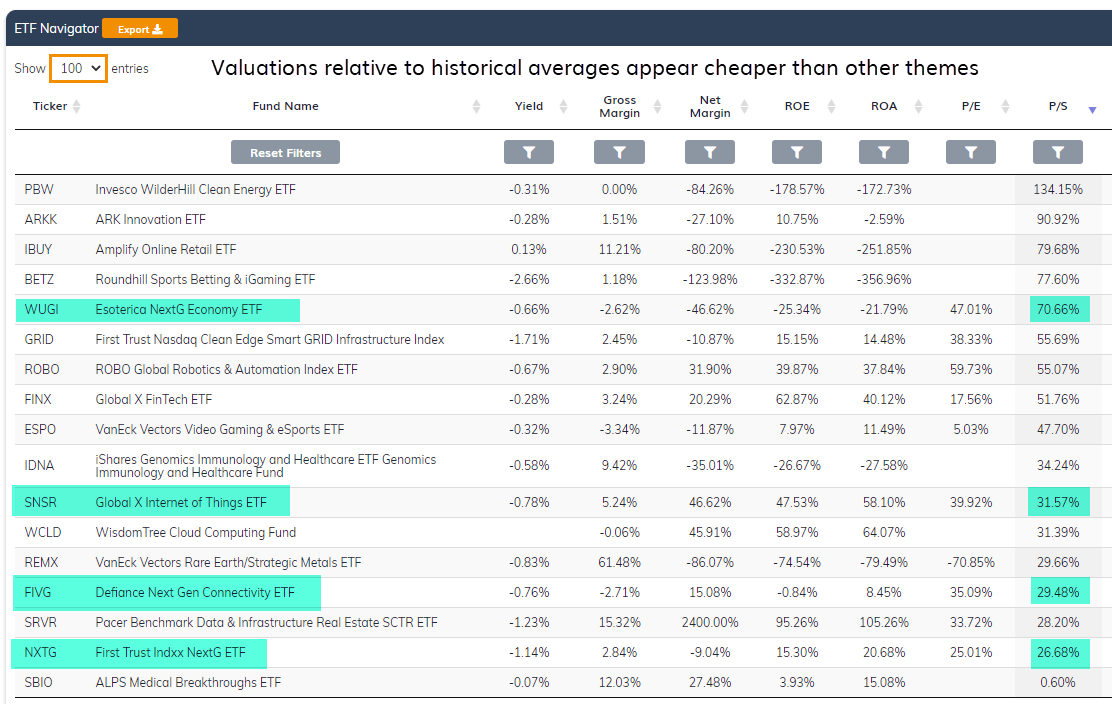 Source: ETF Action
However, that's where most of the large commonalities end. Looking through all four of these portfolios, the overlap is quite low. On average, these four portfolios share 15% in common with the max overlap position being 35% between FIVG and NXTG. Furthermore, of 198 different companies held between all four ETFs, only three companies are held by all four. Lower your inclusion criteria to having at least three of these funds holding a company and you get 10 in total: three companies held by all four and another seven companies held by at least three.

Source: ETF Action
Inside The ETF All-Stars® Connectivity Select Top 10 List
From the holdings of the four Connectivity ETFs, we can construct the ETF All-Stars® Connectivity Select Top 10 List, a ranking of stocks based on their prevalence among the funds.
(As a reminder, prevalence is a measure of the frequency of appearance (ie: ABC company is held by all four ETFS = 4 prevalence) while tiebreakers are settled by the total market value held. In this Select Top 10 List, only three companies are held by all four ETFs and only seven companies are held by at least three ETFs so the tiebreaker rule does not come into effect.
The ETF All-Stars® Connectivity Select Top 10 List is depicted below:

Source: ETF Action
Similar to their parent ETFs, 10 of the ETF All-Stars® fall in the Information Technology GICS classification, primarily in the Semiconductors & Semiconductor Equipment industry. Only Cisco Systems (CSCO) falls in the Communications Equipment industry. Also, all 10 of them are classified as large-cap.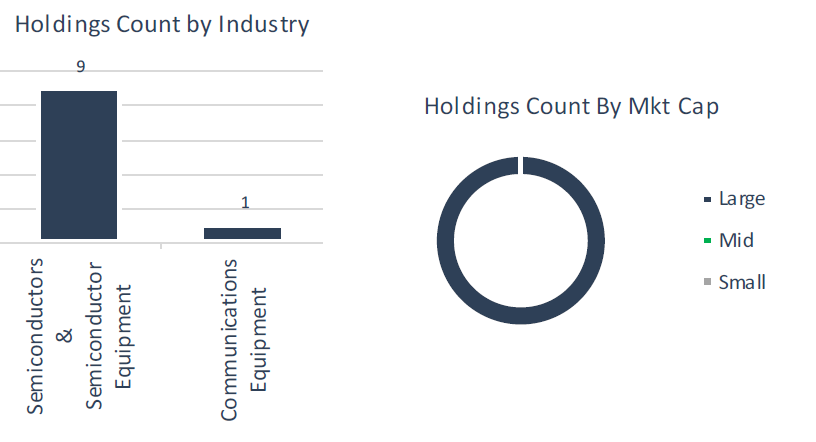 Source: ETF Action
Connectivity ETFs Have Performed Well, Connectivity All-Stars® Have Performed Better
While the Connectivity ETF landscape has performed well over the past 12 months the top performer being SNSR, up 112%, the ETF All-Stars® have done better. In fact, seven of the top 10 companies have outperformed all of the Connectivity ETFs over the past year. As a fun test, if you were to take the Connectivty All-Stars and equal weight them, you would outperform on nearly every standardized time horizon over the past three years. Better yet, if you only took the top three names held by all four connectivity ETFs, you would have done even better (as of 3/22/2021).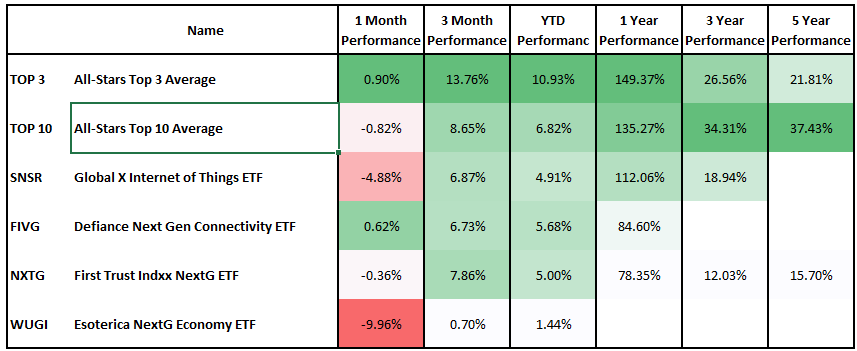 Source: ETF Action
Connectivity & All-Stars: What's My Take Away?

We believe that 5G/Connectivity is in the early stages of a long-term secular trend. The momentum coming out of Washington for a massive infrastructure bill puts a focus on digital infrastructure buildout which lays out a robust macro backdrop for the companies that will take crucial roles in that process. Currently valuations are not completely out of control relative to the rest of the thematic space and the companies within the Connectivity All-Stars® Select Top 10 provide a great place to look for possible additions to a growth oriented portfolio.
Alex Shepard is the Director of Research for ETF Action. Contact him at alex@etfaction.com.
Want to get this story and stories like it delivered right to your inbox?
Sign up to receive The Morning Focus newsletter.