Screen of the Week: Quality on the Cheap
3.31.2021
U.S. Large Cap ETFs with Quality Traits Trading at a Discount
This week's screen is designed to identify U.S. large cap ETFs that trade at a discount to the broader market but in aggregate are made up of companies with higher quality traits. The broad objective being to gain exposure to a continued value rally with less risk than pure value screens. To create today's list we will be focusing in on ETFs that have higher margins, return-on-equity (ROE) and interest coverage than the S&P 500 (SPY) but still trade a 20% discount based on trailing twelve month (TTM) price-to-earnings (P/E).
Before we dive into the details lets first review U.S. factor performance YTD using the popular iShares MSCI USA Factor ETF suite. As the first quarter comes to an end there's been no bigger story line across factor ETFs than the value comeback. The iShares MSCI USA Value Factor ETF (VLUE) is by far and away the top performing strategy YTD returning more than 18%. That's 10% better than second place, the iShares MSCI USA Size Factor ETF (SIZE) at just under 8% and more than 20% better than iShares MSCI Momentum Factor ETF (MTUM) which is the only factor in the suite with negative returns on the year.

Strength in the value factor has been persistent across all ETFs we classify as Factor: Value YTD as can be seen looking at a landscape screenshot of quality, low volatility, momentum/growth and value. As a reminder, we exclude beta value and growth from our factor classifications but can easily be included back when setting filters in the ETF Terminal.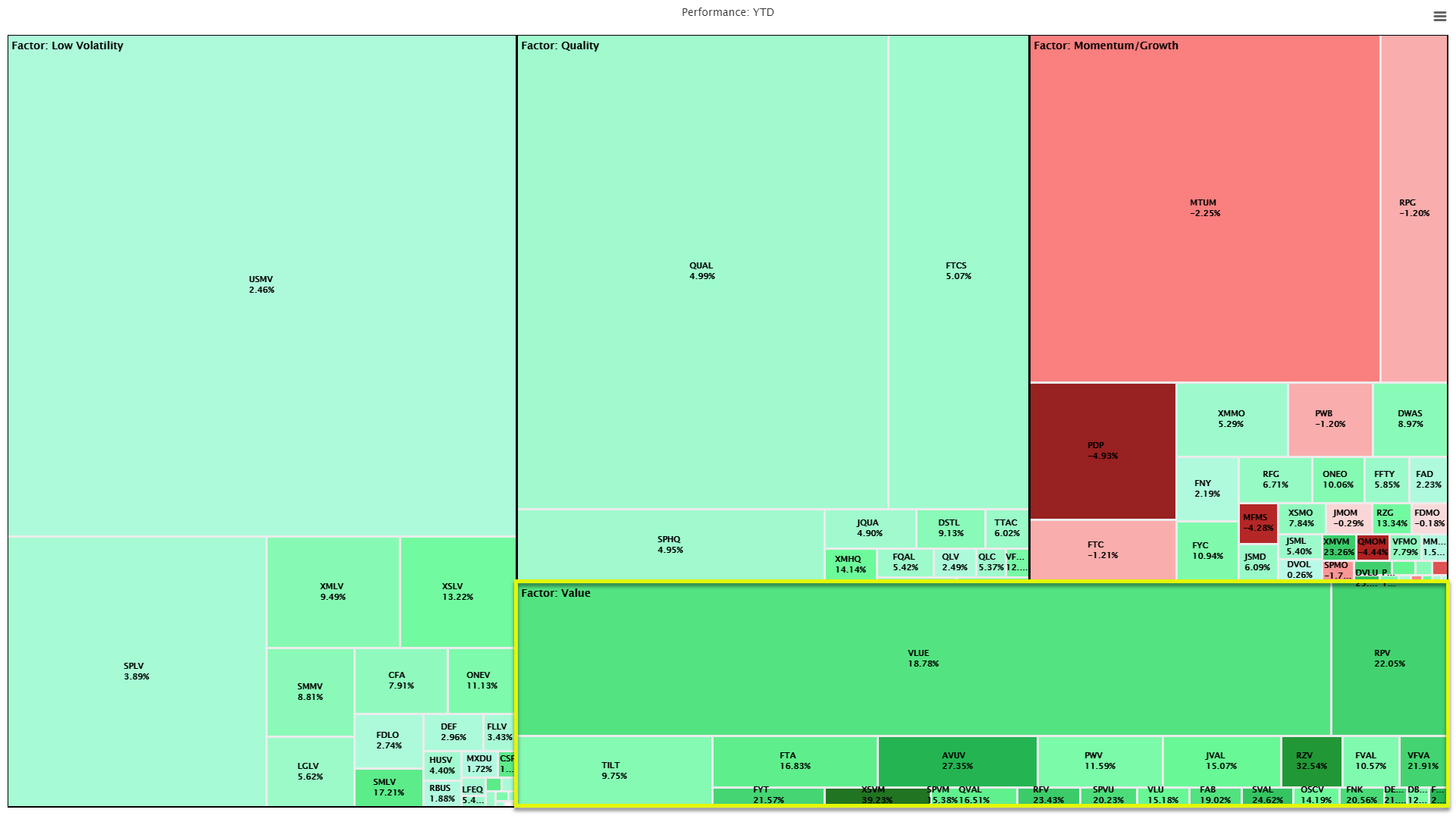 While classifications are great when looking for one specific factor or performing broad market research they also can be limiting if the goal is to identify ETFs with multiple factor traits. That's why today we won't be using classifications other than broad asset class and geography.
Setting the Ground Rules
As always the first thing we want to do is set a few simple filters to isolate strategies that meet minimum requirements and have portfolios with similar objectives across size and geography (apples-to-apples comparisons). Today those filters broken out by data tab (remember filters stay with you as you change data tabs) include:
Overview: Expense Ratio < 0.50% | AUM ($MM) > 100
ETF Classification: Sub-Asset Class = Equity | Composite = Size & Style | Market = U.S.
Equity Composition: Holdings > 50 | Large Cap > 75%
These quick screens still leaves us with 151 ETFs with over $2 trillion in AUM.

Fundamental Screens
Now its time to get into the good stuff. Here's a quick review of each screen laid out in the intro:
Net Margin >10% (SPY = 9.07%) | 47 ETFs remaining
ROE > 16% (SPY = 15.12%) | 39 ETFs remaining
Interest Coverage > 6.0 (SPY =5.55) | 33 ETFs remaining
TTM Price-to-Earnings < 25 (SPY = 27.60) | 7 ETFs remaining
Big takeaway for me while setting the filters is while it's not uncommon for ETFs to have better quality metrics than the S&P 500, you generally have to pay a premium.
Exploring the Results & Summary
The end result is seven ETFs that by design have very similar key ratios but unique portfolios as you go deeper. Some key remaining considerations will be performance/risk, sector exposures, growth metrics (actual and estimates) and reviewing index methodologies to provide some assurances these portfolios will continue to align with today's goals.
All of the strategies have at least a three year track record with only two out of the seven managing to outpace the S&P 500 during that timeframe. Note that most factor strategies have failed to keep up with market cap wieghted indexes over the past several years and that may actually be a good thing looking forward.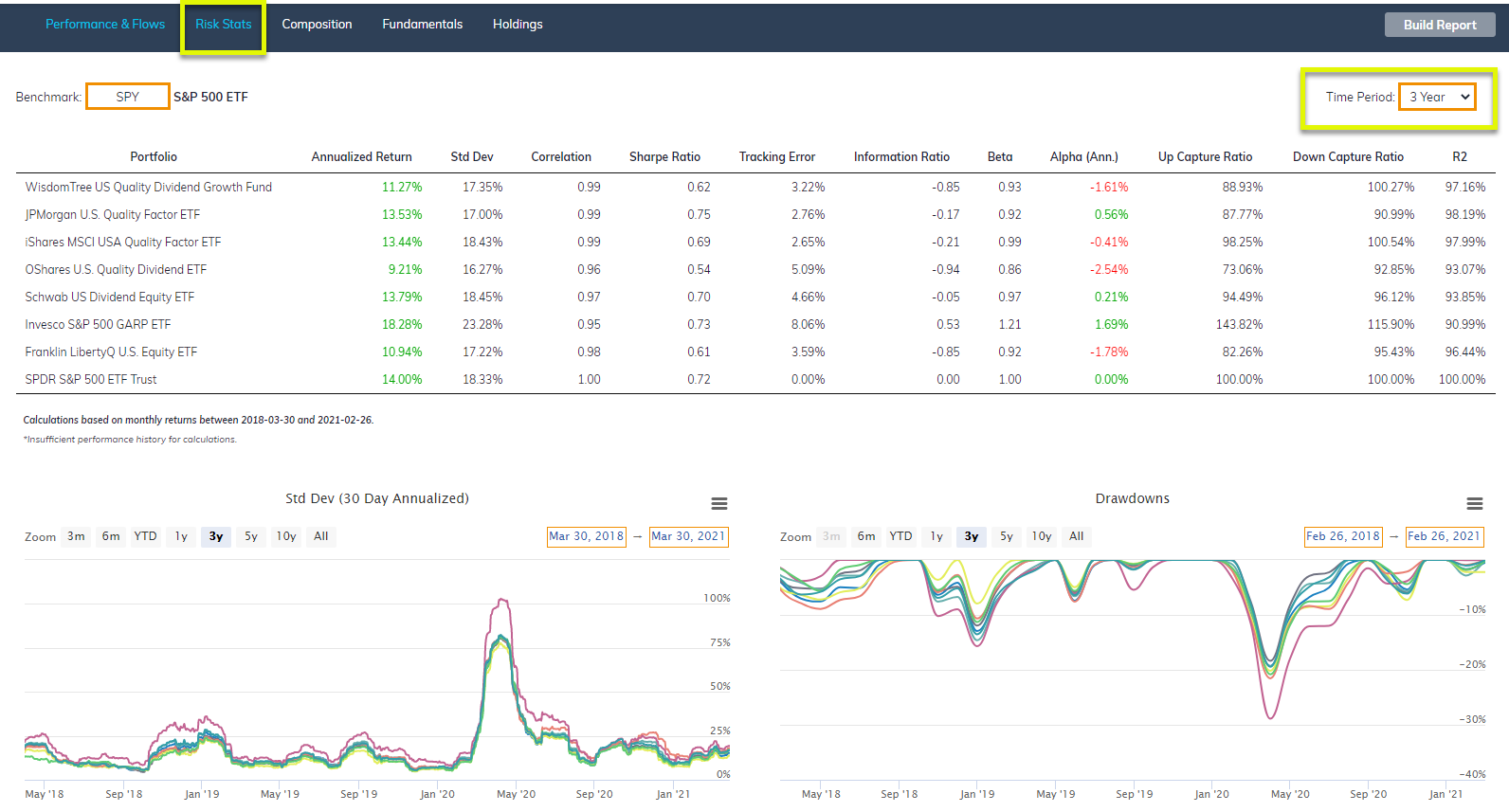 All of the qualifying ETFs have pretty diversified sector exposure with financials jumping out as a potential deciding factor depending on your macro assumptions.

The last thought I will leave you with on today's screen of the week is encouraging you to explore methodology guides before making a final decision. Depending on the strategy, portfolios can change quickly and you want to make sure and select an ETF that meets your screening requirements by design and not coincidence. As a reminder, we provide links directly into each fund's homepage on the issuer's site as well as links to the fund's index site.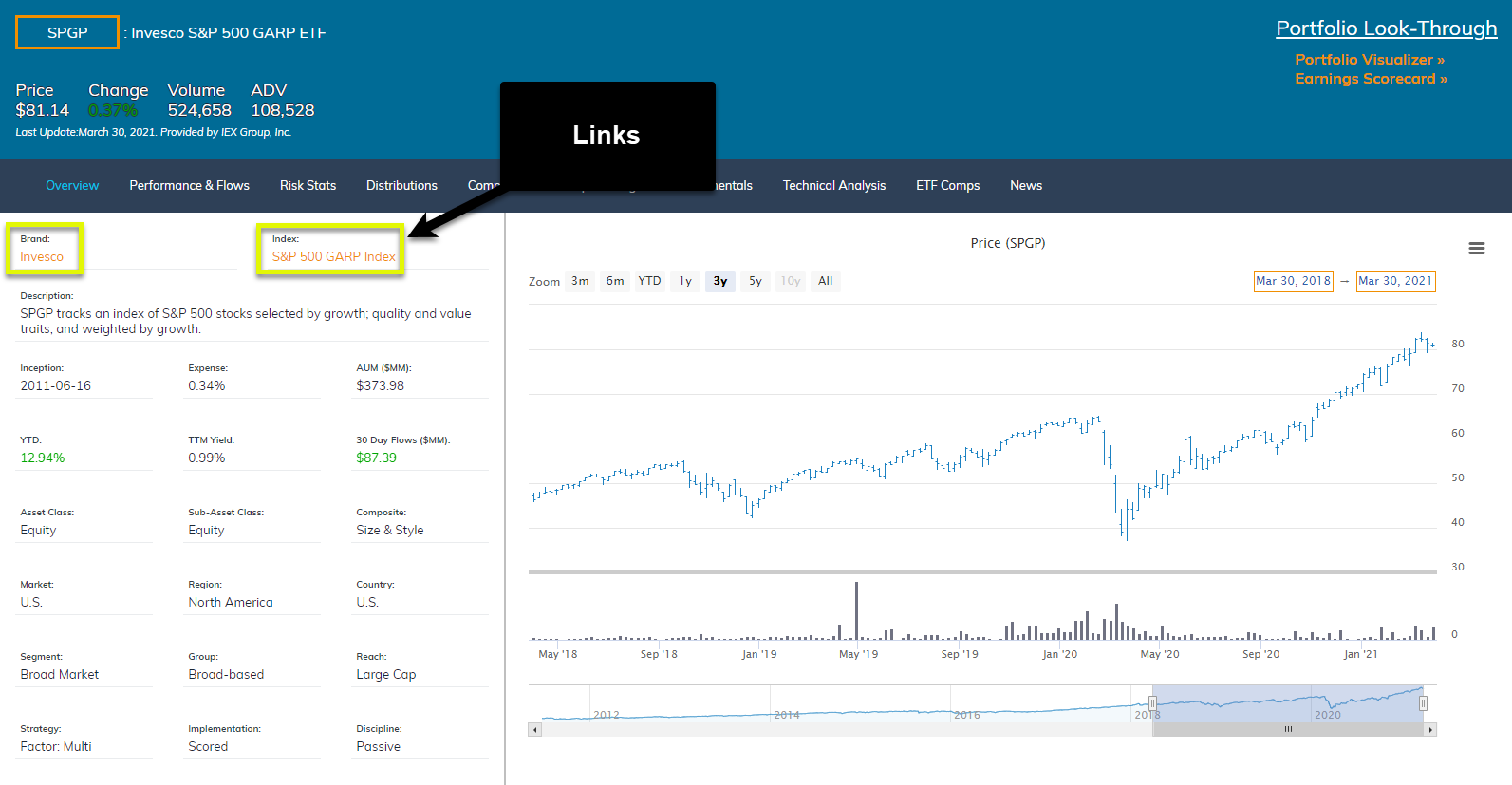 That does it for today's screen. As always please don't hesitate to contact team@etfaction.com if you have any questions or would like to schedule a personalized demo to walk through different scenarios on the platform.
Until next time, happy ETF hunting!
Best, Mike
Mike Akins is the CEO & Lead ETF Nerd at ETF Action. Inquiries can be sent to mike@etfaction.com