Model Portfolios
Key Benefits
Disciplined »
Supported »
Integrated »
Fully documented, transparent, and repeatable process for utilizing ETFs across targeted segments of the market.
Full access to ETF Action's portfolio ratings framework, including supporting documentation for macro view, fundamental ratings, relative valuation and momentum scores.

Supporting documentation includes positioning guide, scorecards, and portfolio insights.
All model portfolios are seamlessly linked to our ETF Terminal and Model Tracking tools, streamlining model maintenance and content workflows as well as easily enabling further research.
Model Insights
International Factor AIM Portfolio Positioning Guide
1.18.2021
International Factor AIM Portfolio returned -1.59% last week, underperforming the MSCI ACWI ex-U.S. (IXUS) by 0.19%
Top Performers

:

IVLU -0.84%, TLTE -0.94%, EEMV -1.10%

Bottom Performers:

IMTM -2.82%, IQLT -1.77%, PIE -1.33%

Since Inception Performance:

+24.17%

underperforming MSCI ACWI ex-U.S. (IXUS) by 4.53%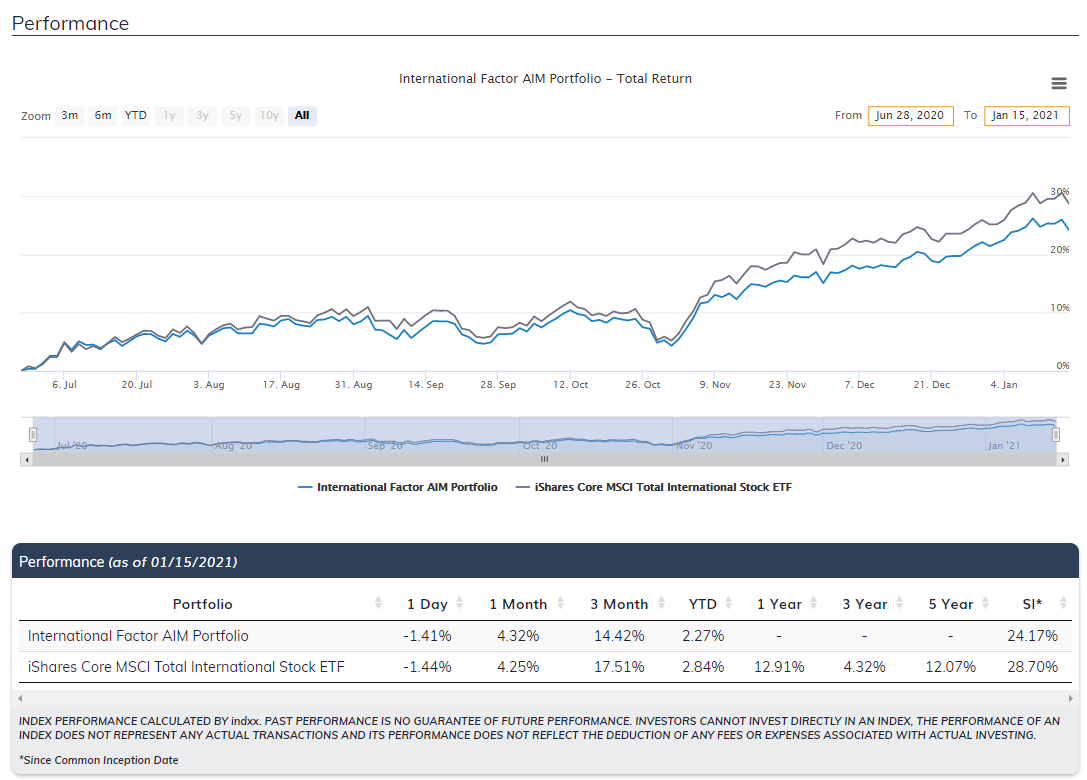 International Region & Country AIM Positioning Guide
1.18.2021
International Region & Country AIM Portfolio returned -1.53% last week, underperforming the MSCI ACWI ex-U.S. (IXUS) by 0.13%
Top Performers:

EWT +1.62%, EIS +0.45%, VNM +0.11%

Bottom Performers:

ENZL -5.14%, EWY -4.15%, ILF -3.20%

Since Inception Performance:

+30.95%

outpacing the MSCI ACWI ex-U.S. (IXUS) by 1.72%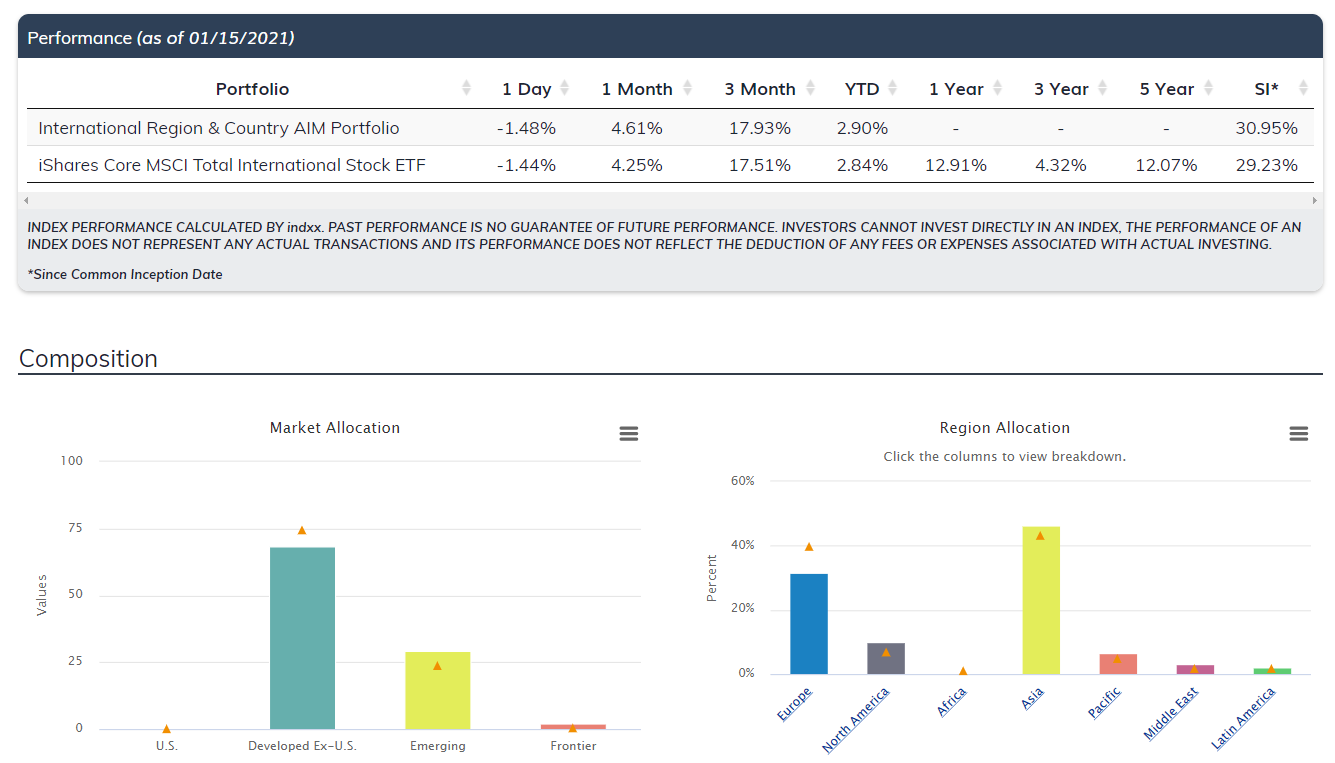 Global Thematic AIM Positioning Guide
1.18.2021
Global Thematic AIM Portfolio returned -0.75% last week, outperforming the MSCI ACWI (ACWI) by 0.61%
Top Performers

:

IDNA +4.01%, IBUY +2.47%, SBIO +1.94%

Bottom Performers:

REMX -4.03%, GRID -3.44%, PBW -2.60%

Since Inception Performance:

+66.31%

outpacing MSCI ACWI (ACWI) by 42.40%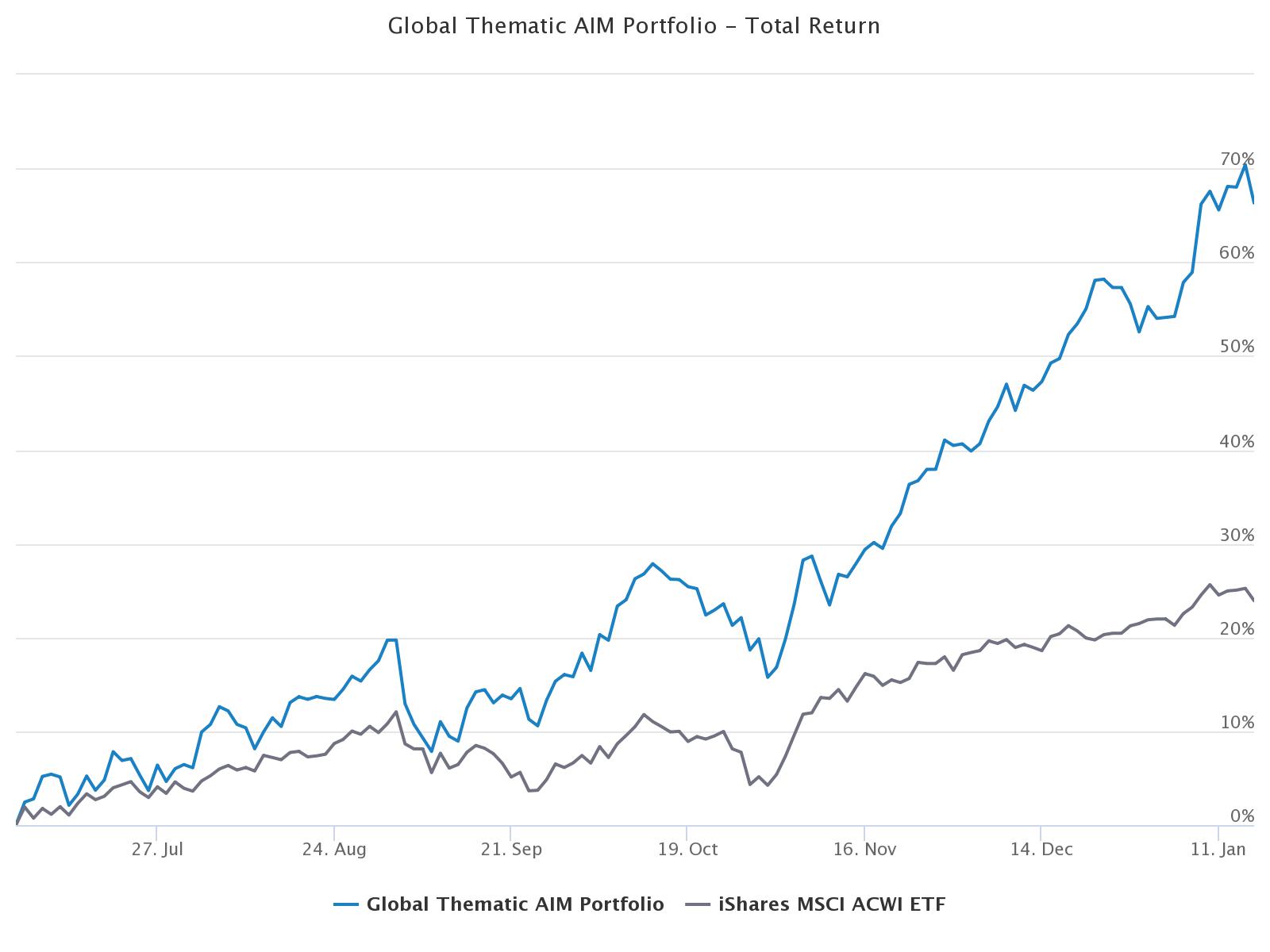 U.S. Factor AIM Positioning Guide
1.18.2021
U.S. Factor AIM Portfolio returned -0.08% last week, outperforming the S&P 500 (SPY) by 1.38%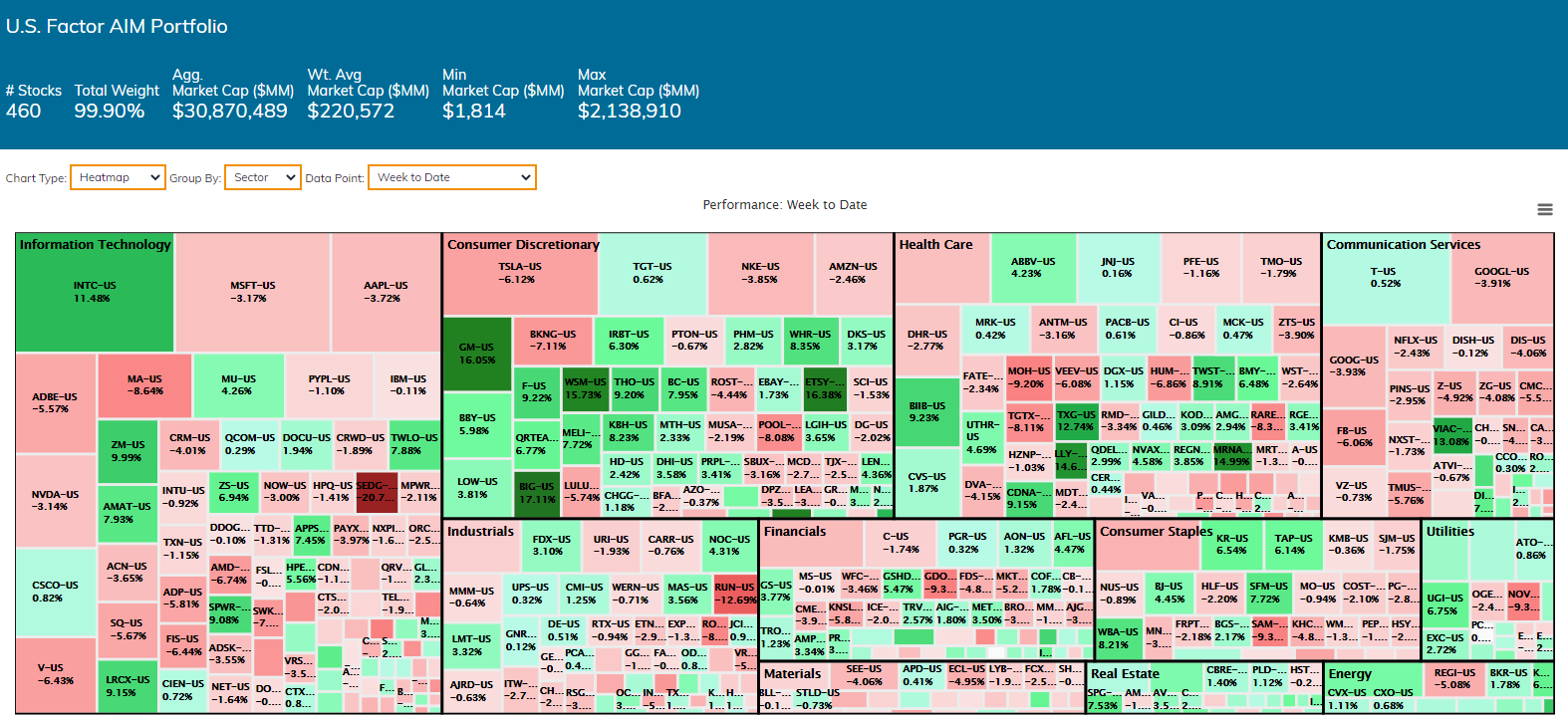 International Region & Country AIM Positioning Guide
1.11.2021
International Region & Country AIM Portfolio returned 4.49% last week, outperforming the MSCI ACWI ex-U.S. (IXUS) by 0.19%
Top Performers:

EWY +11.82%, EEMA +6.02%, EWT +6.01%

Bottom Performers:

EWM +0.28%, EIS +2.33%, EDEN +2.62%

Since Inception Performance:

+32.98%

outpacing the MSCI ACWI ex-U.S. (IXUS) by 1.91%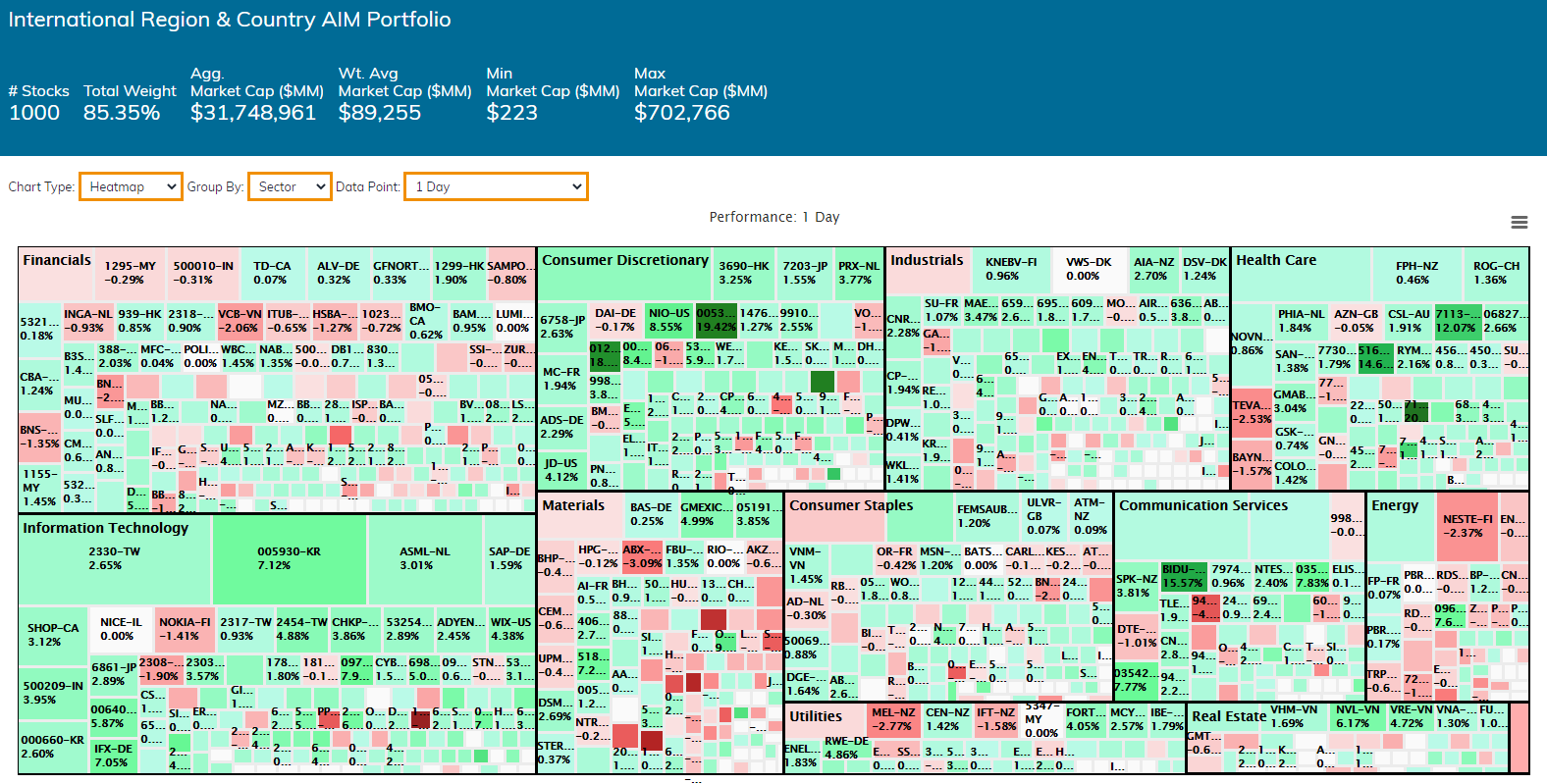 U.S. Factor AIM Positioning Guide
1.11.2021
U.S. Factor AIM Portfolio returned 3.40% last week, outperforming the S&P 500 (SPY) by 1.43%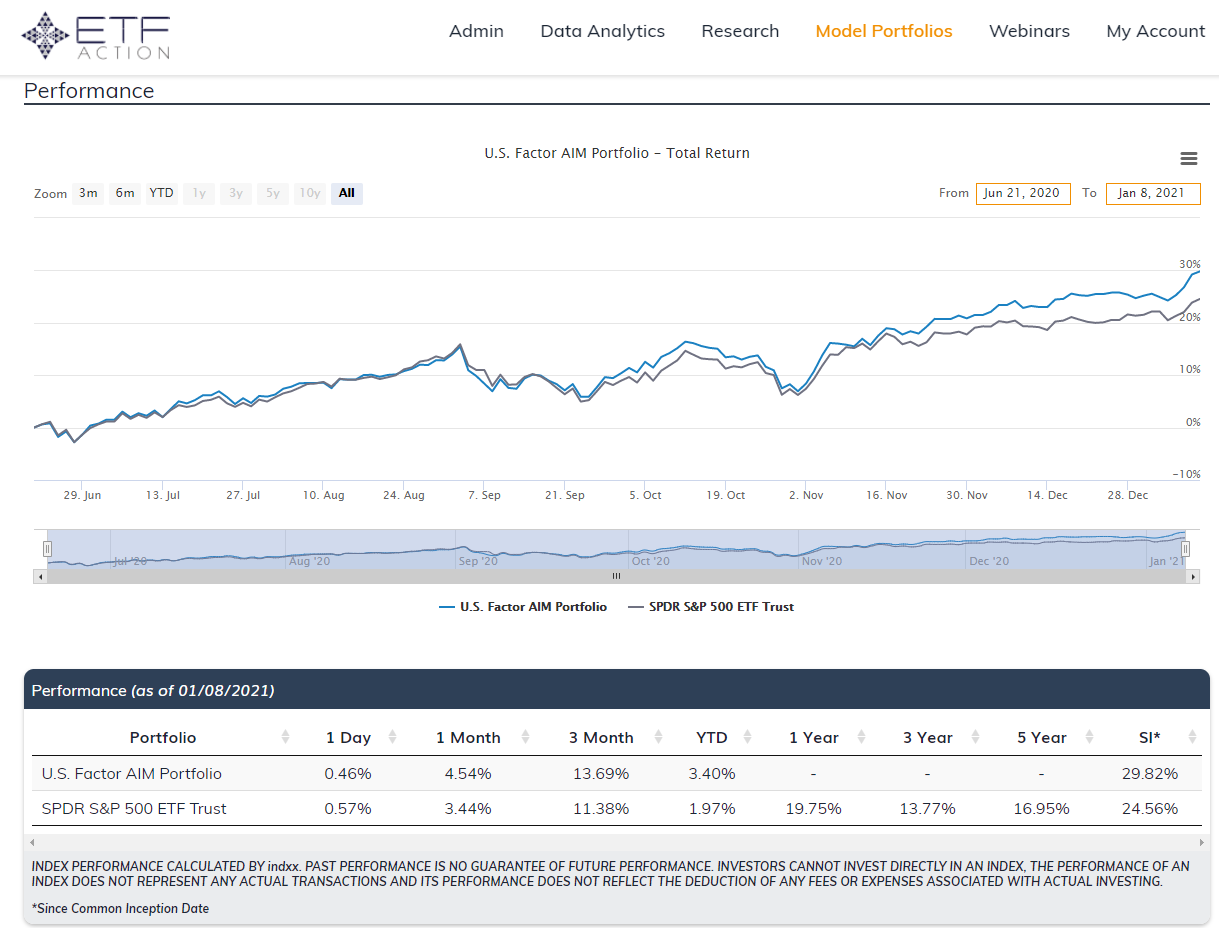 International Factor AIM Portfolio Positioning Guide
1.11.2021
International Factor AIM Portfolio returned 3.92% last week, underperforming the MSCI ACWI ex-U.S. (IXUS) by 0.38%
Top Performers

:

TLTE +2.47%, PIE +2.10%, EEMV +1.66%

Bottom Performers:

IVLU +0.51%, EFAV +1.27%, IMTM +1.29%

Since Inception Performance:

+26.17%

underperforming MSCI ACWI ex-U.S. (IXUS) by 4.36%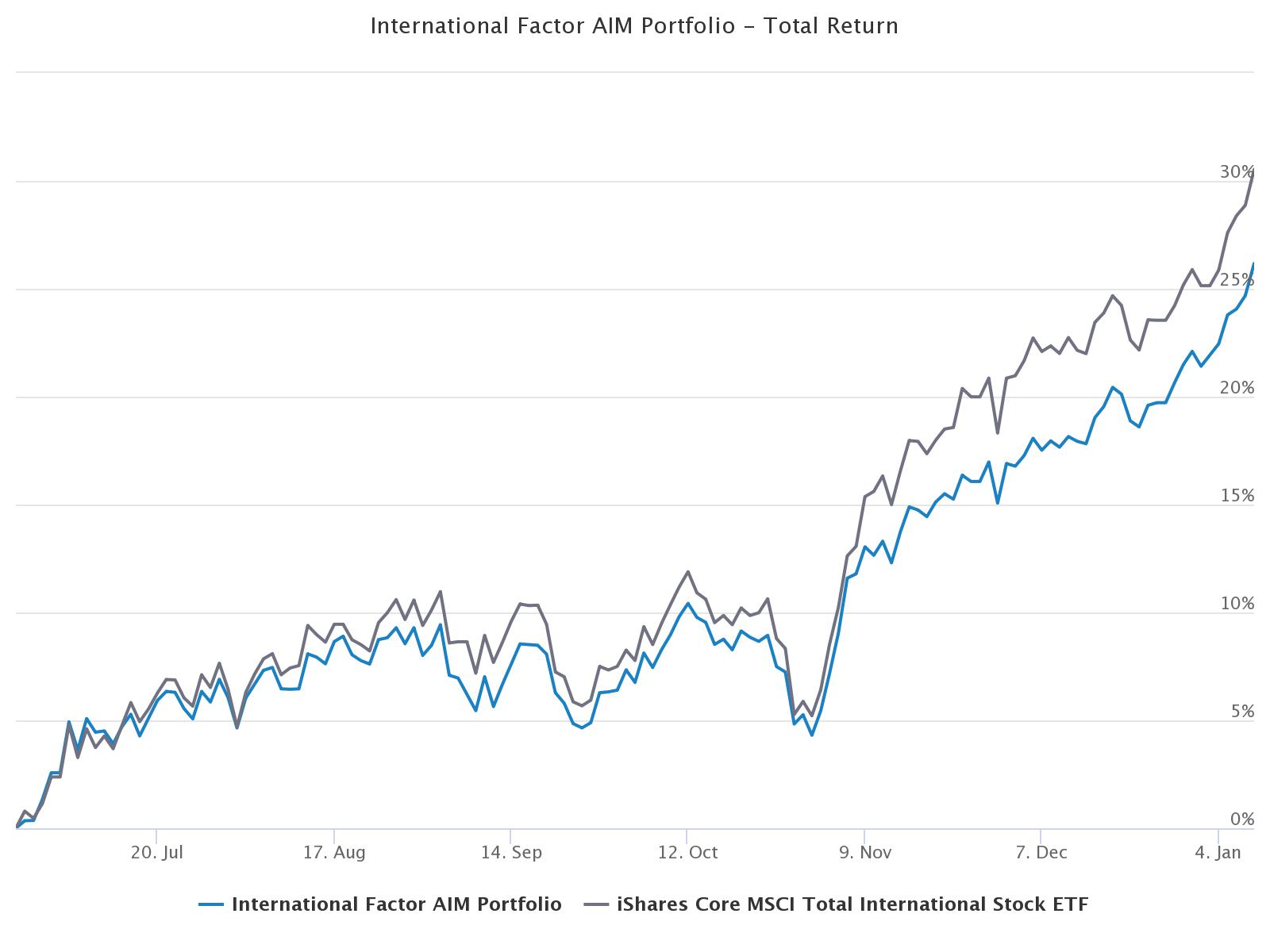 Global Thematic AIM Positioning Guide
1.11.2021
Global Thematic AIM Portfolio returned 8.80% last week, outperforming the MSCI ACWI (ACWI) by 5.80%
Top Performers:

PBW +18.20%, REMX +14.59%, ARKK +14.45%

Bottom Performers:

FINX +0.39%, WCLD +2.15%, ESPO +4.47%

Since Inception Performance:

+67.56%

outpacing MSCI ACWI (ACWI) by 41.94%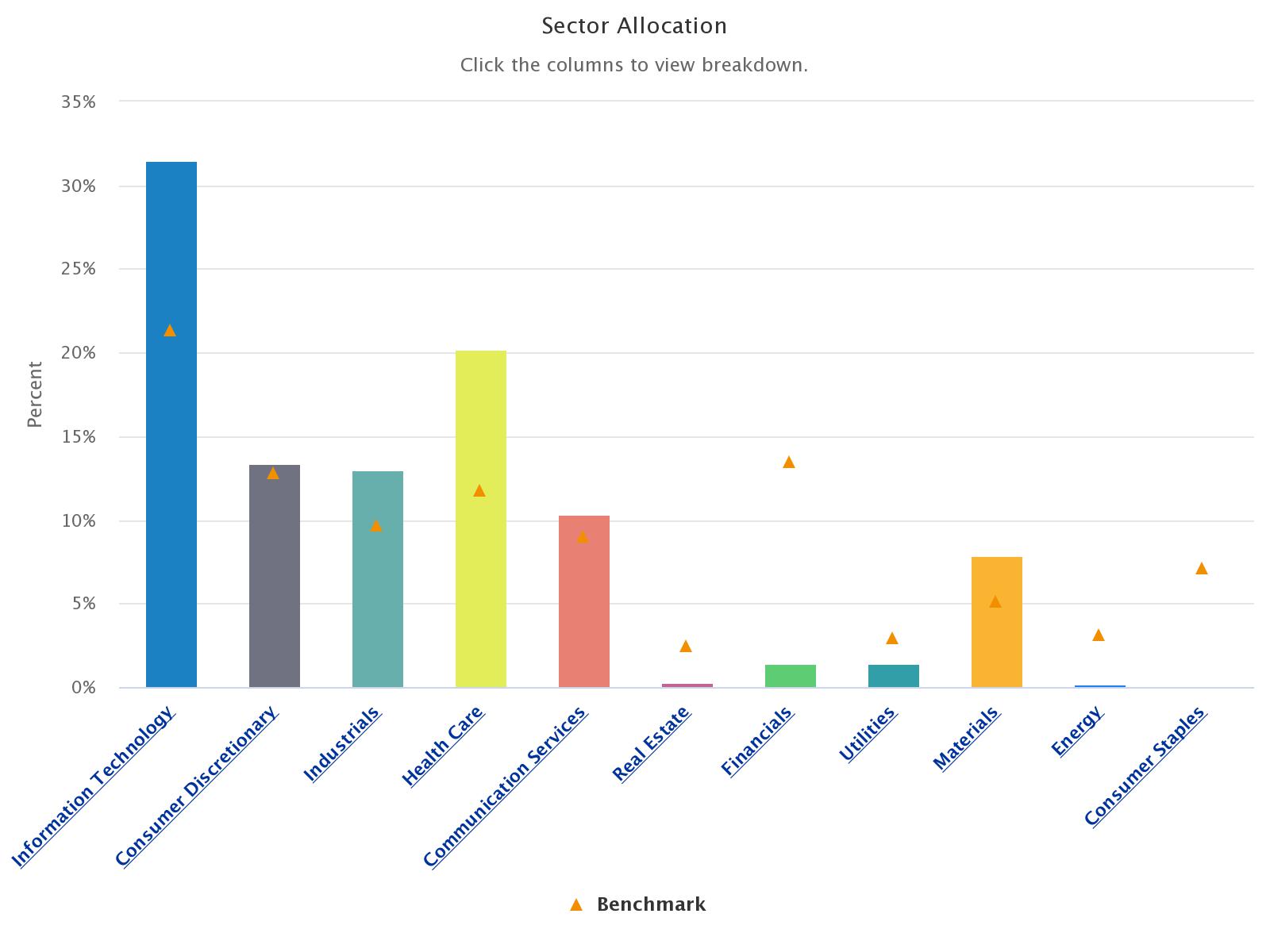 U.S. Sector & Industry AIM Positioning Guide
1.11.2021
U.S. Sector & Industry AIM Portfolio returned 2.74% last week, outperforming the S&P 500 by 0.77%
Top Performers

:

XME +8.73%, KBE +8.13%, XBI +6.22%
Bottom Performers:

XLP -0.82%, XAR -0.64%,

XLK +0.57%

Since Inception Performance:

27.72%

outperforming the S&P 500 (SPY) by 6.80%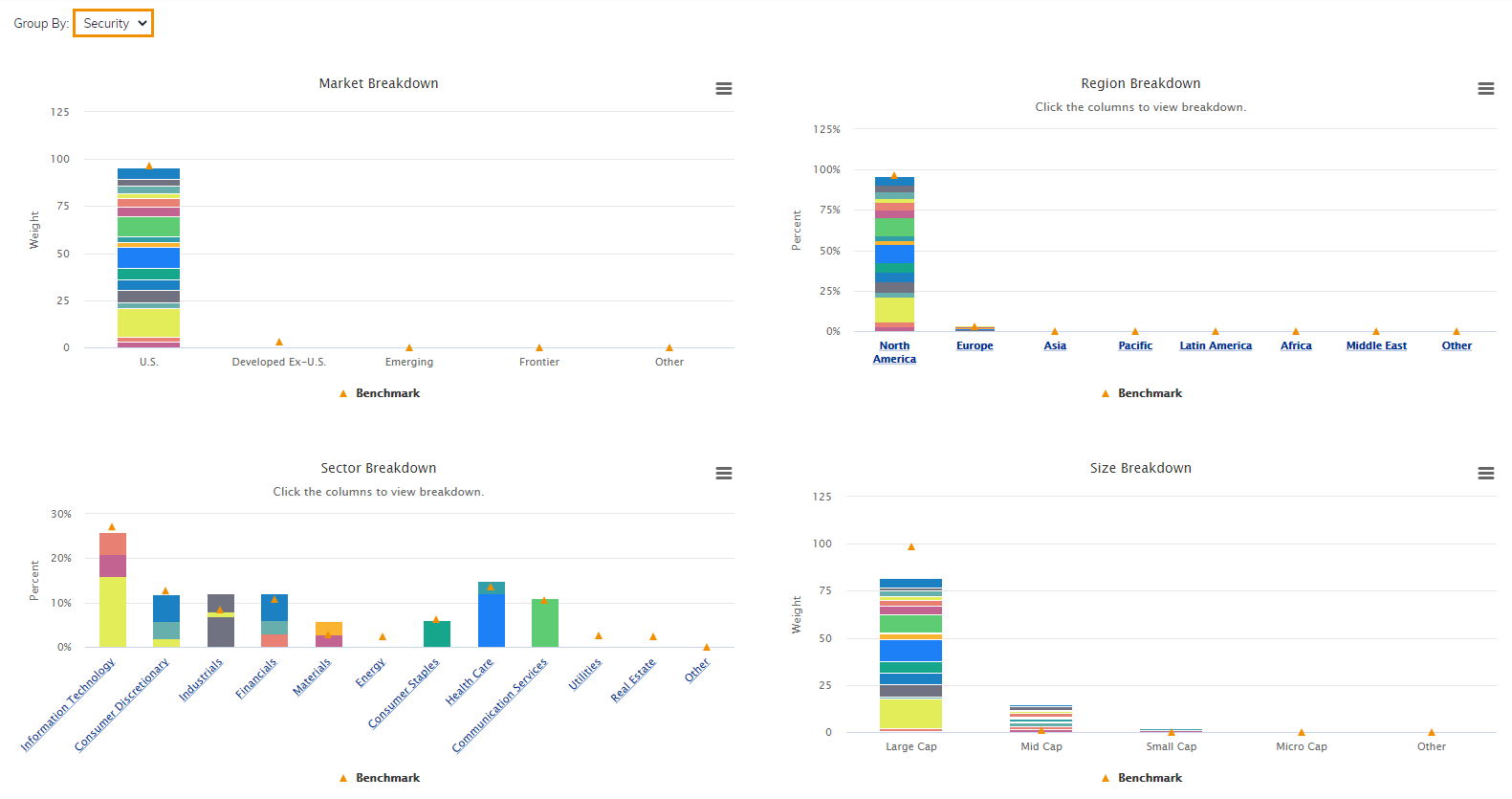 International Region & Country AIM Positioning Guide
1.3.2021
International Region & Country AIM Portfolio returned 1.65% last week, outperforming the MSCI ACWI ex-U.S. (IXUS) by 0.35%
Top Performers

:

EWY +4.73%, VNM +4.54%, EEMA +3.64%

Bottom Performers:

EWC -0.71%, EWN -0.22%, EWG -0.22%

Since Inception Performance:

+27.26%

outpacing the MSCI ACWI ex-U.S. (IXUS) by 1.60%