This Week In ETFs
2.19.2021
This Week In ETFs
Week of Feb. 15-19, 2021
What happened in ETF markets this week? We crunch the numbers below.
NOTE: Unless otherwise stated, data range is from Monday through Thursday's close. ETNs and leveraged/inverse ETFs are excluded.


Quick Stats
Total # of ETFs: 2,424
Total AUM: $5.88 trillion
Average Expense Ratio: 0.54%
5-Day Net Flows: $11.55 billion
30-Day Net Flows: $112.52 billion
90-Day Net Flows: $282.54 billion
YTD Net Flows: $129.38 billion
1-Year Net Flows: $545.17 billion
Best Performing ETFs

Commodity producers ETFs took several of the top performing slots this week. Copper miners led in performance, with the Global X Copper Miners ETF (COPX) rising 8.78%..Other top performers include the Breakwave Dry Bulk Shipping ETF (BDRY), which rose 8.77%; the Global X MSCI China Energy ETF (CHIE), which rose 8.35%; the Amplify Transformational Data Sharing ETF (BLOK), which rose 6.98%; and the Teucrium Sugar Fund (CANE), which rose 5.36%.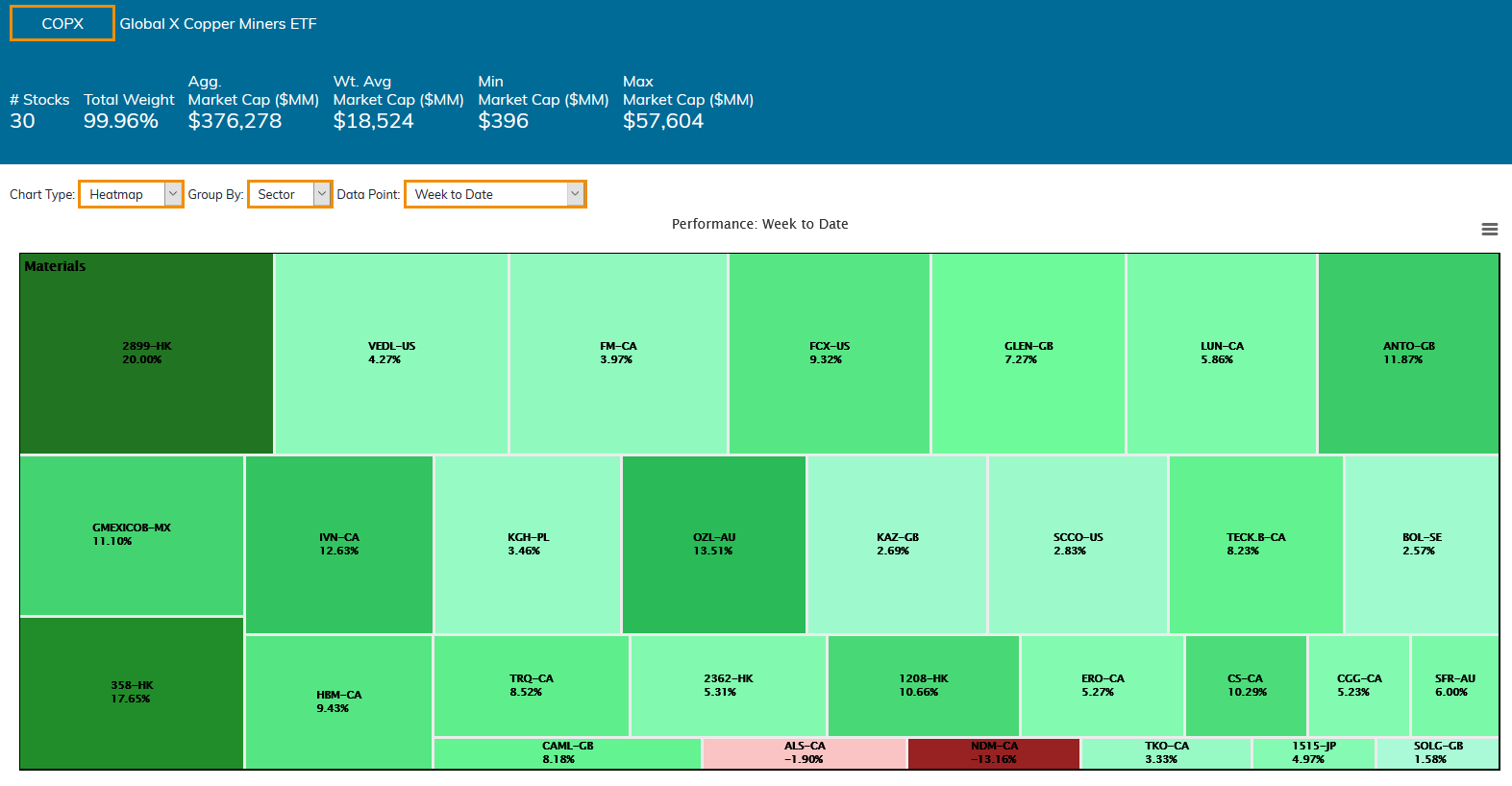 Source: ETF Action

Worst Performing ETFs
It was a tough week for clean energy ETFs, which pulled back from some of their gains over the past few weeks. The SPDR S&P Kensho Clean Power ETF (CNRG) led declines, falling 12.16%. Other big declines were notched by the Invesco WilderHill Clean Energy ETF (PBW), which fell 11.94%; the Invesco Solar ETF (TAN), which dropped 10.74%; the First Trust Nasdaq Clean Edge Green Energy Index Fund (QCLN), which fell 10.26%; and the Global X CleanTech ETF (CTEC), which fell 10.20%.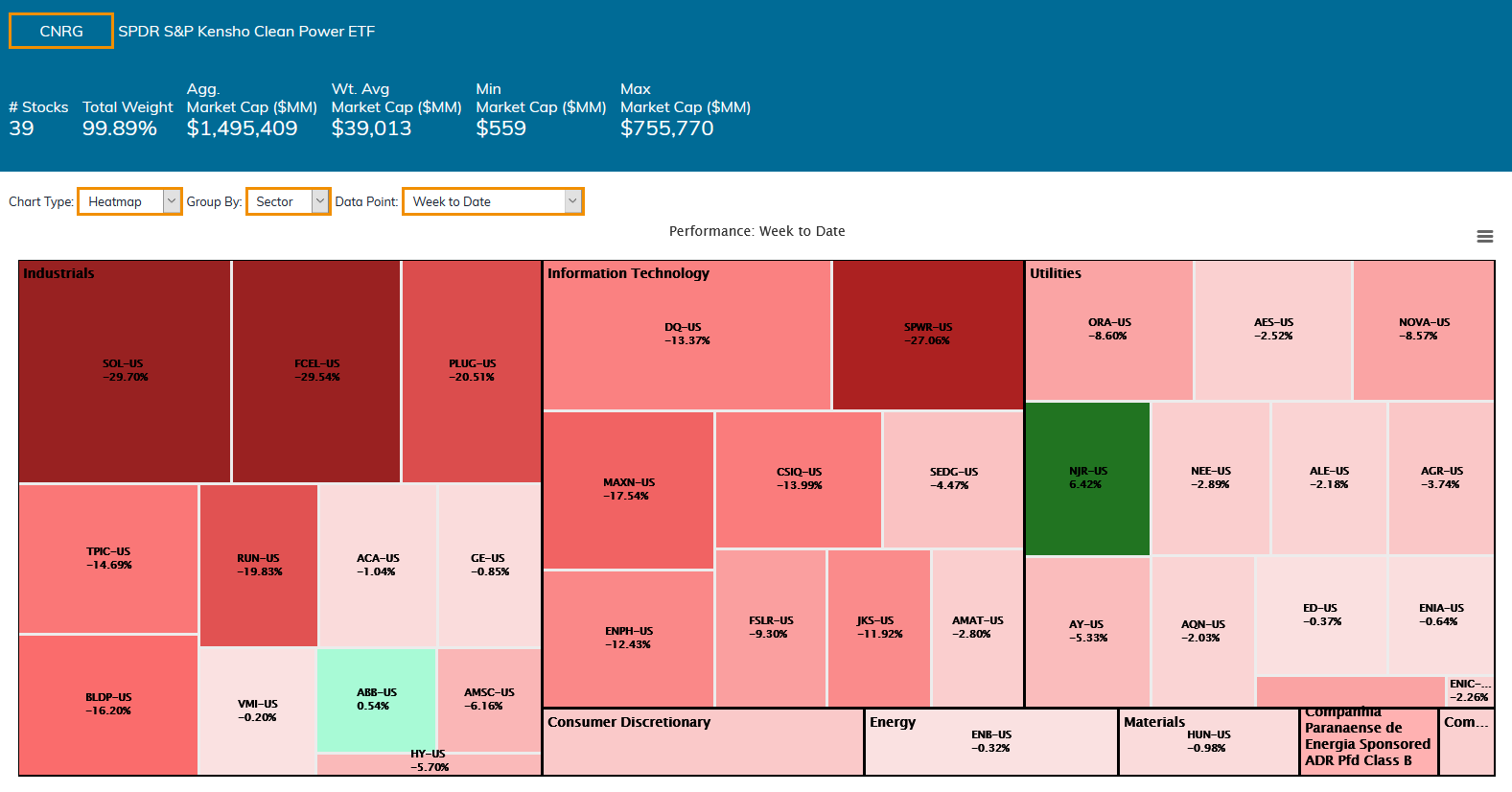 Source: ETF Action

ETFs with the Largest 5-Day Net Inflows
S&P 500 ETFs led in inflows over the past five days: The Vanguard S&P 500 ETF (VOO) took in the most new net assets, at $1.36 billion, followed by the SPDR S&P 500 ETF Trust (SPY), which increased by $1.07 billion.

Other funds seeing large 5-day inflows included the Vanguard FTSE Emerging Markets ETF (VWO), which gained $920 million; the Vanguard Total Stock Market ETF (VTI), which brought in $839 million; and the iShares 7-10 Year Treasury Bond ETF (IEF), which gained $834 million.


ETFs with the Largest 5-Day Net Outflows
Several bond ETFs saw big outflows this week. The iShares iBoxx $ Investment Grade Corporate Bond ETF (LQD) lost $1.91 billion in net assets; the iShares 20+ Year Treasury Bond ETF (TLT) lost $1.15 billion; the iShares iBoxx $ High Yield Corporate Bond ETF (HYG) lost $736 million; and the iShares JP Morgan USD Emerging Markets Bond ETF (EMB) lost $691 million.
In addition, net assets in the Utilities Select Sector SPDR Fund (XLU) dropped by $783 million.


ETFs With The Largest & Smallest Duration
Duration is a measure of a bond investment's sensitivity to interest rate fluctuations: For every year of duration, a +/-1% change in interest rates will make that bond's price will move -/+1% in the opposite direction. For ETFs, though, "duration" becomes a weighted average of all the durations of the individual constituents inside the portfolio.
Essentially, higher duration means higher interest rate sensitivity, meaning the more an investment's price will drop as rates rise. Currently, the highest duration belongs to the PIMCO 25+ Year Zero Coupon US Treasury Index ETF (ZROZ), with a duration of 25.13 years.

Source: ETF Action
Meanwhile, the lowest duration belongs to the Invesco VDRO Tax-Free Weekly ETF (PVI), which has a duration of 0.02 years.

Source: ETF Action
Notable Launches: 2/12-2/18
First Trust TCW Emerging Markets Debt ETF (EFIX):

Active ETF that invests in emerging market debt, with the goal of capturing economic or political "inflection points."



Wilshire wShares Enhanced Gold Trust (WGLD):

Physically backed gold trust that switches from gold to cash when market volatility rises. Does not use gold futures or other derivatives.



Gabelli Growth Innovators ETF (GGRW):

Nontransparent active ETF investing in companies enabling and benefitting from "digital acceleration."



American Century Quality Preferred ETF (QPFF)

& American Century Quality Convertible Securities ETF (QCON): Nontransparent active ETFs tracking preferred securities and convertible securities, respectively.


It's not a U.S. launch, but worth a mention anyway: The first North American physical bitcoin ETF went live for trading in Canada on Thursday.
Notable Closures: 2/12-2/18
No closures noted this week.
Notable Filings: 2/12-2/18


Lara Crigger is the Editor-in-Chief of ETF Action. Contact her at lara@etfaction.com
Want to get this story and stories like it delivered right to your inbox?
Sign up to receive The Morning Focus newsletter.