This Week in ETFs
3.25.2021
This Week In ETFs
Week of Mar. 22-26, 2021
Quick Stats
Total # of ETFs: 2,449
Total AUM: $5.84 trillion
Average Expense Ratio: 0.54%
5-Day Net Flows: $4.19 billion
30-Day Net Flows: $115.80 billion
90-Day Net Flows: $340.71 billion
YTD Net Flows: $231.49 billion
1-Year Net Flows: $726.18 billion
What happened in ETF markets this week? We crunch the numbers below.
NOTE: Unless otherwise stated, data range is from Monday through Thursday's close. ETNs and leveraged/inverse ETFs are excluded.


Best Performing ETFs
Whether it was a defiant Fed in Congressional hearings or a natural pause in runaway yields, the reprieve in rising yields provided the catalyst for long-dated treasury ETFs and Utilities stocks to top the list of best performers so far this week. The Virtus Reaves Utilities ETF (UTES +3.14) was the top utility ETF, followed by iShares U.S. Utilities ETF (IDU +2.55%), and rounded out with the largest and oldest Utilities Select Sector SPDR (XLU +2.46%).
On the fixed income side, duration was your friend for the first time in a while leading to PIMCO 15+ Year US TIPS Index ETF (LTPZ +2.53%) and Vanguard Extended Duration Treasury ETF (EDV+2.52%) gaining the most.
Worst Performing ETFs
Plenty of diversity across the biggest WTD losers including two country specific ETFs with the iShares MSCI Turkey (TUR -18.03%) losing nearly 20% and KraneShares CSI China Internet ETF (KWEB -12.00%) also falling double digits.
Others in the bottom five included two thematic ETFs, ERShares Entrepreneurs ETF (ENTR -14.42%) and the Amplify Transformational Data Sharing ETF (BLOK -13.00%), sandwiching the Credit Suisse S&P MLP Index ETN (MLPO -13.37%).
ETFs with the Largest 5-Day Net Inflows
The largest inflows this week were dominated by broad-based cheap beta strategies led by the SPDR S&P 500 ETF Trust (SPY) recieving $8.9B, Invesco QQQ Trust +$4.47B, iShares Core MSCI Emerging Markets ETF (IEMG) +$1.13B and iShares Russell 1000 Value ETF (IWD) +$798M.
The lone outlier was the relatively expensive iShares U.S. Energy ETF (IYE) finding $783M worth of new buyers who apparently don't mind paying 4x the going rate.
ETFs with the Largest 5-Day Net Outflows
The largest outflow this week goes to last week's biggest inflows as the Vanguard Dividend Appreciation ETF (VIG) completed it's annual rebalance with a custom redemption trade netting over $-12B. Other big outflows, also likely rebalance related, included three more Vanguard equity strategies including Vanguard Mid-Cap ETF (VO) $-3.45B, Vanguard Small-Cap ETF (VB) $-2.29B and the Vanguard Extended Market ETF (VXF) $-1.61B.
One fixed income ETF made the top five outflows which was the iShares iBoxx $ Investment Grade Corporate Bond ETF (LQD) seeing $-2B flow out the door.
ETF Trading 64.51% Above 200-DMA Yet Below 50-DMA
Per BeSpoke research, this week marked the first time ever the Russell 2000 (IWM) was trading below its 50-DMA but was still more than 20% above its 200-DMA (provides a glimpse at how far and fast small caps have surged). This got me wondering what other ETFs met these technical parameters and it turns out there are currently 43 long-only equity ETFs both below their 50-DMA yet 20% above their 200-DMA. You can easily set the filters yourself in the ETF Terminal but for today I wanted to highlight the Amplify Seymour Cannabis ETF (CNBS) which is currently just below its 50-DMA but still a whopping 65% above the 200-DMA. Now that's some crazy trading action!!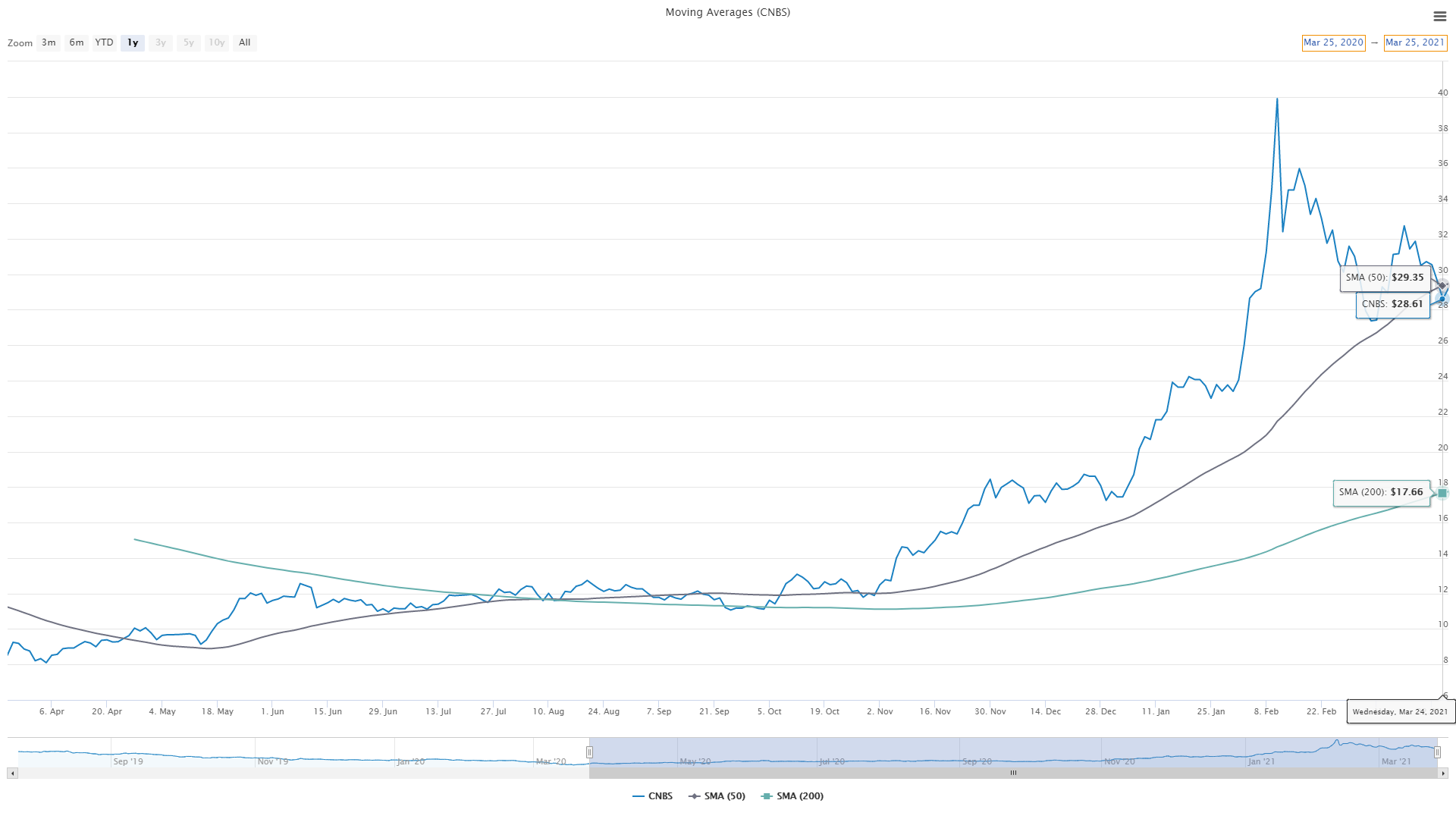 Source: ETF Action
Notable Launches: 3/12-3/18
Notable Filings: 3/12-3/18
AdvisorShares Gerber Kawasaki ETF

: Active ETF that invests in portfolio of growth stocks. Primarily focuses on U.S. exchange traded equity securities and American Depository Receipts.

Wise Origin Bitcoin Trust

has filed to track the performance of bitcoin, as measured by the performance of the Fidelity Bitcoin Index PR.

Teucrium Commodity Trust

has filed for the Teucrium Agricultural Fund to invest in agricultural commodity markets. Specifically, this ETF focuses on corn, soybeans, wheat and sugar.

First Trust SkyBridge Bitcoin

has filed for an ETF to reflect the performance of bitcoin less the Trust's liabilities and expenses.
Mike Akins is the CEO & Lead ETF Nerd at ETF Action. Contact him at mike@etfaction.com.
Want to get this story and stories like it delivered right to your inbox?
Sign up to receive The Morning Focus newsletter.