Screen of the Week: U.S. Dividend ETFs
3.24.2021
U.S. Dividend ETFs Positioned for an Economic Recovery
In today's screen of the week we set out to find U.S. focused dividend ETFs that may prove well positioned for a continued economic recovery. To achieve this objective we will make some broad assumptions concerning sector allocations, aggregated (bottom-up) fundamentals and more but before we do so lets first take a quick review of the category.
No other category in ETF factor-land comes close in either number of strategies or AUM than boring old dividend ETFs. With 65 strategies and over $225 billion in AUM just in U.S. focused dividend ETFs, investors certainly can't complain about a lack of options.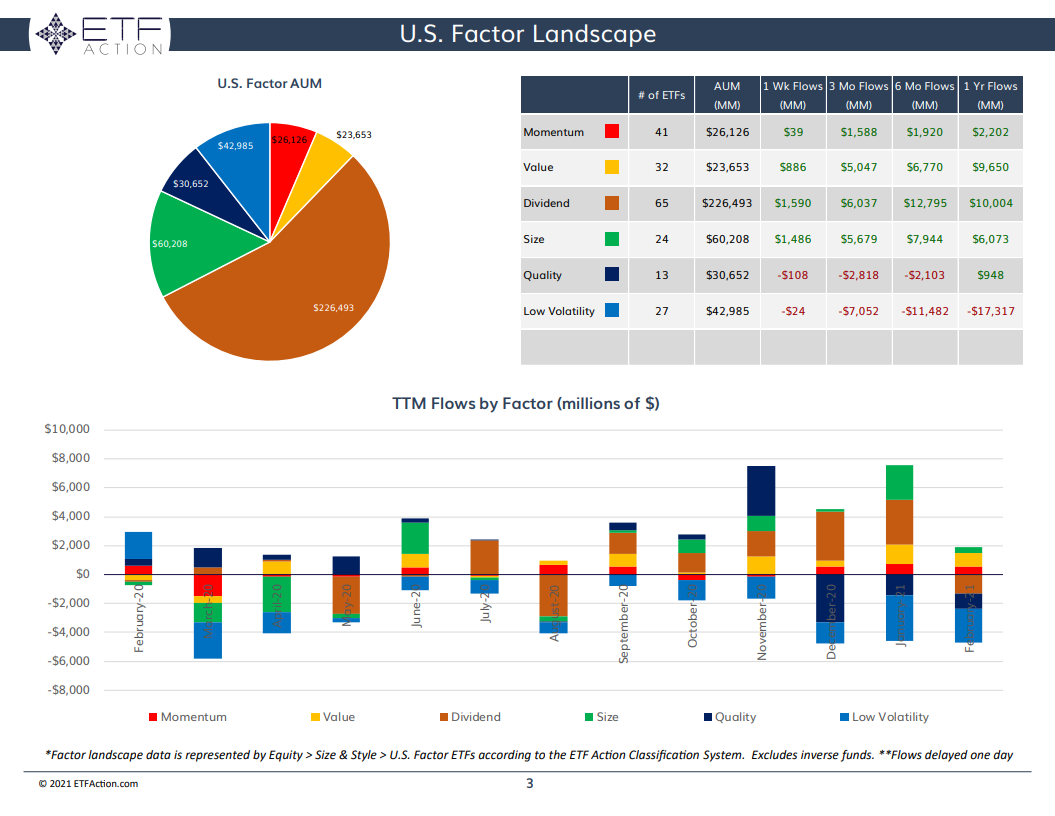 Source: ETF Action U.S. Factor Playbook
Of course with that many options there's also an increased risk in picking a dividend ETF that doesn't align with YOUR macro assumptions and/or client needs. In fact, dividend ETFs run the gamut both in terms of extreme sector over/under weights, valuations, growth metrics and more. Here's a look at a handful of those extremes:
Concentration:

Dow Jones Industrial Average Dividend ETF (DJD)

has the least amount of holdings with 27 while

WisdomTree U.S. Total Dividend Fund (DTD)

has the most with 668.
Energy Sector Allocation:

iShares Core High Dividend ETF (HDV)

has a whopping 23.76% (over 8x the S&P 500's allocation to energy) while 12 different dividend ETFs have zero allocation.
Dividend Yield:

Siren DIVCON Leaders Dividend ETF (LEAD)

sports a weighted average yield of just 1.34% while

Global X SuperDividend ETF (DIV)

is currently racking up 5.87% in annualized dividends from it's 50 holdings.
12 Month Performance:

VictoryShares US Small Cap High Dividend Volatility Wtd ETF (CSB)

takes the top spot with 118.81% return over the past year while

VanEck Vectors Morningstar Durable Dividend ETF (DURA)

is more than 70% behind returning 47.07% during the same time period.
At this point it probably goes without saying when it comes to selecting boring old dividend ETFs it pays to look under the hood first! For today's screen we will be using holdings level analysis to set filters but before getting started I'd be remiss to not mention that at ETF Action we do attempt simplify screening by classifying dividend ETFs into three strategies. Dividend Yield tracks those ETFs that select and/or weight based on a stocks yield, Dividend Growth selects companies based on dividend consistency and/or growth of dividends, and Dividend Multi includes addtional factors beyond dividends in their selection and weighting process.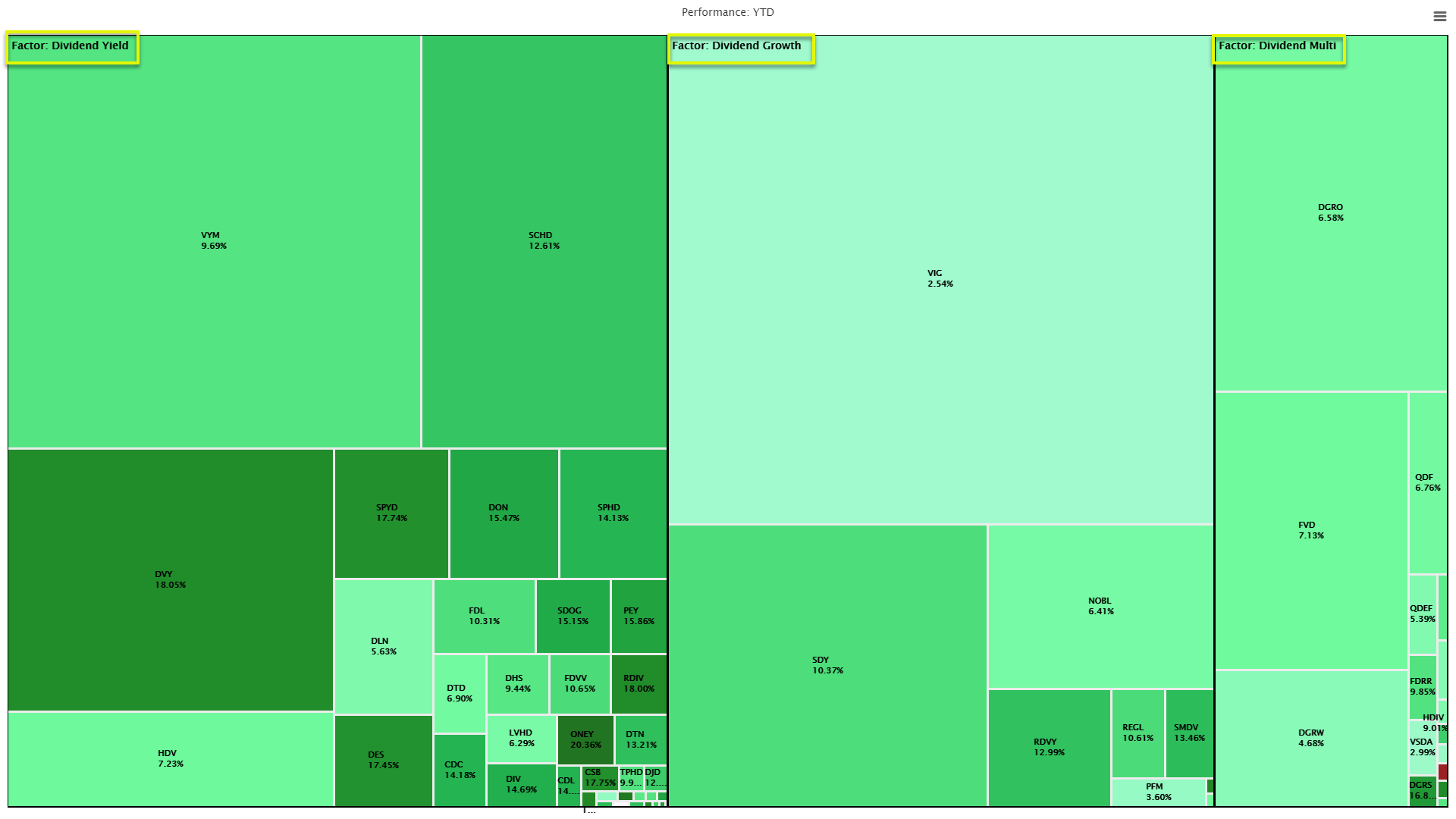 U.S. Dividend ETFs: Set Your Base Screens
Ok it's time to get down to business! Today our goal is to find dividend ETFs that may be best positioned for a continued economic recovery. Several research firms, including ETF Action, are currently operating under this assumption but note if they prove incorrect, then today's screen will likely result in dividend strategies best positioned to underperform.
The first thing I like to do when building any screen is to set some broad ground rules. For today those include:
Overview Tab: AUM > $100 million & Expense Ratio < 40 bps

ETF Classification Tab: Sub-Asset Class = Equity | Composite = Size & Style | Market = U.S. | Strategy = Factor: Dividend Yield, Factor: Dividend Growth & Factor: Dividend Multi (Note: you could skip category filters altogether and simply focus on data filters which may also capture non-dividend strategies that meet the stated criteria)

Portfolio Composition: # of Holdings > 50 & Large Cap Exposure > 50% (Note: if your assumption is a continued economic recovery then going further into mid and small cap names is not a bad thing but that's not my goal today)
Just with these basic filters the universe has been reduced to 26 qualifying ETFs: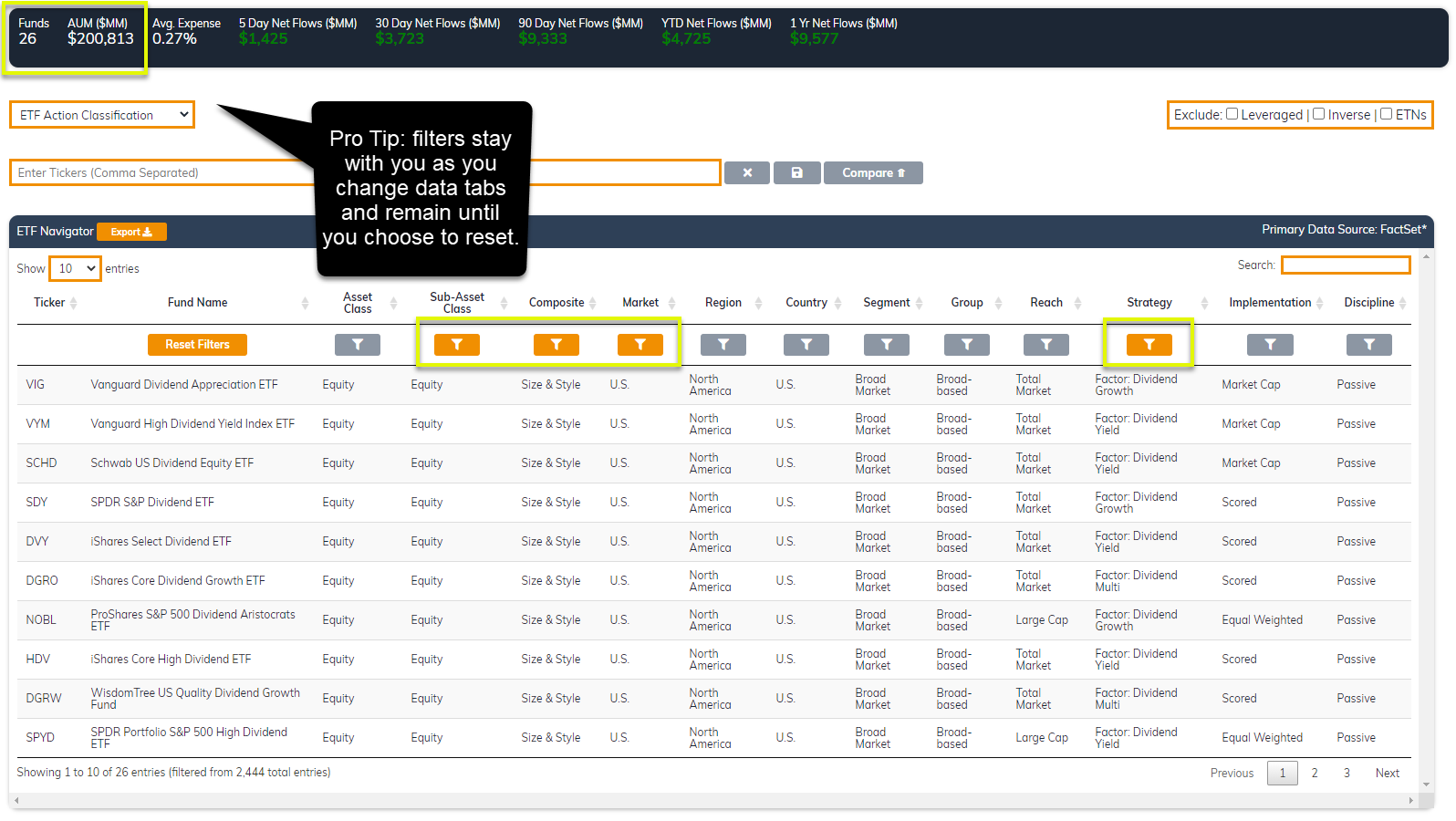 U.S. Dividend ETFs: Next Set Your More Detailed Filters
Next we want to start setting parameters on some more specific macro assumptions. The sky's the limit with respect to how detailed you want to go but I prefer to keep my filters broad enough to capture multiple strategies that I can then review in detail on a ETF-by-ETF basis. To that extent I'm going to set three filters focused on cyclical sector exposure (financials & industrials > 7.5%), TTM Yield > 2.5% and max dividend payout ratio of 60% (gotta have some confidence the companies will continue to pay their dividends!). The end result is 9 ETFs with similar key ratios, fairly diverse sector exposure and portfolios with varying levels of overlap in holdings.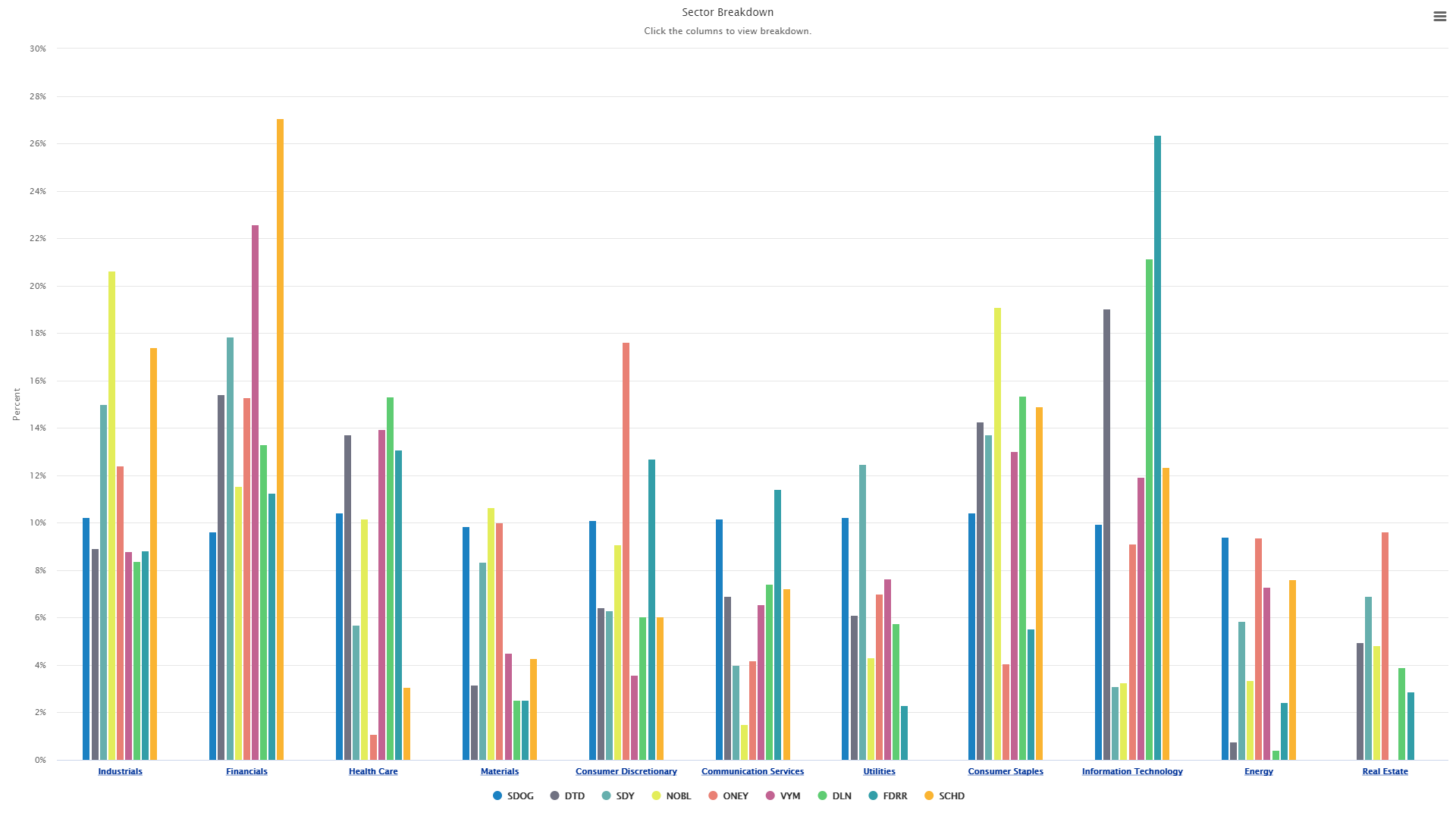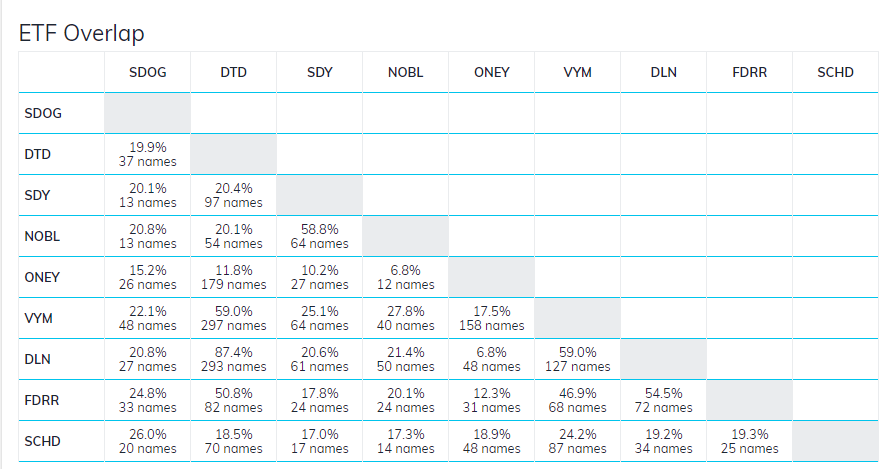 I hope this provided some ideas on different ways to utilize filters designed capture specific macro assumptions as it pertains to the vast lineup of U.S. focused dividend ETFs. As always please don't hesitate to contact team@etfaction.com if you have any questions or would like to schedule a personalized demo to walk through different scenarios on the platform.
Until next time, happy ETF hunting!
Best, Mike
Mike Akins is the CEO & Lead ETF Nerd at ETF Action. Inquiries can be sent to mike@etfaction.com