ETF All-Stars
1.13.2021
How To Use ETFs To Find The Top Genomics Stocks
If there's one truism of ETF construction, it's that nobody ever agrees on anything. Different indexers and issuers have differing opinions on how to define a given segment or theme, leading to products with similar-sounding names but radically different portfolios and performance.
For investors, separating signal from noise can be tricky. Whose definitions should you trust, when all the names and investment objectives sound the same?
For now, let's turn that question around instead: What if we examine not the differences among various ETFs, but rather what they have in common?
ETF All-Stars™: A Consensus View
ETF Action's ETF All-Stars™ Select Top 10 Lists use the portfolio holdings of thematic/factor ETFs to establish a consensus view on which stocks ought to be classified within a given theme or factor.
Conceptually, it's pretty simple: If you look inside ten cleantech ETFs, and all ten of them hold Enphase Energy (ENPH), well, then you're probably safe in assuming that Enphase is a cleantech company.
The reverse is true, too: If you look inside those ten cleantech ETFs, and only one of them holds Facebook (FB), then you'd probably be inclined to do some more research before adding Facebook to your clean tech allocation.
This is just one example of what we at ETF Action mean by using ETFs as a "lens" on the markets. Many thematic investors start their research on the equity side: They isolate a couple of stocks they believe express a particular theme, then identify the ETFs holding those stocks. We believe you can perform the process in reverse, too: That is, start with a set of thematic ETFs, then use their combined portfolios to identify a list of stocks that experts in the field agree match that theme.
Essentially, you're letting the ETF indexers and issuers do the hard work for you.
Inside The Genomics ETFs Portfolios
To showcase how it all works, let's start with an example that's top of everybody's mind right now: genomics stocks.
Genomics is a subset of biotech that focuses on the mapping and editing of genomes, or the genetic code locked inside our DNA. Genomics can lead to better diagnostic tools, treatments, outcomes—and, most relevant to humanity at the moment—vaccines; for example, the mRNA technology at the core of the COVID-19 vaccine is a type of genomics.
In ETF Action's "Genomics" classification segment, we count four ETFs: the ARK Genomic Revolution ETF (ARKG); the iShares Genomics Immunology & Healthcare ETF (IDNA); the Global X Genomics & Biotechnology ETF (GNOM); and the Franklin Genomic Advancements ETF (HELX).
Together, those four ETFs, which combined total roughly $9.8 billion in investor assets, cover 128 unique companies. These span the size gamut, ranging from $84 million in market capitalization up to $1.2 trillion: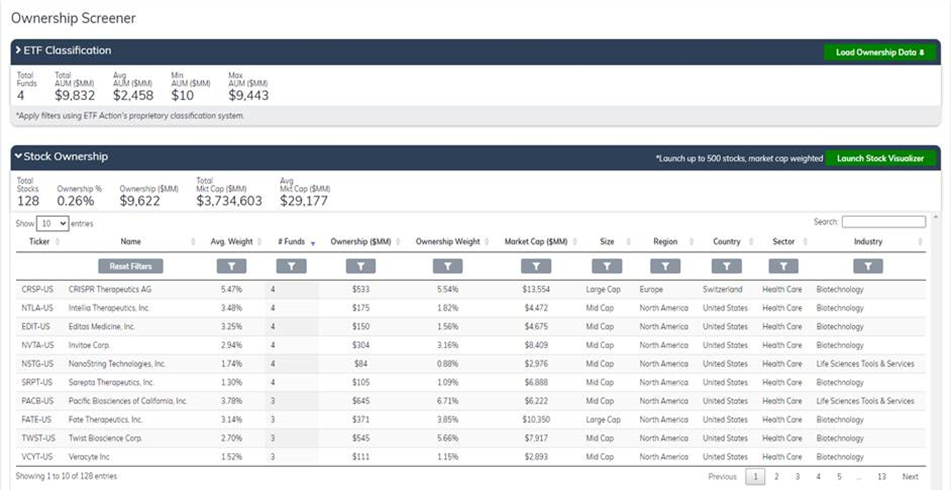 Source: ETF Action
How We Did It: Input tickers for the four genomics ETFs into the Ownership Screener, then click the green "Load Ownership Data" button in the top right corner of the "ETF Classification" window.

Yet even among all those names, there are six stocks that appear in all four ETFs; and five that appear in three of them. For someone interested in genomics investing at the security level, these eleven stocks offer a pretty decent place to start.
Now, for simplicity's sake, we're only going to focus on the 10 stocks with the biggest "prevalence" among our four genomics ETFs. Prevalence is determined by the total market value of a stock held across those thematic ETFs – so, in this case, Veracyte (VCYT), which has less of its market value held by genomics ETFs than Cellectis SA (CLLS), doesn't make our top ten.
The top ten genomics stocks are listed below:


Source: ETF Action
Genomics ETFs: Performance, Earnings, Oh My

Once you have a list of stocks, it's only a few clicks of a button to look up historical performance, earnings estimates, and other fundamental or technical data vital to your research investigation.
Let's start with historical performance. Which of these ten stocks has outperformed, and which have lagged? Finding out is as easy as plugging the list into our Stock Visualizer tool: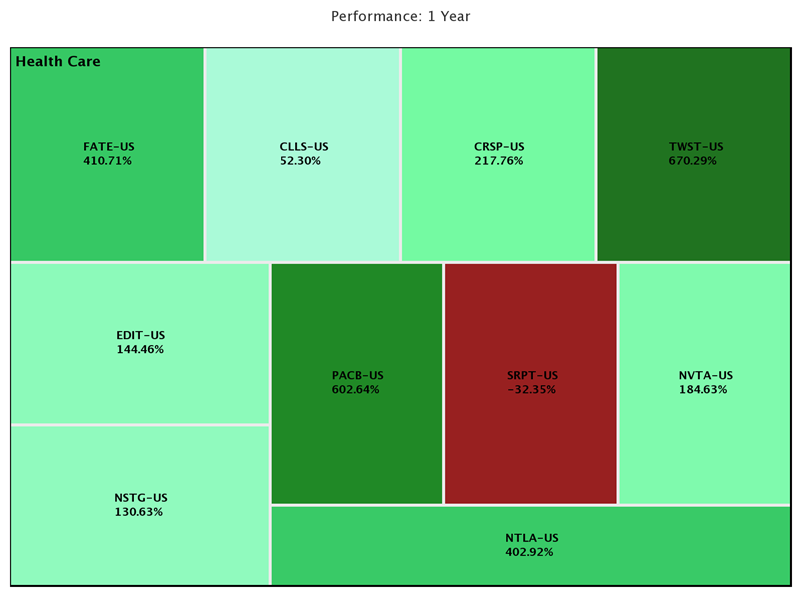 Source: ETF Action
How we did it: In the Model Tracker tool, input the 10 ETF All-Stars™ tickers, giving each stock equal weights. Then click on "Stock Visualizer -> Summary Stats" to view heatmaps across a range of time periods and data points.
Almost all of these genomics stocks have skyrocketed over the past 12 months. But the best performing of the bunch are Pacific Biosciences of California (PACB) and Twist Bioscience Corp. (TWST), which have risen 603% and 670%, respectively. (Makes sense: Products from both these companies have played critical roles in the development of COVID-19 therapies and vaccines.)
The lone laggard is Sarepta Therapeutics, Inc. (SRPT), which develops new medical cures for cancer and bacterial & viral infectious diseases using a genomics technology known as Morpholinos. Unfortunately, just a few days ago, Sarepta recently announced disappointing clinical trial data for a promising muscular dystrophy therapy; the news erased nearly all the stock's gains for the past year.
But let's say that maybe the above chart leaves you wondering just how much room these top 10 genomics stocks really have left to grow. In our Stock Visualizer tool, you could instead call up a heatmap of current analyst estimates of earnings per share (EPS) growth for fiscal year 2021 (okay, yes, we know that biotechnology is the one tech discipline where analysts aren't overly concerned about short-term EPS... but just roll with it, for the purposes of illustration):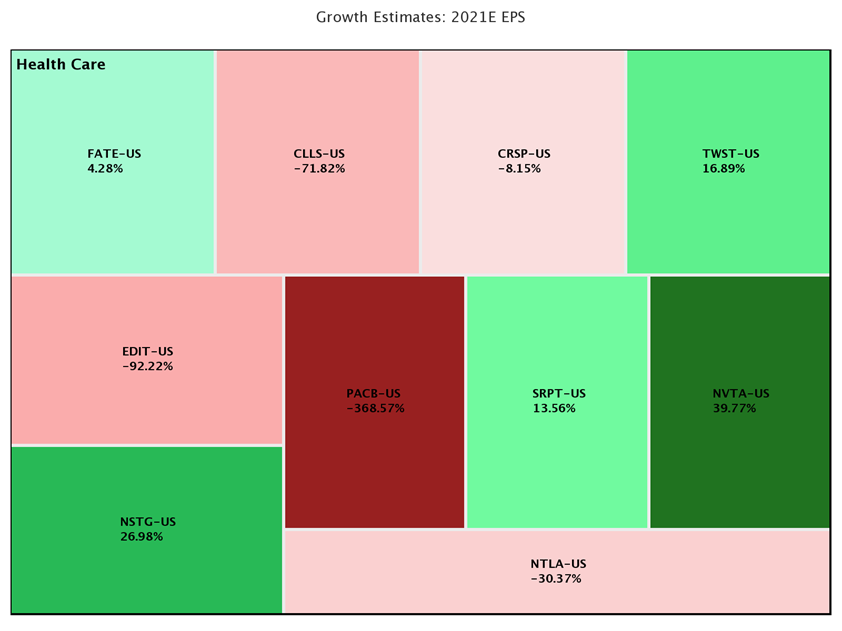 Source: ETF Action
Here, genetic testing company Invitae Corp (NVTA) is a clear standout, along with NanoString Technologies (NSTG), which also develops diagnostic instruments and tools. I suppose analysts agree that there's still big growth opportunity ahead in the business of diagnosing diseases.
Meanwhile, Pacific Biosciences is an obvious laggard in EPS estimates—not too surprising, since several of the company's recent earnings reports have trended downward.
More To Come Soon
Of course, performance and earnings are just two examples; the ETF Action platform offers a wealth of equity-side data, far beyond what we can go over in just one article.
We'll be rolling out our full ETF All-Stars™ Select Top 10 Lists to ETF Action subscribers in the next week or so. I'll also be highlighting a new thematic or factor Top 10 List each Thursday in the newsletter, so keep your eyes peeled for that feature, as well.
In the meantime, just remember: When it comes to thematic investing, look for the common ground.
Lara Crigger is the Editor-In-Chief of ETF Action. Contact her at lara@etfaction.com
Want to get this story and stories like it delivered right to your inbox?
Sign up to receive The Morning Focus newsletter.