This Week In ETFs
4.9.2021
This Week In ETFs
Week of April 5-9, 2021
Quick Stats
Total # of ETFs: 2,467
Total AUM: $6.057 trillion
Average Expense Ratio: 0.54%
5-Day Net Flows: $14.44 billion
30-Day Net Flows: $116.63 billion
90-Day Net Flows: $349.23 billion
YTD Net Flows: $269.18 billion
1-Year Net Flows: $734.88 billion
What happened in ETF markets this week? We crunch the numbers below.
NOTE: Unless otherwise stated, data range is from Monday through Thursday's close. ETNs and leveraged/inverse ETFs are excluded.


Best Performing ETFs
Beaten down Latin America country ETFs continued their recent rebound and led all ETFs this week. iShares MSCI Brazil Small-Cap ETF (EWZS +6.88), VanEck Vectors Brazil Small-Cap ETF (BRF +6.59%), iShares MSCI Peru ETF (EPU +6.15%) and First Trust Brazil AlphaDEX ETF (FBZ +5.73%) all returned more than 5% through Thursday's close.
Sprott Junior Gold Miners ETF (SGDJ) also cracked the top five retuning 5.71%.
Worst Performing ETFs
Sticking with the reversal trend, high-flying energy ETFs topped the list of biggest losers this week with many now down over 10% the past month. Invesco S&P SmallCap Energy ETF (PSCE -7.01%), SPDR S&P Oil & Gas Exploration & Production ETF (XOP -6.44%), Invesco DWA Energy Momentum ETF (PXI -5.79%), Invesco Dynamic Energy Exploration & Production ETF (PXE -5.75%) and First Trust Natural Gas ETF (FCG -5.64%) all declined more than 5%.
ETFs with the Largest 5-Day Net Inflows
Vanguad and iShares ETFs claimed the top inflows on the week. The biggest equity inflow was a head scratcher given it's nearly identical to multiple other strategies but charges 4x more. This lucky recipient was the iShares U.S. Real Estate ETF (IYR) recieving $1.247 billion in new investor money. The other top equity inflows went to cheap beta including Vanguard S&P 500 ETF (VOO +$1.1B), Vanguard Total Stock Market ETF (VTI +$1.099B) and iShares Core S&P 500 ETF (IVV +1.097B) all gathering more than $1B in net inflows.
The lone fixed income ETF to make the top was iShares iBoxx $ High Yield Corporate Bond ETF (HYG) reversing its recent trend of outflows in a big way by recieving $1.459 billion in new over the past five days.
ETFs with the Largest 5-Day Net Outflows
Largest outflows included three fixed income ETFs including iShares iBoxx $ Investment Grade Corporate Bond ETF (LQD $-2.151B), iShares MBS ETF (MBB $-553M) and iShares Short Treasury Bond ETF ($-462M).
Top equity outflows were claimed by SPDR S&P 500 ETF Trust ($-3.893B) and iShares Russell 2000 ETF (IWM $-1.536B).
Chart(s) of the Week: Market Breadth
The market is firing on all cylinders! While the first quarter welcomed a return of value and cooling off for some of the biggest pandemic winners, the 2nd quarter has been kind to nearly all the largest companies. As of yesterday's close nearly 90% of S&P 500 companies are trading above their 50-DMA. This is the highest reading since June of last year. Looking at company level heatmap and grouped by sectors reveals very little signs of weakness though healthcare does have its fair share of red.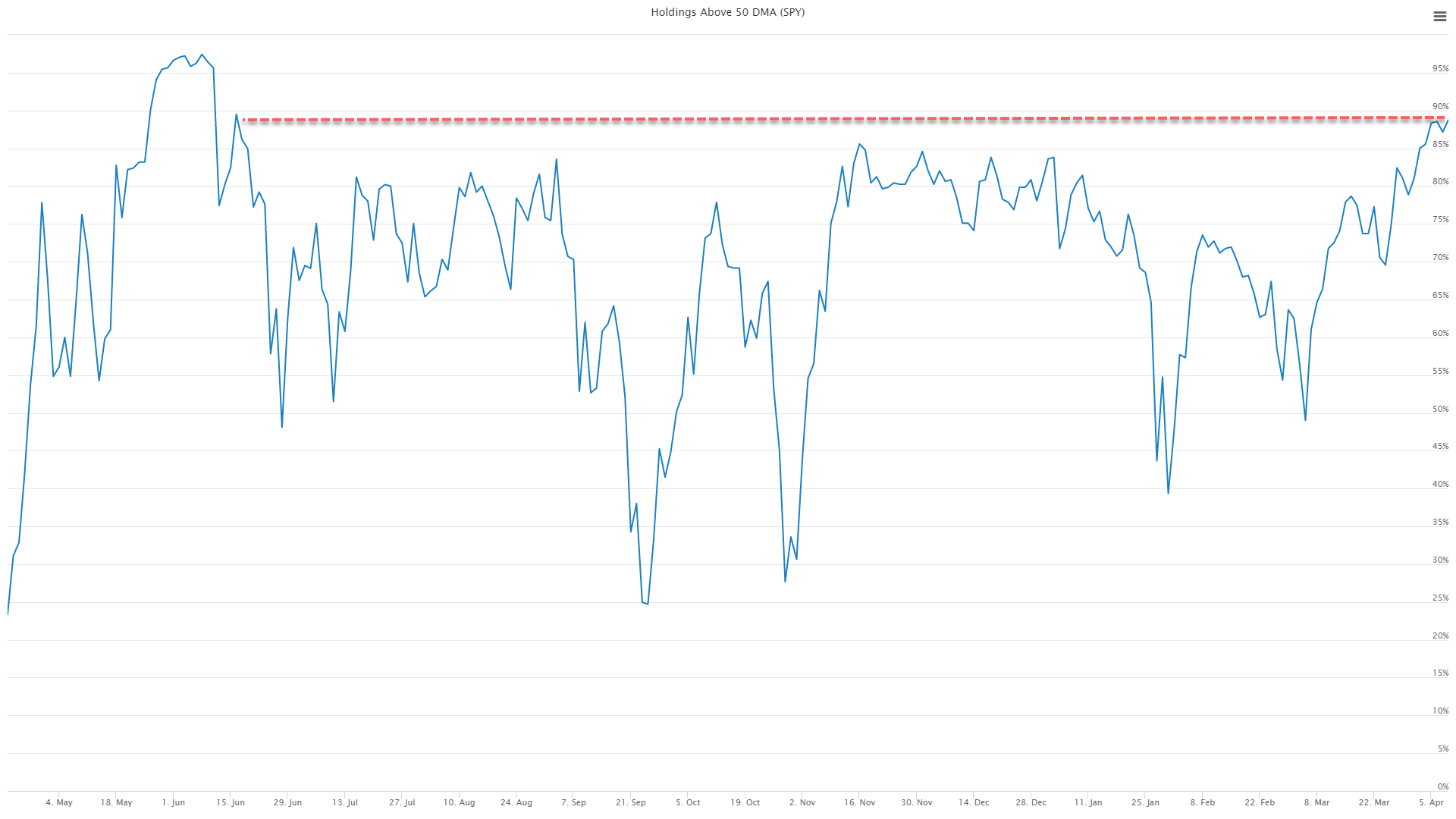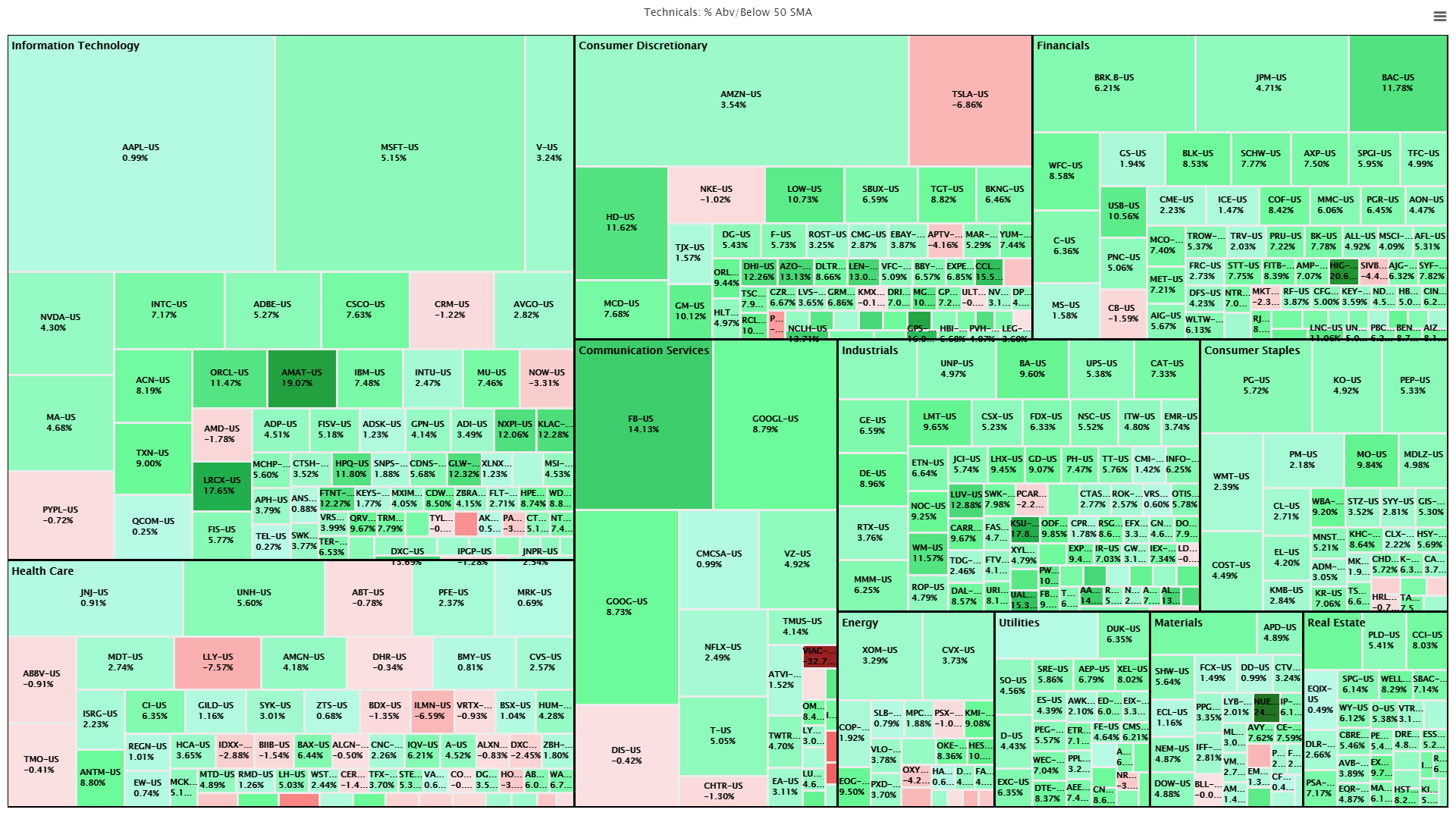 Source: ETF Action
Mike Akins is the CEO & Lead ETF Nerd at ETF Action. Contact him at mike@etfaction.com.
Want to get this story and stories like it delivered right to your inbox?
Sign up to receive The Morning Focus newsletter.