AIM Portfolio Rebalance: Infrastructure Exposure Adjustment
4.5.2021
AIM Portfolio Rebalance: Infrastructure Exposure Adjustment
Changes Made:
Global Thematic AIM Portfolio
U.S. Sector & Industry AIM Portfolio
In addition to the above position additions, both portfolios will be rebalanced to the new target weights. These changes will be made with closing prices on Thursday, April 8, 2021.

Overview
Over the last several weeks we have discussed the potential opportunity to reposition around Congress' long-awaited infrastructure bill. Well more details were released this past week which we briefly talked about in the NextGen Transportation All-Stars Select Top 10 Stocks writeup. The White House is targeting a multi-trillion dollar spending bill to upgrade roads, bridges, and waterways with a focus on cleaner energy initiatives and a massive digital infrastructure buildout. Over the last several rebalances, we have slowly been repositioning the AIM portfolios for a cyclical recovery in 2021 while also introducing potential benefactors to expected stimulus bills (SRVR in the Global Thematic AIM Portfolio in January).
Today's rebalance is focused specifically on three things:
Potential opportunities arising from the passage a new infrastructure bill
Positioning that aligns with an ongoing cyclical recovery
Adjustments that may better suit the portfolios in the event of higher yields
With that being said, the below gives more detail on the portfolio changes.
Global Thematic AIM Portfolio: Adding 7% FIVG Position
Similar to the addition of the Pacer Benchmark Data & Infrastructure Real Estate ETF (SRVR) back in January, we believe the Defiance Next Gen Connectivity ETF (FIVG) offers exposure to the upcoming infrastructure bill but with a tech angle. The Biden White House has made it clear that getting efficient nationwide internet access is a focal point of the infrastructure plan which should benefit those positions centered around the rollout of new 5G networks.
Furthermore, FIVG has an above average exposure to semiconductors (35%) which we believe will benefit from the digital infrastructure buildout (and the secular trend of accelerating technological advancement of course). Pair these attractive attributes with the fact that adding FIVG will lower overall portfolio valuation metrics while introducing new opportunistic companies is why we are adding it at a 7% holding. In doing so, we are trimming from other portfolio holdings that have greater valuation metrics (WCLD, ESPO, ARKK, FINX).
With potential for the trend in yields to keep moving higher, FIVG lowers overall portfolio valuation metrics, particularly in the disruptive tech segment.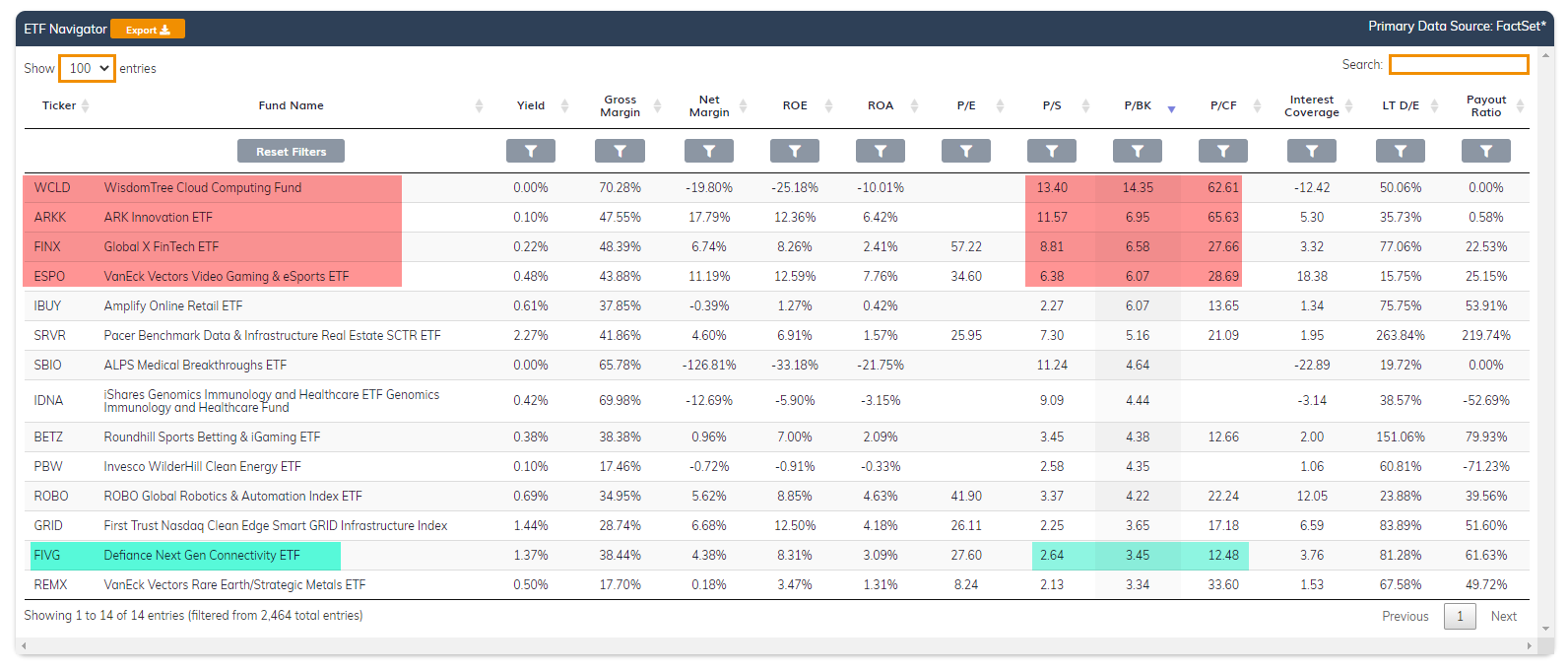 Source: ETF Action
FIVG's semiconductor exposure may benefit the portfolio with plans for large allocations to digital infrastructure buildout.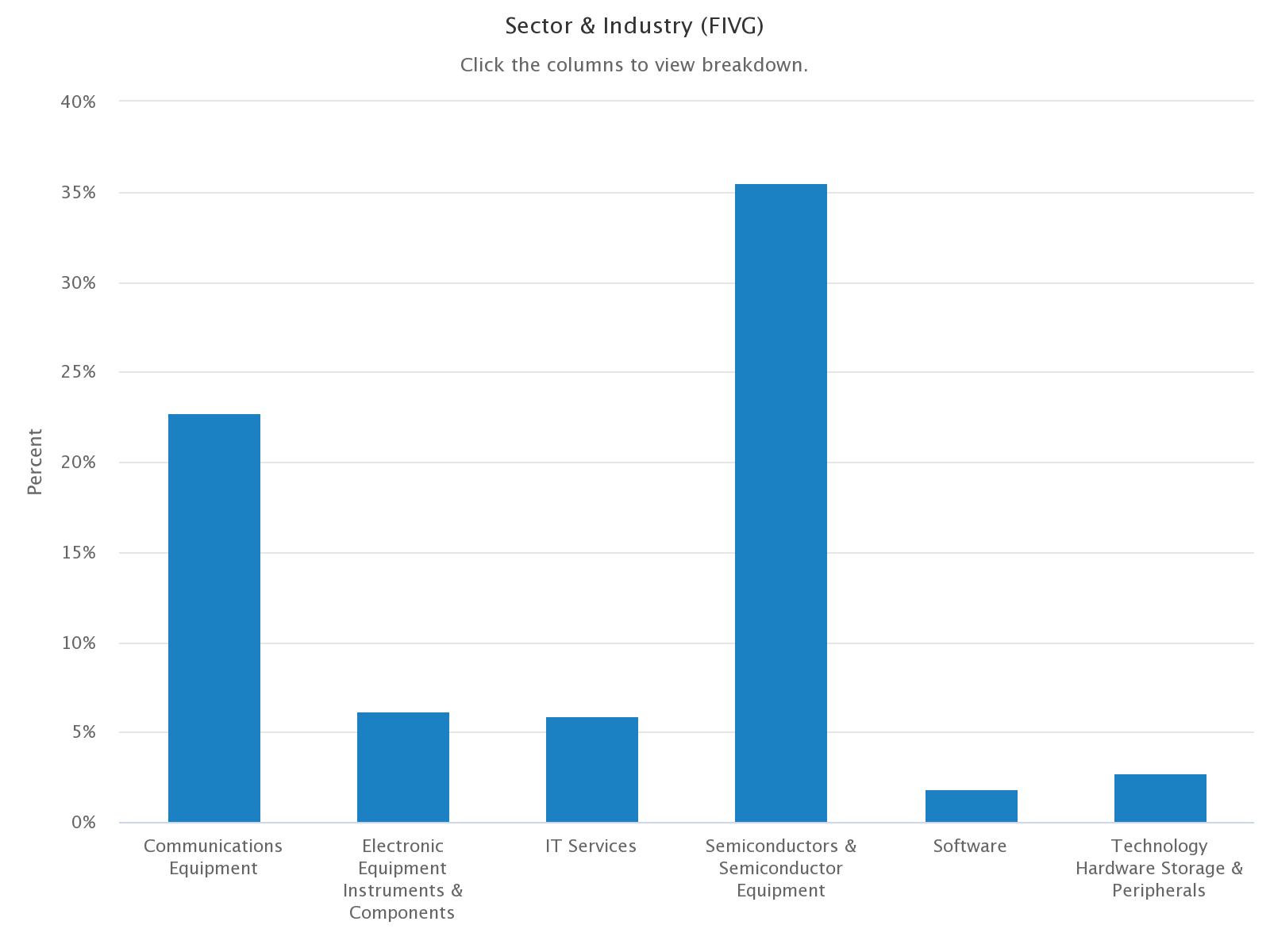 Source: ETF Action
Very little overlap between FIVG and current portfolio holdings introduces new names to the portfolio.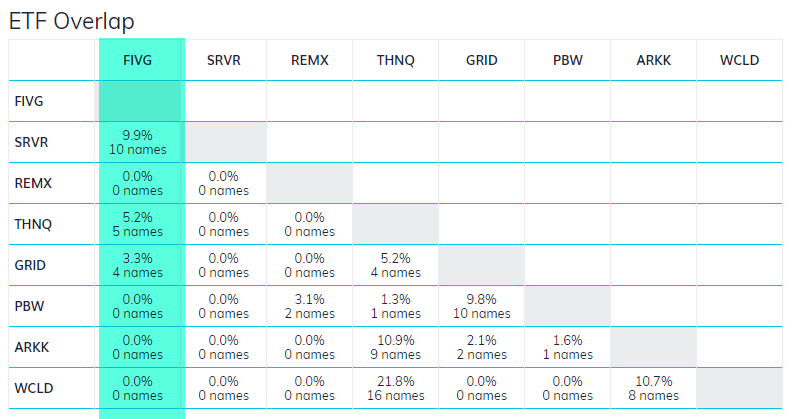 Source: ETF Action
U.S. Sector & Industry AIM Portfolio: Adding 6% PAVE Position
The addition of the Global X U.S. Infrastructure Development ETF (PAVE) to the U.S. Sector & Industry AIM Portfolio has similarities to why FIVG is getting added to the Global Thematic AIM Portfolio. First, it fits the infrastructure story, albeit rather than taking the tech angle PAVE offers cyclical exposure to the industrial and materials sectors. This should also catch a tailwind from the ongoing cyclical recovery.
Second, it introduces a number of new names to the portfolio due to the low overlap with current portfolio holdings. The greatest overlap comes from XLI at 23.8% followed by XME at 9.1%. These names have been showing positive momentum as of late too with relative outperformance coming from PAVE versus many other portfolio holdings. Year to date, only three portfolio holdings have outperformed PAVE.
Last and different from the FIVG addition, PAVE has a tilt to mid and small-caps which we believe is well positioned for the current phase of the recovery. This ~35% size tilt may provide the opportunity for relative outperformance. In order to create the 6% position in PAVE, we will be cutting the allocation to consumer staples.
PAVE introduces greater cyclical exposures from industrials and materials sectors.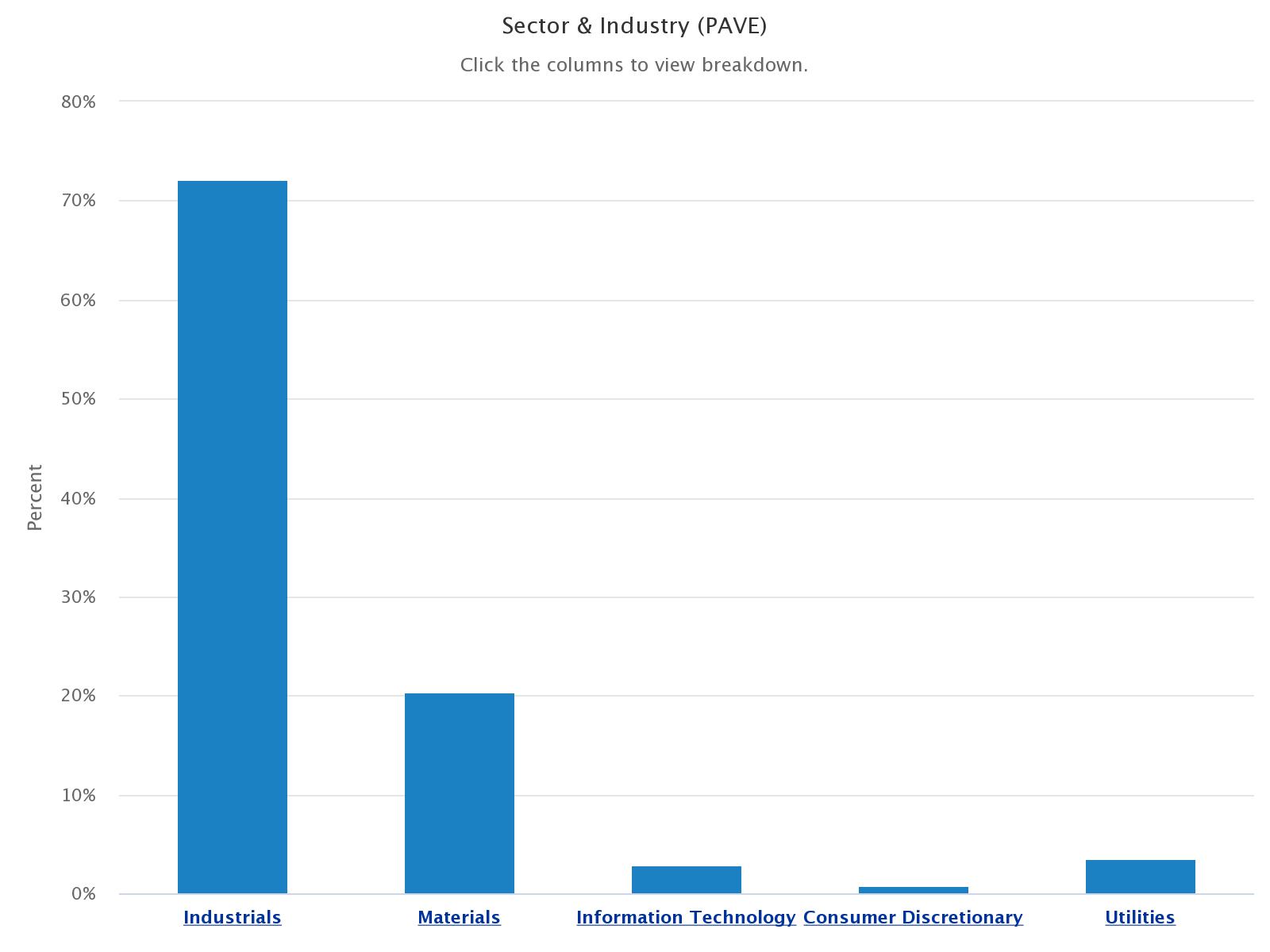 Source: ETF Action
PAVE's 35% exposure to mid and small-caps positioned well for current phase of recovery.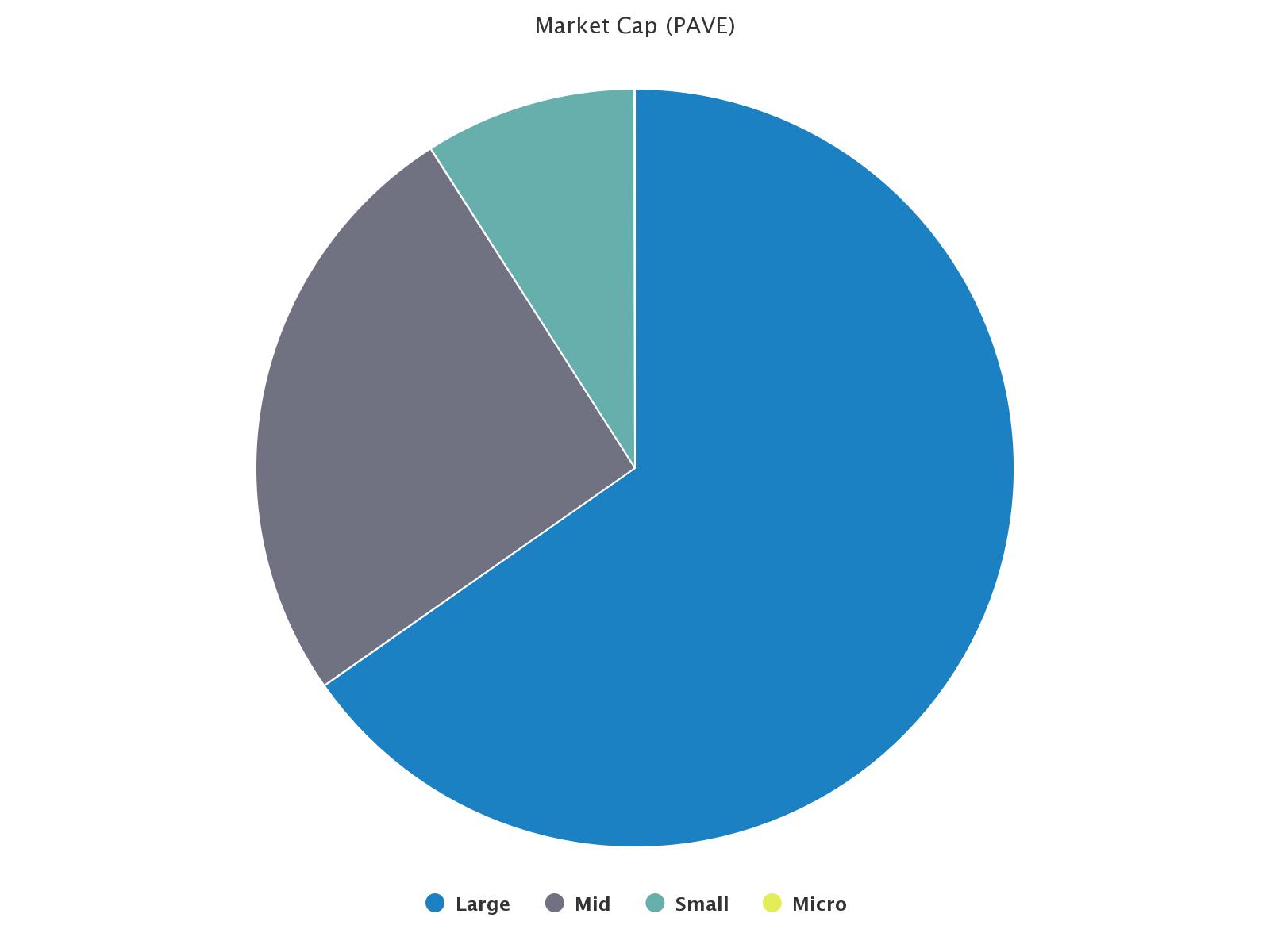 Source: ETF Action
PAVE exhibiting positive momentum while offering exposure to names not currently held in the portfolio.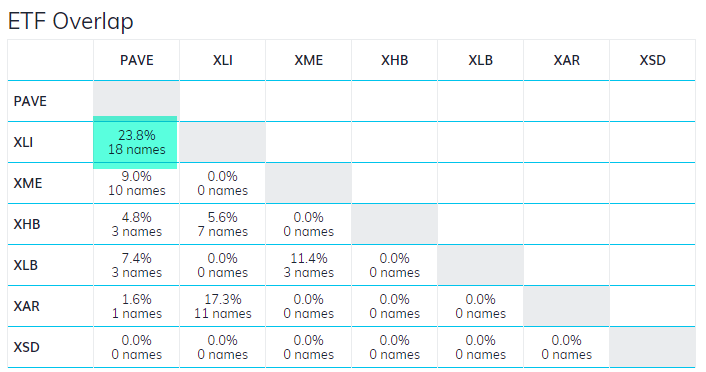 Source: ETF Action


We will check back in on the new portfolio rebalance in due time and as always, please send any questions to team@etfaction.com.
Alex Shepard is the COO & Director of Research at ETF Action. Inquiries can be sent to alex@etfaction.com


Important Disclosures
All ETF Action Model Portfolios are made available to subscribers for informational purposes only and do not represent actual investments. The opinions expressed herein are just that, and should not be construed as any type of investment advice. Full terms of service, including terms of use, copyrights, and disclaimers are available here.
To learn more about the ETF Action AIM Portfolios, please visit www.etfaction.com/models or reach out to team@etfaction.com.