5 Questions With...
2.3.2021
5 Questions With… Alex Shepard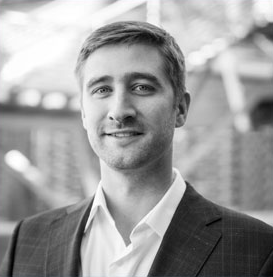 One of the most common refrains we hear from readers is that they love ETF Action's research reports. From the Daily Notes summarizing the previous day's trading activity, to the ETF Playbooks that drill deep into a particular market segment, our readers have told us again and again that these collected chartbooks help them frame and give context to fast-moving markets.
The mind behind all those reports is Alex Shepard, ETF Action's Director of Research. Alex designs, updates, and maintains the Daily Notes, the ETF Playbooks, and the Macro Briefs, as well as our Active Index Model (AIM) Portfolios and associated Trade Rationale Insights. (Read: "Trade Rationale: Global Thematic AIM Portfolio*" *Note: Requires login.)
Prior to co-founding ETF Action, Alex served as a Senior Research Analyst at ALPS, where he created research decks and sales collateral to help communicate about the firm's ETF line-up. In advance of today's webinar, "ETF Action 3.0: Inside Our New Look," we caught up with him to talk themes and trends, as well as market opportunities that investors may be overlooking.


1. ETF Action's Investment Committee recently rebalanced its Global Thematic AIM Portfolio. What's one surprising thing that popped out at you in this latest rebalance?
I'd say it was the amount of portfolio drift we saw from our last rebalance. We had somewhat positioned for a cyclical recovery back in November, but we didn't really know if it would happen in the fourth quarter 2020, or later, or sooner. And to an extent, it seemed like the recovery we expected did happen; it just got pushed out, because of the giant resurge in the COVID-19 virus.
But now recently, we've seen new developments in vaccines and the distribution rollout. There is light at the end of the tunnel. So this past week, we've started to turn that dial a bit, focusing more on the cyclical recovery again. We expected it a bit sooner, maybe, but we just had to wait a little while longer.


2. What's one investment theme you think has strong fundamentals, but which investors might be overlooking?
One theme that doesn't attract as many headlines as something like, say, cryptocurrency or cannabis, is cybersecurity.
But I think cybersecurity is going to be extremely important moving forward. Because technology evolution has only accelerated, but privacy protections haven't always kept up. Most people picking up their phones know they want to protect their data. But do they really understand how to do so, and what it takes to achieve? The sheer amount of time, energy and effort that goes into protecting the data that pouring into all the applications they're using—it's enormous. And enormously complicated. It's an excellent opportunity for growth, we think.


3. We've had a wild few weeks in the market. Any big takeaways from the GameStop/RobinHood fiasco?
What's really stood out to me, more than anything else, is this emergent idea of crowdsourced investment, like what r/WalLStreetBets was doing. I don't know exactly where it's going to end up. But the concept, as powerful as it was, wasn't really getting much attention until this whole thing with GameStop started. (Read: "How GameStop's Short Squeeze Impacts ETF Investors."),
Though I will say, years ago, there was an ETF that selected and scored stocks based on their positive media mentions and mentions on social networks: the BUZZ US Sentiment Leaders ETF (BUZ). It actually performed quite well, though the portfolio was highly concentrated, as I recall. It closed in 2019, though. I guess it launched before its time.


4. As our resident model portfolio wonk, what can you share about the ETF Action Investment Committee's philosophy toward building model portfolios?
Beyond setting guard rails, our process—which you can find in the methodology guides—is to look at what the data is telling us, first and foremost. (Read a sample methodology guide.) We always start, square one, from data. So, for example, we look at: What's the macroeconomic environment? What's consumer sentiment doing? What's working and not working? Where are we in the business cycle?
Then we overlay the secular trends. They may be going up, or they may be going down, but ultimately, they're always impacting the world in which we live, and therefore our investment decisions.
From there, we'll pull in the fundamental valuations: growth metrics, momentum, and timing. That allows us to find some refinement within those ranges of where we want to be.
So we start from the broad and then we narrow it down, looking for securities whose valuations look cheap and which appear to offer growth metrics that are trending favorably. The trend is your friend.


5. What's something folks don't know about you?
I used to teach scuba diving! I'm an avid diver, and before I got into the financial industry, I taught professionally.
Honestly, there's a lot of parallels between scuba and finance. In scuba, you create a dive profile and stick to it. You have to manage certain risk exposures for your clientele. And each dive has an end goal—"I want to dive a shipwreck or explore a cave." It's the same thing in finance—we're always thinking about client profiles, risk exposures, and what our ultimate goals are.
Lara Crigger is the Editor-In-Chief of ETF Action. Contact her at lara@etfaction.com.
Want to get this story and stories like it delivered right to your inbox?
Sign up to receive The Morning Focus newsletter.