ETF All-Stars: Robotics & AI
2.4.2021
Top 10 Robotics & AI Stocks:
Diverse Industries, Strong Returns

Sometimes, ETF portfolios are basically fungible. Comparing the portfolios of SPY, IVV or VOO is mostly an exercise in pedantry; whatever slight variances exist within the holdings are far less important than differences in the funds' cost or liquidity.
Thematic ETFs, however, tend to be more distinct. Each issuer slices and dices the market in their own way—generating tons of homework for investors, who have to wade through methodology guides and prospectuses to understand why a given set of securities were selected.
That's one reason we developed the ETF All-Stars® Select Top 10 Lists. By seeking out what ETFs have in common, rather than what sets them apart, investors can quickly access a set of securities that the smartest minds in the space agree best expresses that theme.
Case in point: robotics & artificial intelligence (AI). Although little portfolio overlap exists between the five ETFs in this segment, the few stocks on which they do agree create a set of securities with higher returns and more favorable risk metrics, compared to any one of the ETFs tracking that segment.
Inside The 5 Robotics & AI ETFs
Robotics & AI is an extremely broad theme, with companies involved in everything from search engines to home appliances, from software to industrial machinery. The common denominator among them is automation, be it physical robots, machine learning algorithms, or some combo of the two.
We count five ETFs in our "Industrial Revolution" Segment: the $2.6 billion Global X Robotics & Artificial Intelligence ETF (BOTZ); the $1.9 billion ROBO Global Robotics & Automation Index ETF (ROBO); the $359 million iShares Robotics and Artificial Intelligence Multisector ETF (IRBO); the $217 million First Trust Nasdaq Artificial Intelligence & Robotics ETF (ROBT); and the $11 million Franklin Intelligent Machines ETF (IQM).
These five ETFs, which total roughly $5.12 billion in investor assets, span 263 unique holdings, from $632 million Helix Energy Solutions (HLX) to the $573 billion Samsung Electronics (005390-KR).
Looking under the hood, though, there aren't many stocks these five ETFs have in common:

Source: ETF Action
How We Did It: Input tickers for the four video gaming ETFs into the ETF Overlap Screener, which can be found on the left-hand sidebar.
The most portfolio overlap exists between ROBO and ROBT, but even these two funds only share a little over a third of their portfolios.
In fact, out of the 263 unique names across these five portfolios, only three stocks were held by all five ETFs; while only another 11 were held by four of the five.
But it's enough to construct our ETF All-Stars® Robotics & AI Select Top 10 List, as listed below. Our top 10 stocks are decided by "prevalence," determined by frequency of appearance and total market value held across those thematic ETFs. For example, both FARO Technologies (FARO) and Autodesk, Inc (ADSK) are held in four of our five robotics/AI ETFs – but more of FARO's market value is held by robotics ETFs than Autodesk's, so FARO makes it in, while Autodesk does not.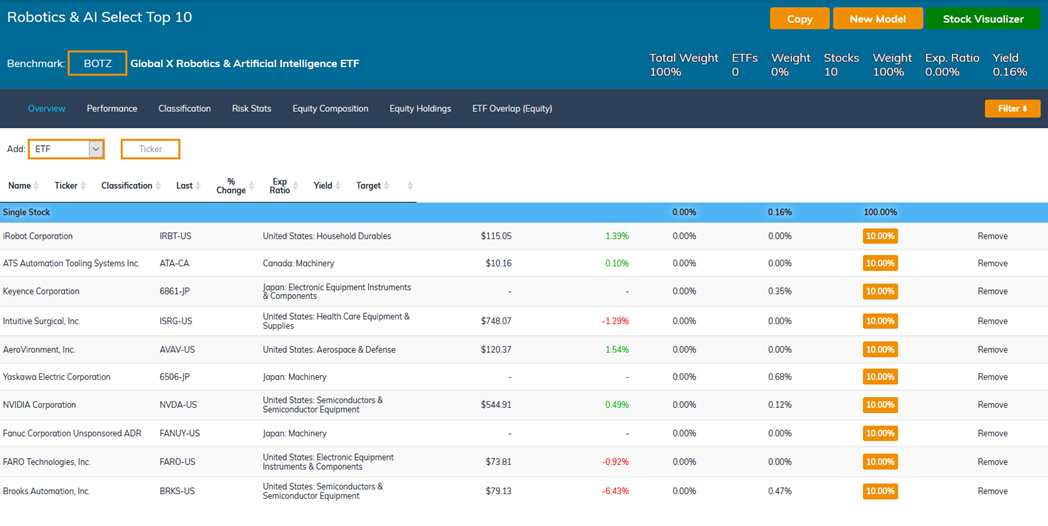 Source: ETF Action
How We Did It: Professional tier ETF Action subscribers can access this list via the Model Tracker: Select "ETF All-Stars Thematic Select Lists > Industrial Revolution > Robotics & AI Select Top 10."
Diversity In The Top 10 Robotics & AI Stocks
What's interesting about this list of stocks is its sheer diversity. Unlike video games, where a consensus definition has already solidified around what constitutes a 'video game stock,' robotics and AI stocks reflect far more variability. (Read: "Top 10 eSports & Video Game Stocks: Thinking Beyond GameStop.")
Our ETF All-Stars® Robotics & AI Select Top 10 List includes household durables companies, chip makers, electrical equipment makers, and more:


Source: ETF Action
How We Did It: Under the "Robotics & AI Select Top 10", select the "Classification" tab.
Note: Requires Professional subscription.
That diversity has led to significant variability among the individual stocks' performance as well, though all of them are generally trending upward over the long-term.
Over a 12-month time frame, iRobot Corporation (IRBT) is the clear leader, rising 141%. NVIDIA (NVDA) and Brooks Automation (BRKS) are also standouts, rising 130% and 124%, respectively:


Source: ETF Action
How We Did It: Under the "Robotics & AI Select Top 10", select the "Stock Visualizer" button, then set for the desired time frame.
Note: Requires Professional subscription


Top 10 Robotics & AI Stocks Outperform Benchmarks
But we think that where the ETF All-Stars® really shine is in comparison to the ETFs on which they're based.
Compared to the largest ETF in the segment, BOTZ, the ETF All-Stars® Robots & AI Select Top 10 List has a 13% higher annualized return. It also provides about 10% excess return, as measured by alpha, with more favorable up capture and down capture ratios as well: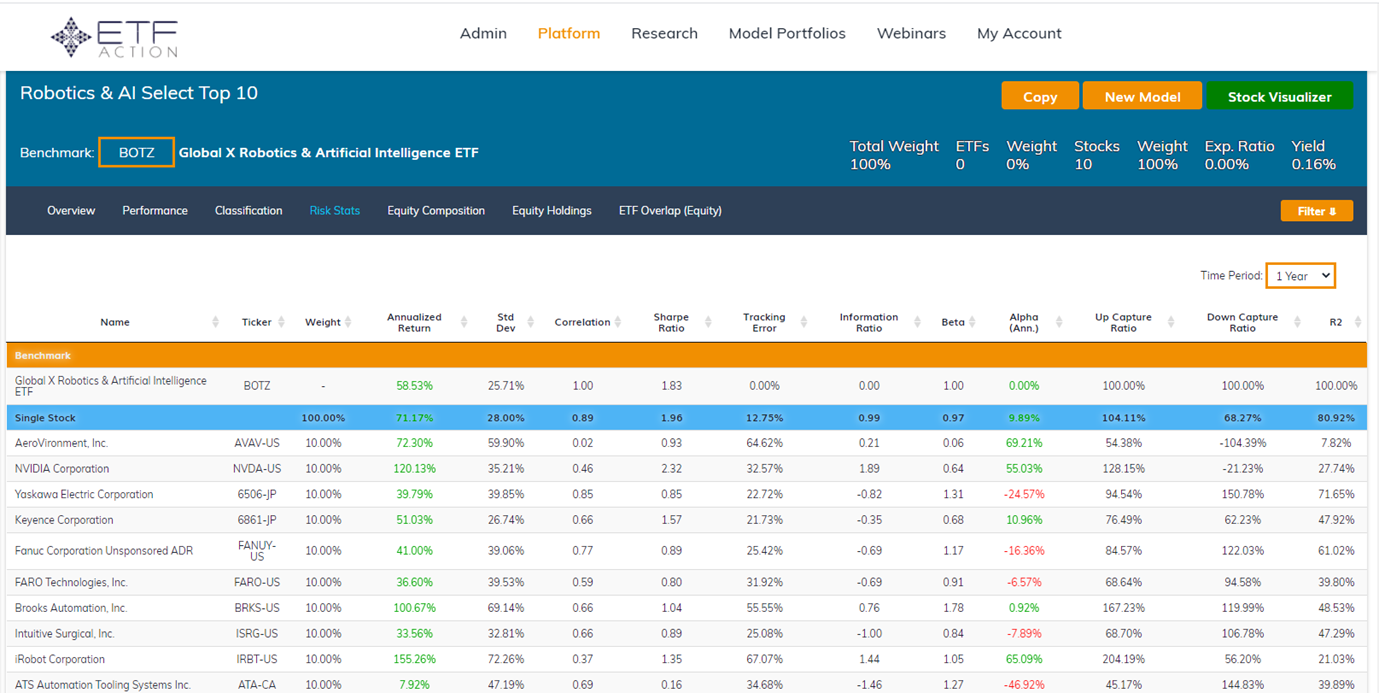 Source: ETF Action
How We Did It: Under the "Robotics & AI Select Top 10", select the "Performance" tab.
Note: Requires Professional subscription
We've used BOTZ here, but the same analysis could be repeated using any of the robotics & AI ETFs. The ETF All-Stars Robotics & AI Select Top 10 List has a 15% higher annualized return than ROBO, for example, and a 17% higher annualized return than ROBT. It offers 10% excess return over IRBT, and 30% over a general tech sector fund, like the Technology Select Sector SPDR Fund (XLK).
Of course, a list of ten stocks isn't an equivalent investment to an ETF – there's higher concentration risk, for starters; and the volatility of this particular ETF All-Stars® portfolio is high, sometimes higher than that of the underlying ETFs on which it's based.
But for stock pickers looking for a few robotics names for a satellite position or an equity sleeve, the ETF All-Stars® list can serve as a good starting point, with stocks that possess attractive characteristics for the long haul.
Lara Crigger is the Editor-In-Chief of ETF Action. Contact her at lara@etfaction.com.
Want to get this story and stories like it delivered right to your inbox?
Sign up to receive The Morning Focus newsletter.