ETF All-Stars
3.18.2021
Top 10 Water Stocks:
The Overlooked Sustainability Investment

Water is the Rodney Dangerfield of ESG: It just don't get no respect.
As one of the oldest thematic plays in the ETF industry, water ETFs have been available for more than 15 years; in fact, of the five water ETFs on the market, only one even launched this decade.
Yet for most of that time, the total invested assets in water ETFs have remained small and stable, even as other sustainability plays—namely, clean energy—began to pick up flows, especially over the past 12 months: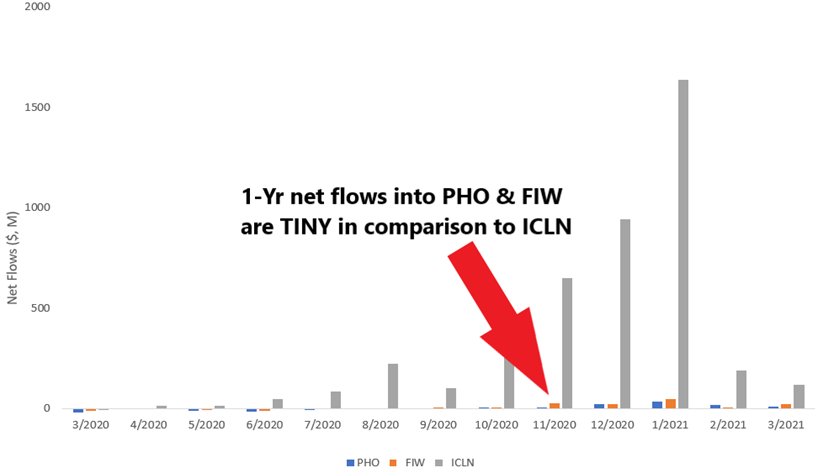 Source: ETF Action
Arguably, though, water is the more pressing sustainability investment. All the wind turbines and solar farms in the world do no good, if the people using them don't have easy, cheap access to clean water.
Water ETFs hold companies in the business of providing potable water, including utilities and infrastructure companies; purification and waste treatment plants; water quality testers; and so on. As such, this sector has proven resilient to some of the pullback seen in several other sustainability ETFs this year, including the iShares Global Clean Energy ETF (ICLN), which has dropped 12.4% year-to-date. In contrast, all water ETFs are still in the green, from a 2.4% rise for the Invesco Global Water ETF (PIO) to a 7.7% rise for the First Trust Water ETF (FIW):

Source: ETF Action
For those reasons, this week we're highlighting the stocks in our ETF All-Stars® Water Select Top 10 List.
Under the Hood Of The 5 Water ETFs
In the ETF Action Classification System, we classify five funds as water ETFs: the $1.45 billion Invesco Water Resources ETF (PHO), the $879 million Invesco S&P Global Water Index ETF (CGW), the $818 million First Trust Water ETF (FIW), the $248 million Invesco Global Water ETF (PIO), and the $33 million Ecofin Global Water ESG Fund (EBLU).
(Intriguingly, although we classify "water" under the theme of Sustainability, EBLU is the only fund of the five specifically marketed as "ESG".)
Together these five ETFs, which account for $3.43 billion in assets under management, hold 84 unique names. Constituents range in market capitalization from the $218 million Consolidated Water Co., Ltd (CWCO) up to the $4.9 billion COWAY Co., Ltd (021240-KR). That said, most holdings skew large: The bulk of the 84 stocks are either large caps (55%) or mid-caps (40%).
Though each of the five water ETFs has a relatively concentrated portfolio—none holds more than 50 companies—generally the overlap between funds is low. That's because the regional exposures differ: Two of the ETFs are U.S.-focused, while the other three are global funds.
Therefore it shouldn't be too surprising that the highest portfolio overlap is between CGW and EBLU (two of the global ETFs), while the lowest is between PIO and FIW (a global and U.S. fund, respectively):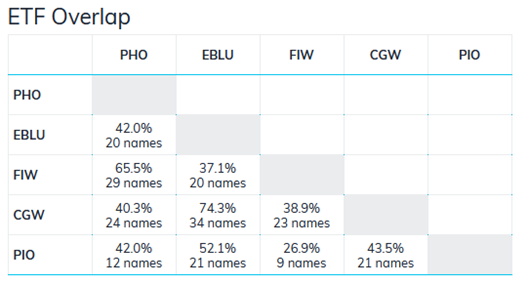 Source: ETF Action
The five water ETFs possess just five names in common, including American Water Works Company (AWK), Xylem (XYL), Pentair (PNR), Essential Utilities (WTRG), and Companhia de Saneamento Basico de Estado de Sao Paulo (SBSP3-BR), a Brazilian sanitation company.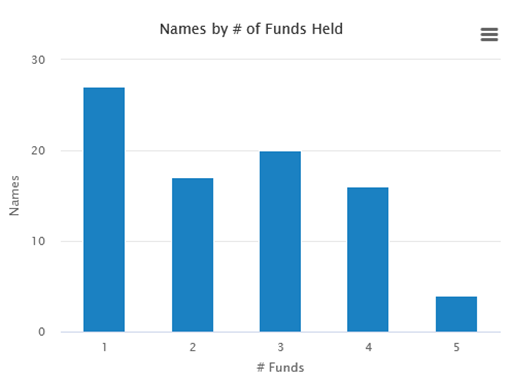 Source: ETF Action
Yes, you read that right: A Brazilian sanitation company. But didn't we just establish that two of the five water ETFs are U.S.-only?
The reason SABESP (as the company is commonly referred to) appears in the two U.S. water funds is a quirk of definitions. When an ETF is defined as having "U.S. exposure," usually it means that that fund holds only U.S.-listed stocks. But being listed in the U.S. and traded on U.S. exchanges isn't always the same as being headquartered in the U.S and/or operating in the U.S. Usually, it does—but not always.
That's how SABESP squeaks into the U.S.-centric PHO and FIW. Nor is it the only instance of foreign market exposure showing up in a U.S. equities ETF, either. For example, the Invesco QQQ Trust (QQQ), based off the U.S.-listed Nasdaq 100, actually allocates 4.44% to foreign exposure, including 5 Chinese stocks, 2 Dutch stocks, and one stock each from Argentina, Australia, Bermuda, Canada, and Israel (see below):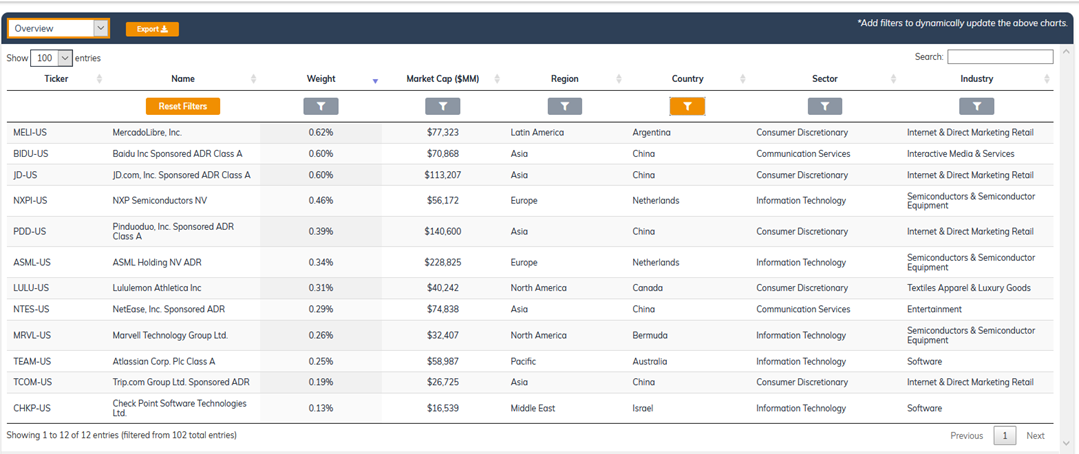 Source: ETF Action
Inside The ETF All-Stars® Water Select Top 10 List
But back to water. From the holdings of the five water ETFs, we can construct the ETF All-Stars® Water Select Top 10 List, a ranking of stocks based on their prevalence among the funds.
(As a reminder, prevalence is a measure of both frequency of appearance and total market value held. So while Evoqua Water Technologies Corp (AQUA) and Badger Meter, Inc (BMI) both appear in four of the five water ETFs, the total market value they hold of Evoqua is $57.22 million, compared to $59.43 million of Badger Meter. As a result, Badger Meter makes it onto the ETF All-Stars® Water Select Top 10 List, while Evoqua does not.)
The ETF All-Stars® Water Select Top 10 List is depicted below:

Source: ETF Action
Six of the ETF All-Stars® fall in the Industrials GICS classification, including machinery manufacturers, building products makers, and commercial services and supplies firms. Another three stocks are water-specific utilities; while the final company, Badger Meter (BMI) is a provider of electronic equipment and instruments.

Source: ETF Action
Strong, Stable Performance In Water Stocks

While many water stocks haven't seen the same high-flying returns as many clean energy companies, their returns have been solid, and expectedly, the ETF All-Stars® are workhorses, as well. For example, Pentair plc (PNR) is up 104%, while Rexnord Corporation (RXN) is up 127% over the past 12 months:

Source: ETF Action
That performance may seem modest, compared to our ETF All-Stars® Clean Energy Select Top 10 List, but these returns have been stable over the long haul, whereas clean energy stocks only began their meteoric rise in the past year or so. That stability is likely due to the fact that utilities are relatively business cycle agnostic—after all, even in economic lockdown, we always need water:

Source: ETF Action
Looking forward, we think water stocks are poised to benefit from the same rising yields that are hurting clean energy companies.
As we found in our ETF All-Stars® Clean Energy Select Top 10 List discussion, most of the top consensus clean energy companies are in fact tech stocks. In fact, nearly all clean energy ETFs have a substantial (20%+) allocation to the tech sector.
As a result, when yields rise, many clean energy companies will feel pressure too, since tech stocks and bond yields recently have exhibited a loose negative correlation with one another (that is to say, tech stocks fall when bond yields rise, and vice versa).
However, the majority of our water ETF All-Stars® are industrial machinery manufacturers and utilities companies, both of which are sectors that have benefitted from rising yields and the reopening trade.
Water: A Catch-Up ESG Trade?

We think it's clear that sustainability as an investible theme isn't going away. This is one secular trend that still has plenty of steam left in it, even as tech-heavy clean energy stocks cool off at the present moment.
Given that water stocks haven't participated in the same performance spike that has sent clean energy company valuations skyrocketing, we think a catch-up trade may be possible, especially for investors looking to trim back their gains in clean energy while still retaining exposure to the broader sustainable theme. The ETF All-Stars® Water Select Top 10 List offers a great launchpad for further research.
Lara Crigger is the Editor-in-Chief of ETF Action. Contact her at lara@etfaction.com.
Alex Shepard is the Director of Research for ETF Action. Contact him at alex@etfaction.com.
Want to get this story and stories like it delivered right to your inbox?
Sign up to receive The Morning Focus newsletter.