Model Check-In: Global Thematic AIM Portfolio
3.22.2021
Checking In On The Global Thematic AIM Portfolio Since January 28 Rebalance
Highlights:
Overview
Since the last rebalance of our Global Thematic Active Index Model (AIM) Portfolio in late January, model performance has underperformed the MSCI All Country World Index ETF (ACWI) by 7%. This leaves the portfolio up 60.98% since inception back in July of 2020, outperforming the benchmark by 33%. The decision behind the January rebalance was three-fold:
1. Trim/take gains, due to strong outperformance in a few select holdings.
2. Introduce real estate and infrastructure exposure to the portfolio, while also lowering overall portfolio valuation metrics.
3. Increase exposure to reopening trades, and introduce a secular trend in sports gambling & iGaming.
We still beleive in the thesis behind this rebalance as we are in the midst of a cyclical recovery. With that being said, we will now look into a few key drivers of performance and thoughts going forward.
Rising Yields Compressing Valuation Multiples, Particularly in the Thematic Space
We have seen the 10-year treasury rise more than 60 basis points since the January rebalance, spooking the markets and those names that have seen rapid multiple expansion over the past 18 months. Thematic ETFs and their underlying companies have been the primary benefactors of this multiple expansion so when the yield curve quickly steepened, these valuations needed to come back to earth to an extent.
As an example we will look at the Invesco WilderHill Clean Energy ETF (PBW). We watched it's price to sales ratio triple from July 2020 to February of this year as clean energy companies rode strong momentum to triple digit returns. Although PBW has fallen 18% since the rebalance, it still remains more than 100% above its five-year average P/S ratio. We made the decision to trim this position back in January but since then has fallen 1.3% below its new target weight.
A rapid 70 basis point rise in the 10-year treasury yield brought multiple compression, particularly among extended valuation ratios like in clean energy.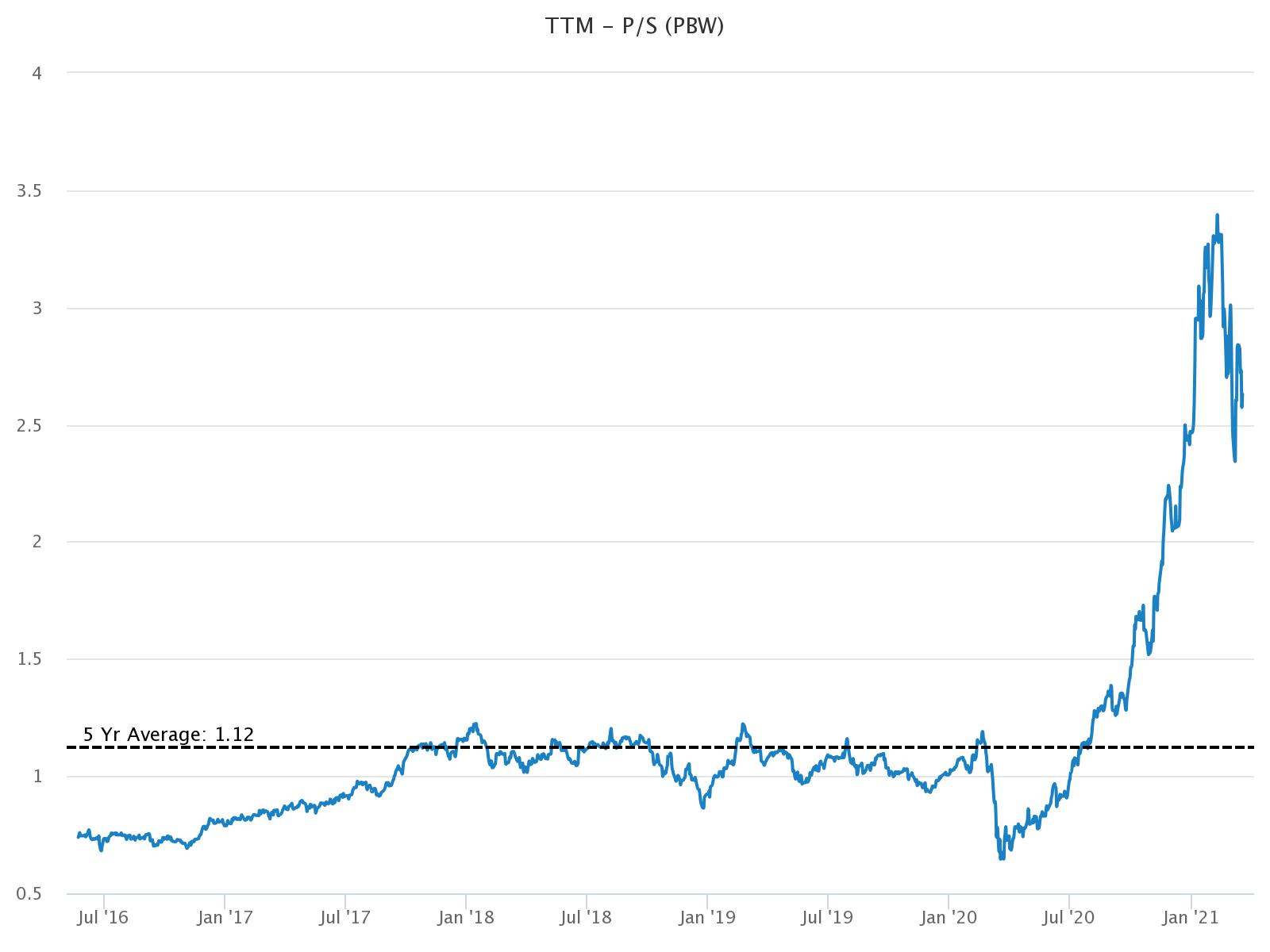 Source: ETF Action
Sports Betting & iGaming Position Created on January 28 Performing Well
Back when we added Sports Betting & iGaming to the portfolio, we believed it to be opportunistic for two primary reasons. First, it increases portfolio exposure to the reopening trade, as resort & casino stocks increase their capacity. The second and more important reason long-term is that sports betting & iGaming is not going away. Monetization of sports data analytics, broadcasting rights, and other derivative revenue streams from sports and sports gambling offer a great opportunity for tax revenues, and legislators are increasingly realizing the benefit of these revenues.
At the time, the Roundhill Sports Betting & iGaming ETF (BETZ) was exhibiting positive momentum, more reasonable valuation ratios relative to some of the other positions in the portfolio, and had better estimated 2021 revenue growth (which we consider a key metric for thematic investing). BETZ has been the top performer in the portfolio, returning 13.24% since the January rebalance. Over the last month it has been the only holding contributing positive returns. While its valuation has expanded, we still beleive firmly in the underlying thesis of when we originally added BETZ to the portfolio.
Since being added during the January rebalance BETZ has been the best performing ETF in the portfolio.

Source: ETF Action
Looking Forward to New Opportunities: Consumer & Infrastructure
We remain bullish on the Evolving Consumer segment and the consumer discretionary sector sector moving into the spring as the domestic economy continues to go through the early stages of recovery (and Americans armed with fresh stimulus checks in March). We are gaining significant exposure to the consumer discretionary sector through positions in Online Retail (IBUY) and Sports Betting & iGaming (BETZ). Additionly, we gain consumer and communication services exposure from Video Games & eSports (ESPO).
We added the position in data & infrastructure real estate because it appeared opportunistic with the 5G/Connectivity theme. The rollout of new 5G telecommunication networks has accelerated due to the need for data storage/infrastructure, an issue that has wide bipartisan support with U.S. lawmakers. With the most recent $1.9 trillion COVID relief bill passed, Congress and the White House has their eyes set on passing an infrastructure bill as one of their next large initiatives. This will include plenty of funding for building new roads, bridges, water infrastructure systems, along with updating airports and other mass transit systems. However, we expect the bill to have an additional focus on digital infrastructure which makes the 5G/Connectivity theme even more attractive than when we orginially discussed it in January when adding the SRVR position.
While we have not added it yet, consider a position(s) targeting an ensuing infrastructure buildout on the radar with a bullish macro backdrop.
Alex Shepard is the COO & Director of Research at ETF Action. Inquiries can be sent to alex@etfaction.com
Important Disclosures
All ETF Action Model Portfolios are made available to subscribers for informational purposes only and do not represent actual investments. The opinons expressed herein are just that, and should not be construed as any type of investment advice. Full terms of service, including terms of use, copyrights, and disclaimers are available here.
To learn more about the ETF Action AIM Portfolios, please visit www.etfaction.com/models or reach out to team@etfaction.com.