ETF All-Stars: Online Retail
5.5.2021
Top 10 Online Retail Stocks

By and large online retailers have outperformed traditional brick and mortar retail over the last several years as technology adoption has increased, particularly amid the pandemic. Then came February 2021. Yes, the world was continuing to open up in February but we began to see the upward trend in yields which effectively compressed stretched valuation multiples on a number of tech focused strategies. Today we look at what those strategies look like and what companies they hold.
While there are only a few ETFs that cover the space, it is growing quickly in assets and may stand to benefit from the strong secular trend still. Hence, we explore the ETFs and the companies that make up ETF All-Stars Online Retail Select Top 10 List.
Let's begin by looking at the current Online Retail ETF landscape...keep in mind, we only are looking at ETFs that are globally focused and not country or region specific ETFs (ie: China consumer ETFs).
4 Online Retail ETFs: A Look At The Landscape
Despite having several strategies out for several years now, there are still only four Online Retail ETFs that total a little less than $3 billion in total assets under management. Over half of those assets ($1.68 billion) have come in net inflows over the past year. These ETFs all fall under the thematic segment "Evolving Consumer" in the ETF Action Classification System, have global exposures, range between 0.50% and 0.65% in expense ratio, and have at least $43 million in AUM. With those similarities out of the way, let's introduce the products:
Amplify Online Retail ETF (IBUY): $1.524 Billion in AUM | April 2016 Inception | 0.65% Expense Ratio
ProShares Online Retail ETF (ONLN): $1.188 Billion in AUM | July 2018 Inception | 0.58% Expense Ratio
Global X E-Commerce ETF (EBIZ): $239 Million in AUM | November 2018 Inception | 0.50% Expense Ratio
Franklin Disruptive Commerce ETF (BUYZ): $43 Million in AUM | February 2020 Inception | 0.50% Expense Ratio
Flows Have Been Strong But Not Lately
Flows have been very strong over the past year but lately they have gone the opposite direction. One year net flows for these ETFs total $1.68 billion which accounts for nearly 56% of category assets. However, the last month has seen over $150 million in net outflows. Most of these have come from the Amplify product (-$171 million) which has had significant outperformance during the past year and may be a result of taking gains/rotation. Interestingly the SPDR S&P Retail ETF (XRT) which is not part of the online retail category has seen $118 million in net inflows...perhaps part of the lower multiple, reopening trade that is ongoing.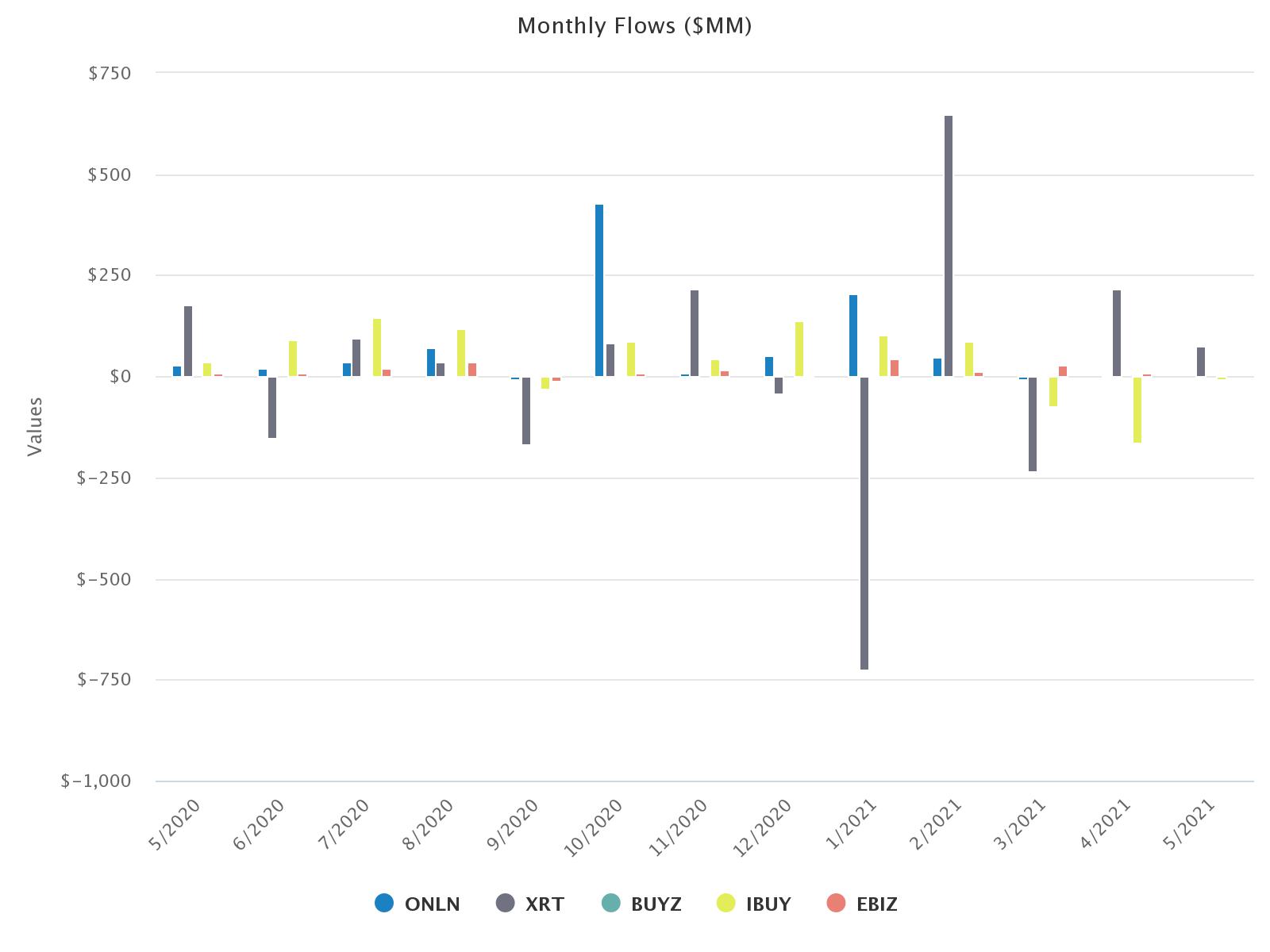 Source: ETF Action
Online Retail Performance Dominant Until Early 2021
Going back over the last year, the Amplify Online Retail ETF (IBUY) has outperformed the other ETFs in the category but starting early in 2021, the traditional retail ETF (XRT) has made a significant move higher as the U.S. has made progress in reopening the economy and treasury yields have crept higher. Those high flying strategies that have benefitted from lower yields and a stay-at-home atmosphere have slowed down.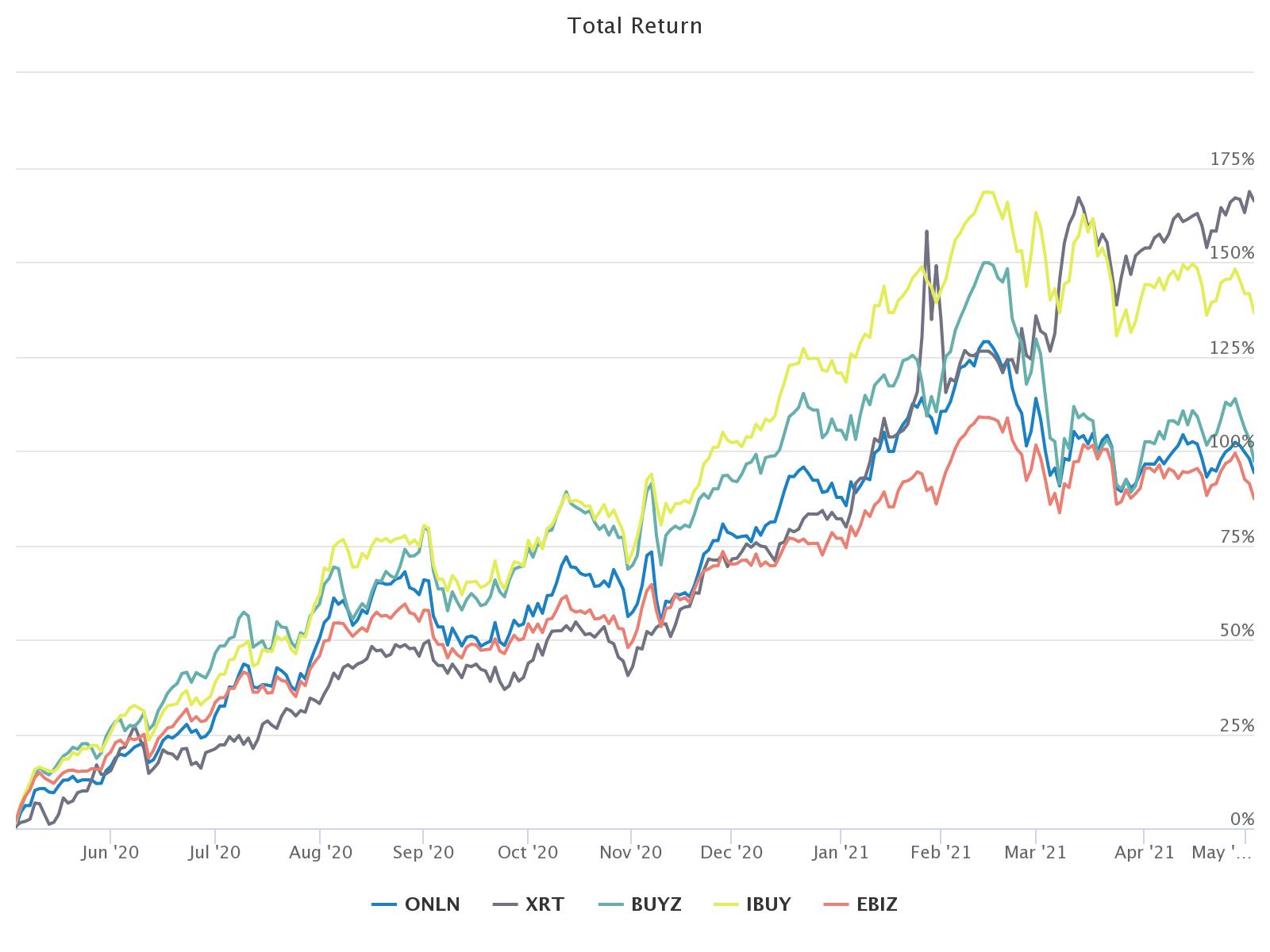 Source: ETF Action
But What Is Next? Multiples For The Most Part Are Not Too Far Off Now
There is a good chance that yields will creep higher putting downward pressure on extended valuation multiples but the secular trend of online retail that was ongoing prior to the pandemic is still in place. Extended valuation multiples will still present a headwind to near-term performance but the longer-term trend of consumer behavior may back strategies that focus on companies with an online presence. Take a look at current valuation multiples....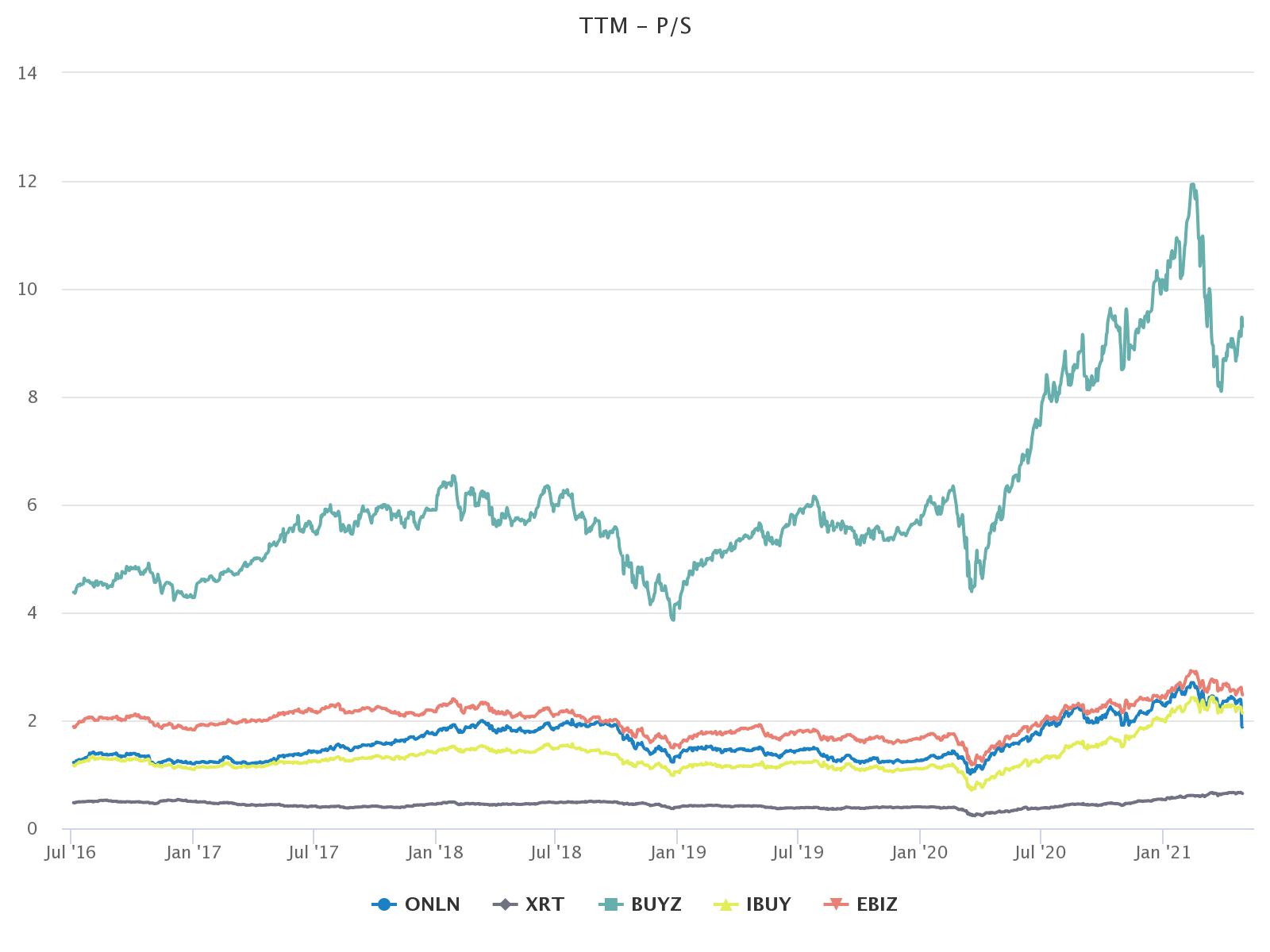 Source: ETF Action
Overlap is Present But Not Robust Across All Four ETFs So What To Choose?
If one were to choose the companies that are best positioned for a long-term secular trend in online retail, where would one look? Looking closer at the holdings of the current online retail ETFs you will see that between these 4 ETFs, there are 110 unique companies. You will see that the greatest overlap between any of these ETFs is 38%, between IBUY and ONLN. Not that much. And as we always do with these writeups, we look to see what all four Online Retail classified ETFs agree upon. Only 4 companies are found in common across all four ETFs.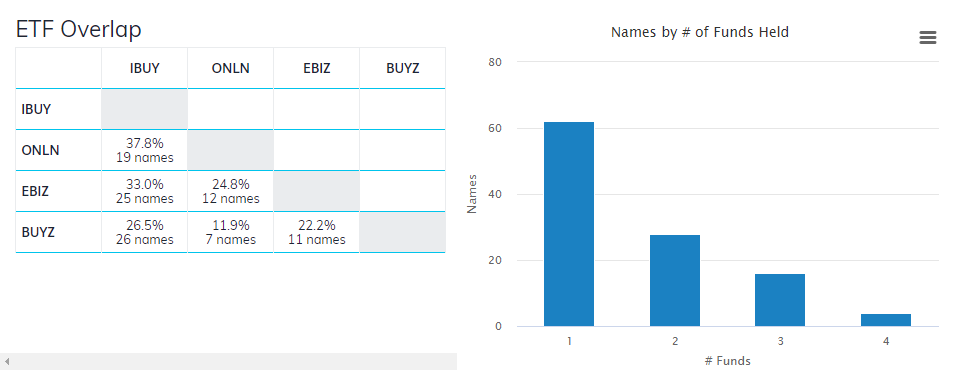 Source: ETF Action
Inside The ETF All-Stars Online Retail Select Top 10 List
From the holdings of the four Online Retail ETFs, we can construct the ETF All-Stars Online Retail Select Top 10 List, a ranking of stocks based on their prevalence among the funds. (As a reminder, prevalence is a measure of the frequency of appearance (ie: ABC company is held by all 6 ETFS = 6 prevalence) while tiebreakers are settled by the total market value held.
The ETF All-Stars Online Retail Select Top 10 List is depicted below: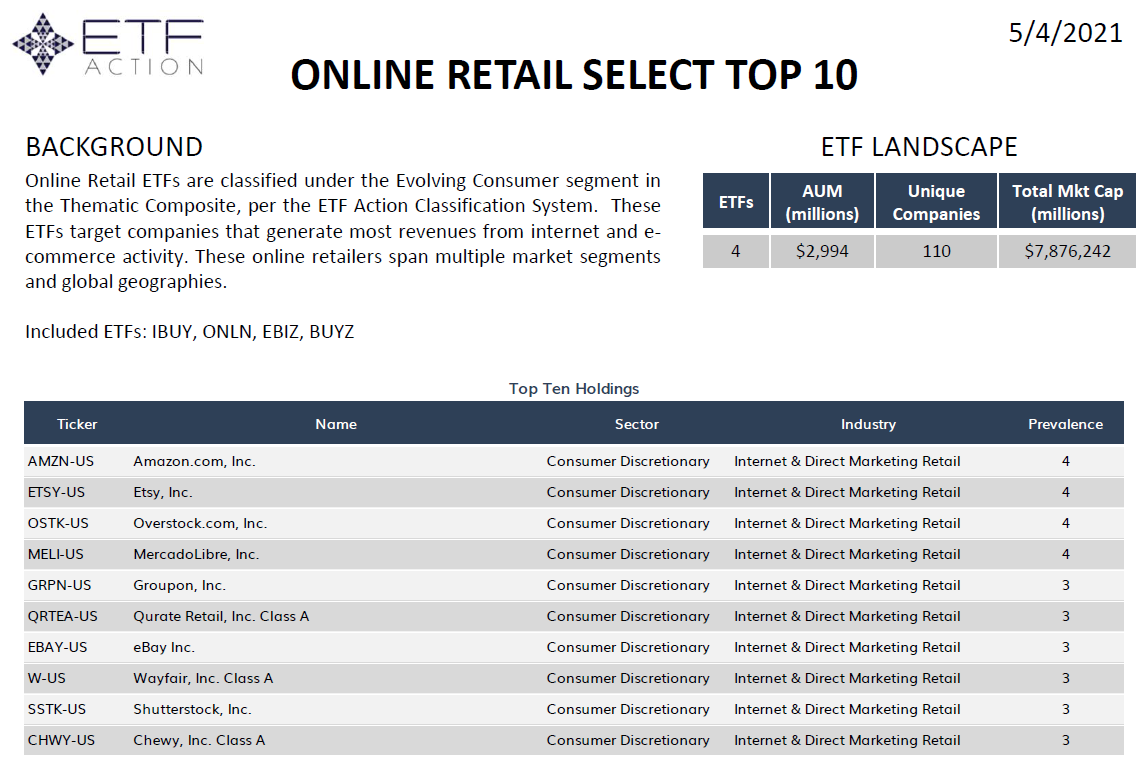 Source: ETF Action
Similar to their parent ETFs, the vast majority of the ETF All-Stars fall in the Consumer Discretionary sector based on GICS classifications, all in the Internet & Direct Marketing Retail Industry. Geographically, companies come predominantly from the United States. These names include Amazon, Etsy, Overstock, MercadoLibre and others. Those four listed are found among all four ETFs included in the search with the remainder breaking a tiebreaker based on ownership value owned.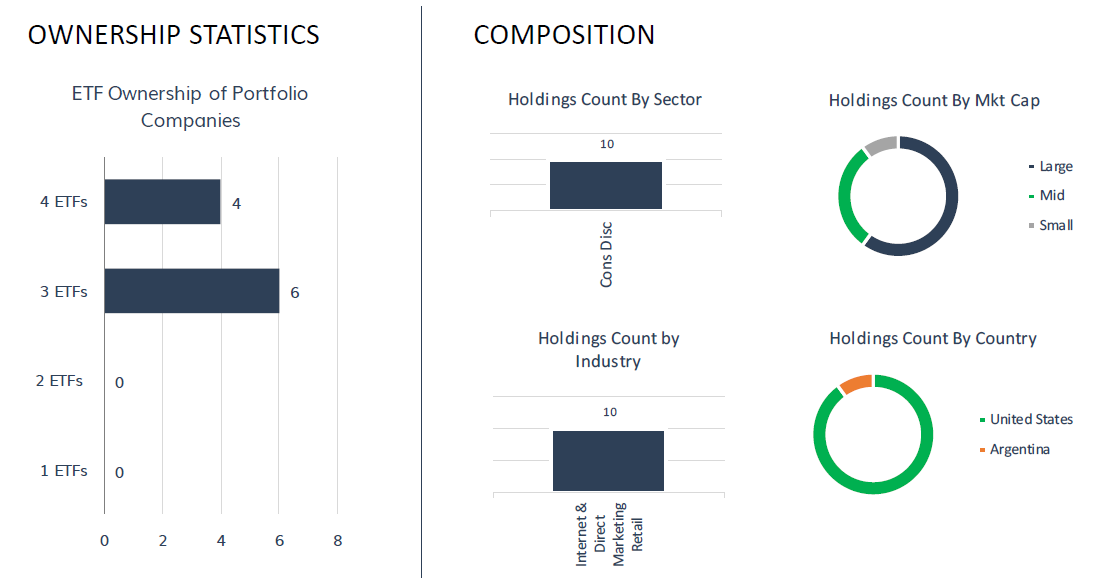 Source: ETF Action
Online Retail All-Stars Select Top 10 Have Performed Better
While overall the Online Retail ETF space has performed well with some variance over the last several years, the ETF All-Stars have done better on an average basis. Similar to what we have done in previous weeks with Select Top 10, if you were to take the Online Retail All-Stars and equal weight them, you would outperform over almost all time horizons over the past year. The list of companies that are most in common among these strategies have appeared to outperform or remain in the upper tier performance wise.

Source: ETF Action
Conclusion: Online Retail All-Stars A Good Place For Security Selection

Online Retail has been a secular trend going back several years as consumer trends favor the adoption of internet buying. This trend was exacerbated by the pandemic and while the near-term has value stocks pushing higher with higher yields and a reopening economy, an allocation to the longer-term trend shouldn't be ignored. Money has clearly been flowing towards the Online Retail ETF space at an accelerating pace over the last several years and we believe that while value investing into the reopening trade as yields creep higher may benefit traditional retail, the companies that stand to benefit most from online retail most is still a trend to focus on. The ETF All-Stars Select Top 10 provides exposure to companies that may be in a great position to benefit.
Alex Shepard is the Director of Research for ETF Action. Contact him at alex@etfaction.com.
Want to get this story and stories like it delivered right to your inbox?
Sign up to receive The Morning Focus newsletter.