The Market Lens
3.9.2021
Can Indexers Break The Rules, If There Are No Rules To Break?
Disclaimer: This is a story about compliance, not investability. I'm not making any judgement calls on BUZZ's benchmark, its methodology, its portfolio holdings, its management… nada. Others have done a much more thorough job of covering all that, including Andrea Riquier at MarketWatch, Kyle Woodley at Kiplinger, and Dave Nadig at ETF Trends.
Today, I'm just talking about what can be said, by whom.
It's been one week since Barstool Sports founder and social media darling Dave Portnoy posted his "press conference" video, announcing the impending launch of the VanEck Vectors Social Sentiment ETF (BUZZ).
The video, published two days before the ETF went live for trading, left many issuers and index providers alike scratching their heads about how it had ever passed muster with compliance. One fund issuer told me that if they'd submitted a similar video, "no f***ing way would it have ever gotten approved." Another index provider agreed: "Compliance would have eaten me alive."
I was baffled, too. In 15 years of writing about ETF launches, I've never seen an investor-facing communication quite like Portnoy's pretend presser, a madcap montage that somehow referenced dozens of internet memes while flouting as many industry norms, all in less than three minutes. Even days later, I just couldn't stop thinking about how this particular sausage ever got made.
So I called up some friends; I spent a weekend digging into FINRA regulations and '33 Act footnotes. But as best as I can figure out, the legal explanation as to why Portnoy was able to pull off this video is simple: The rules don't actually apply to him, or people like him, at all. But that's probably about to change.
Inside The "Emergency Press Conference"

As reported by Sportico, Dave Portnoy is part-owner and a "director of business" for BUZZ Holdings ULC, the holding company that owns BUZZ Indexes, which in turn has licensed its BUZZ NextGen AI US Sentiment Leaders Index to VanEck for the BUZZ ETF.
In other words, BUZZ Indexes—with Portnoy as its shareholder and representative—serves as BUZZ's index provider, but not as the fund's issuer or advisor. The distinction matters. But more on that in a second.
First, let's back up. What about this video exactly was so unorthodox?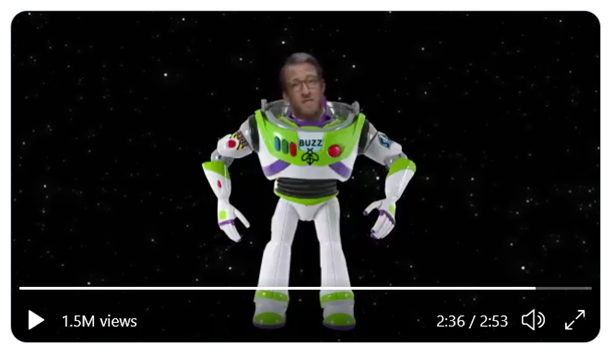 Source: Dave Portnoy's Twitter
With Portnoy's signature in-your-face, call's-it-likes-I-sees-it style, the video announces the impending listing of the BUZZ ETF, using pop culture references from Willy Wonka to Ducktales, Pretty Woman to Toy Story.
The video—published to Twitter and therefore meant for a wide audience of retail investors (that distinction matters, too)—is riddled with compliance red flags. Chief among them, though, is the conflation of index and ETF.
Typically, index providers don't mention the investment products that license their indexes by fund name or ticker. (Again, more on that in a minute.) In fact, most index providers are so afraid of angering their compliance departments or those of their issuer partners that they won't even, say, retweet a podcast episode on which they appeared as a guest, even if a ticker is only mentioned once. (True story!)
However, Portnoy's "emergency press conference" announcing the "$BUZZ ETF" not only explicitly links the index that his company has created to the ETF that has licensed it; but it also strongly implies that Portnoy now serves as a spokesperson for the ETF itself (hence his 'press conference'*)
(*Yes, I know that "emergency press conferences" are kind of a Dave Portnoy schtick. But do all retail investors know this? Do regulators? Or would they simply assume a 'press conference' about an ETF launch, be it emergency or not, is something to be held by that ETF's company spokesperson?)
Why One Little Word Makes All The Difference
In the video, Portnoy further underscores his connection to the ETF by stating:
This Thursday, on the New York Stock Exchange, there is a new ETF launching; a new ETF that I am part of, that I am putting my face behind, my reputation behind.
Except… that's not what Portnoy actually says.
The word "ETF" occurs in the audio track five times; four of the five times, it has been dubbed in—possibly from another person's voice, or a manipulated version of Portnoy's. Whoever it is, it very obviously doesn't sound much like Portnoy. The above quote includes two of those dubs.
Meanwhile, a lip-read of Portnoy's mouth in the video shows that what he actually said was "index," not "ETF." So the original words Portnoy said, without the dubbing, would have been:
This Thursday, on the New York Stock Exchange, there is a new index launching; a new index that I am part of, that I am putting my face behind, my reputation behind.
At first, the reason for this dubbing appears obvious: If the original audio track had been used, then it would have been factually incorrect—and not just a little slip-up, either. Indexes don't launch on stock exchanges, because they're not investible products. In my opinion, Portnoy & co. pretty much had to dub in the word "ETF" to avoid a lawsuit.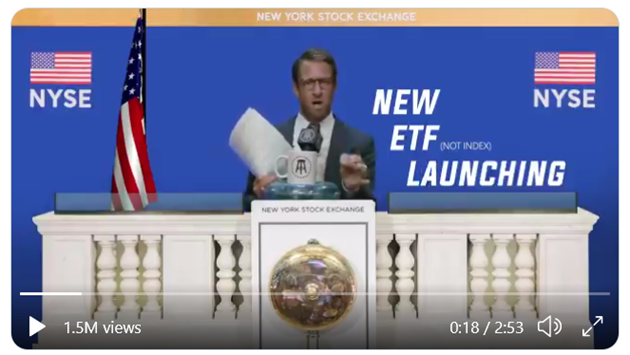 Source: Dave Portnoy's Twitter. Note the text on screen that clarifies, "ETF (NOT INDEX)."
Yet it's rather hard to believe that Portnoy—director at and part owner of BUZZ Indexes—would have made such an elementary goof about the nature of his company's core product offering. Indexes aren't investible. You know that; I know that. Anybody trying to "buy the S&P 500" knows that. So how does such an important stakeholder at an index company make that mistake?
However, if you assume, that the mistake wasn't a mistake—then the dubbing makes perfect sense. Because if a regulator should try to crack down on Portnoy or BUZZ Indexes for using the fund's ticker or the word "ETF" in their retail-focusing communications, then they can say, with complete accuracy, that it was not Portnoy who said the word ETF; that, in fact, if one looks at the tape, Portnoy is clearly saying a different word altogether.
The same argument could be deployed for when Portnoy says:
The name of the [ETF] is BUZZ. B-U-Z-Z.
where a lip-read once again reveals that Portnoy is saying 'index' while the audio has dubbed over 'ETF'. For BUZZ the ETF just so happens to share a ticker with its underlying index, the BUZZ NextGen AI US Sentiment Leaders Index (BUZZTR). So was Portnoy intending to discuss the index, or the ETF? The dubbing obfuscates the point.
Speaking of dubbing, what about that single instance in which Portnoy is heard—but not seen—saying the words "BUZZ ETF"? Well, that instance is the lead-in for a general statement about how ETFs work:
That's the beauty of BUZZ ETF. With BUZZ, when you invest in B-U-Z-Z, the money you're putting in is then redistributed across the top most favorably talked about 75 stocks, according to our algorithm.
Accurate information… except the wording arguably still conflates the index with the ETF. Although, you could also argue that the passive voice construction of "is then redistributed" implies that the redistribution is being done by a third-party, not by BUZZ Indexes, who created "our algorithm"… but whew, this is getting into some pretty fine grammatical semantics here.
That's the thing about this video. On the surface, it seems clownish. But when you break it down and really examine it closely, piece by piece, all the particular infractions it seems to incur disintegrate before your very eyes.
This is a video of careful intention, precisely crafted to satisfy the letter of the law, if not the spirit. As such, I think it was likely reviewed by legal and compliance experts—you can't just luck into something this well-made.
Who's On First, Regulatory Edition
But "reviewed" by who? There's an important first principle question to answer here: Under what jurisdiction would Portnoy's video message fall, anyway?
Typically, advertisements and marketing targeting retail investors require a multi-step approval process involving the SEC, FINRA, or both. (For institutional investors, there are exceptions to the rule—but only in limited circumstances.)
Both FINRA and the SEC get to set standards of behavior regarding marketing and communications, but their jurisdictions differ. The SEC's job is to protect investors and securities markets, while FINRA's job is to regulate broker/dealers and exchanges.
For its part, the SEC relies on a wide-ranging set of regulations as part of the '33 Act regarding "free writing prospectuses," which by Rule 230.405 are defined as written offers to sell securities that aren't just regular old preliminary prospectuses. Videos fall under that heading (yes, even though the language says 'written').
Mostly, though, the SEC's rules apply to fund issuers and their affiliates—in this case, that's VanEck, not BUZZ Holdings.
Meanwhile, FINRA has its own rules about marketing messages, detailed in NASD Rule 2210. The list of 2210 individual guidelines and clarifications is long, but the basic gist is that a series of approvals that must occur before any communication with retail investors may occur: First, an ETF issuer must send their marketing message to a FINRA-licensed member (usually their distributor, who is a broker/dealer), who then reviews, records, and approves it. Then, the distributor sends the message onto FINRA, who in turn must approve it before it can be used.
That's well and good—except that FINRA is a self-regulatory agency, meaning its rules apply only to FINRA-registered members. Non-FINRA members aren't beholden. And while broker-dealers and financial advisors must register with FINRA, index providers—such as Dave Portnoy, BUZZ Indexes, and BUZZ Holdings ULC—do not.
So if neither SEC nor FINRA regulations apply to indexers, then what rules do apply?
The 1st Amendment, for starters. Under the current legal paradigm, an index is considered intellectual property, and indexers are provided wide latitude to say whatever they want regarding their own intellectual property, so long as it isn't blatantly fraudulent or libelous.
That means BUZZ Holdings, and Portnoy in particular, have the freedom to release whatever videos they want, under whatever approval process they like, and within them, make sweeping statements like "Is this big? It's f***ing huge"—just so long as they stick to talking about only their intellectual property.
This indexer loophole offers enormous freedom to indexers, who, let's remember, have a significant financial stake in the success of the products that bear their indexes. That is to say, index providers make their money via licensing fees: An ETF issuer (or mutual fund manager, or whoever) pays them some amount of money to replicate their non-investible index inside an investible product. Almost always, this fee is calculated as some percentage of the total assets under management that the product amasses—typically, anywhere from 1-30 basis points, according to industry insider estimates. (Actual license fees are a closely kept secret between indexers and ETF issuers.) So the bigger an ETF bearing their index gets, the more money an indexer makes.
In other words, the entity that actually makes the core decisions on which securities end up inside an ETF, and which has significant financial stake in the success of said ETF, doesn't actually get regulated by the securities regulators at all.
Indexers As Spokespeople--Or Not

But that only remains true so long as an indexer sticks to talking about their indexes. The second an indexer starts mentioning fund names or tickers—that is, investible securities—that potentially transforms their relationship with the ETF provider from a licensee to spokesperson.
That is, no longer are they just some outside consultant the ETF company is hiring to do a job; they could be seen as speaking for the entire company, in the eyes of the law.
Now, there are some provisions within the '33 Act (around Rule 230.433ish) that protect issuers from liability over what their service providers say, but those rules depend on a clear separation between issuer and service provider.
Which is likely why VanEck has taken great pains to indicate that it is not affiliated with BUZZ Holdings or its shareholders. BUZZ the ETF's prospectus has a full page disclaimer stating that the ETF is not sponsored, endorsed, sold or promoted by BUZZ Holdings or its shareholders; and that BUZZ Holdings makes "no representation or warranty, express or implied, to the owners of the VanEck Vectors Social Sentiment ETF or any member of the public regarding the advisability of investing in securities generally or in the VanEck Vectors Social Sentiment ETF particularly, or the ability of the Sentiment Leaders Index to track general market performance."
Meanwhile, in the ETF's prospectus and within BUZZ Indexes' index methodology there's a mouthful of a disclaimer (capital letters not mine, but the bolding is):
BUZZ INDEXES DOES NOT GUARANTEE THE ADEQUACY, ACCURACY, TIMELINESS AND/OR THE COMPLETENESS OF THE SENTIMENT LEADERS INDEX OR ANY DATA RELATED THERETO OR ANY COMMUNICATION WITH RESPECT THERETO, INCLUDING BUT NOT LIMITED TO, ORAL OR WRITTEN COMMUNICATION (INCLUDING ELECTRONIC COMMUNICATIONS). BUZZ INDEXES SHALL NOT BE SUBJECT TO ANY DAMAGES OR LIABILITY FOR ANY ERRORS, OMISSIONS, OR DELAYS THEREIN. BUZZ INDEXES MAKES NO EXPRESS OR IMPLIED WARRANTIES, AND EXPRESSLY DISCLAIMS ALL WARRANTIES, OF MERCHANTABILITY OR FITNESS FOR A PARTICULAR PURPOSE OR USE OR AS TO RESULTS TO BE OBTAINED BY VAN ECK ASSOCIATES CORPORATION, OWNERS OF THE VANECK VECTORS SOCIAL SENTIMENT ETF, OR ANY OTHER PERSON OR ENTITY FROM THE USE OF THE SENTIMENT LEADERS INDEX OR WITH RESPECT TO ANY DATA RELATED THERETO. WITHOUT LIMITING ANY OF THE FOREGOING, IN NO EVENT WHATSOEVER SHALL BUZZ INDEXES BE LIABLE FOR ANY INDIRECT, SPECIAL, INCIDENTAL, PUNITIVE, OR CONSEQUENTIAL DAMAGES INCLUDING BUT NOT LIMITED TO, LOSS OF PROFITS, TRADING LOSSES, LOST TIME OR GOODWILL, EVEN IF THEY HAVE BEEN ADVISED OF THE POSSIBILITY OF SUCH DAMAGES, WHETHER IN CONTRACT, TORT, STRICT LIABILITY, OR OTHERWISE. THERE ARE NO THIRD PARTY BENEFICIARIES OF ANY AGREEMENTS OR ARRANGEMENTS BETWEEN BUZZ INDEXES AND VAN ECK ASSOCIATES CORPORATION, OTHER THAN THE LICENSORS OF BUZZ INDEXES
All the sentences are important and eye-popping in their own way, but it's that first sentence, I think, that will prove key, as it's their argument for why Portnoy should be allowed to make exaggerative and potentially misleading statements in this video, such as "In twenty years, I haven't lost"—BUZZ Indexes can't and won't guarantee that Portnoy isn't just talking out of his butt.
Will the disclaimer be enough, in the eyes of regulators? Will they allow Portnoy, as he has done in subsequent videos, to make sweeping predictions of fund performance in nearly the same breath as he says "Don't trust anything I say?" Is "I am not a financial advisor. Don't trust anything I say about stocks," as Portnoy's Twitter profile reads, a blanket statement that protects him from legal consequences on anything he might say?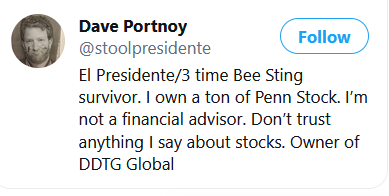 Source: Dave Portnoy's Twitter
I don't know. My sense is that regulators tend to take a dim view of even the perception of exaggerative or misleading claims… but only the SEC can say for sure.
Regulation of Indexers Coming?

But I do think the SEC will address this—and soon. Anecdotally, the SEC has already taken note of this indexer loophole, and I've heard from some folks that the agency is asking questions on how ETFs using third-party indexes have managed to raise assets, without any FINRA-registered salespeople involved. "The SEC wants to make an example of somebody," one insider told me. So perhaps the fact that Portnoy's video was so over-the-top and so envelope pushing might impel the SEC to find its example in BUZZ.
What happens if the SEC does decide to crack down on the indexer loophole? One possibility is that the SEC issues interpretive guidance that expands the definition of who qualifies as an "investment advisor" to include index providers. But that would be a tricky endeavor, as it would take precision to ensure that any new definition wouldn't be so broad as to rope in, say, market commentaries as well.
Frankly, I don't know where this ends up. But I do think it's heading somewhere, and fast. And when it does, with apologies to Portnoy, it's going to be "f***ing huge."
Lara Crigger is the Editor-In-Chief of ETF Action. Contact her at lara@etfaction.com.
Want to get this story and stories like it delivered right to your inbox?
Sign up to receive The Morning Focus newsletter.