ETF All-Stars
2.25.2021
Top 10 Space Stocks:
Space Stocks Take Off On New ETF Filing
It's not common for a single ETF filing moves a market—but then again, nothing about ARK Funds is common.
On January 13, the issuer behind the $26.6 billion ARK Innovation ETF (ARKK) and the $12.0 billion ARK Genomic Revolution ETF (ARKG) registered to launch its next fund: the ARK Space Exploration ETF (ARKX).
This actively managed ETF will track everything from air taxis to 3D printers, from satellite makers to drone-assisted agriculture. It'll even incorporate an ESG process (though not via any particular exclusionary screens).
The fund won't launch for a while yet. But In the weeks since ARKX's filing, share prices for the purest-play space stocks have shot up. Year-to-date, broadband satellite makers ViaSat (VSAT), Loral Space & Communications Inc (LORL), and Gilat Satellite Networks (GILT) have risen 64%, 105%, and 135%, respectively; while commercial spaceflight company Virgin Galactic (SPCE) is up 86%.
Not surprisingly, flows into the two existing space exploration ETFs have also skyrocketed—particularly for the Procure Space ETF (UFO), which has taken in $88 million in new net investment assets since the announcement. The fund now has $143 million in assets under management:


Source: ETF Action
How We Did It: In the ETF Data Explorer, type the desired ticker, then select "Period Flows" from the drop down menu. Click on the dates in the upper right corner to set a custom time frame.
Like many folks, I'm curious which stocks will be included in ARKX's starting portfolio. ARK has a knack for picking thoughtful, yet out-of-the-box disruptors, then holding fast to their convictions even as the naysayers begin to crowd around. The ETF All-Stars® Space Select Top 10 List may offer some context clues.
Under The Hood Of The Two Space ETFs
Within the ETF Action Classification System, we count two ETFs in "Space" Group: The Procure Space ETF (UFO) and the SPDR S&P Kensho Final Frontiers ETF (ROKT).
Now, normally we only construct ETF All-Stars® Select Top 10 Lists when there's at least three ETFs in the segment. But between the ARK's space filing and Perseverance's successful landing on Mars last week, we decided to make an exception, just this once.
That said, I can't and won't argue the overlap between these two ETFs represents a consensus view. With such a small sample set, it's impossible to make that claim.
Especially since these two ETFs are very, very different. In fact, UFO and ROKT represent two different ways to classify and organize the emerging space industry. Are "space stocks" the companies building out orbital infrastructure that makes life on Earth easier? Or are "space stocks" engaged in the exploration and mapping of unknown frontiers?
UFO falls into the first camp. Of the two space ETFs, I'd argue that UFO is the purer play: 80% of its portfolio is explicitly devoted to "space-related businesses" whose products and services essentially depend upon "space-based functions," such as satellite manufacturer or space-based imaging.
Meanwhile, ROKT holds companies that develop exploration technologies, both for deep space and deep sea—i.e., robots, satellites, and unmanned/manned drones to be used underwater, in space, or anywhere in between.
As a result, UFO and ROKT's portfolios are fairly distinct, with only 17% by weight, or 10 names, held in common. Those ten stocks happen to be our ETF All-Stars® Space Select Top 10 List, ranked below in order of prevalence (which, as a reminder, measures both frequency of appearance and the total market value held):

Source: ETF Action

Defense Contractors As Space Stocks
Of the top ten most prevalent stocks, only two of them I'd consider truly pure play "space" stocks, in that their business models depend essentially upon the commercialization of space technologies.
Those two companies are Virgin Galactic (SPCE), which makes commercial launch vehicles; and Maxar Technologies (MAXR), which provides satellite and space imaging systems. Together, UFO and ROKT hold $9.9 million and $9.0 million in market value of these two stocks, respectively.
The rest of the ETF All-Stars® are U.S. defense contractors specializing in aerospace, drones, and satellites: Raytheon (RTX), Lockheed Martin (LMT), L3Harris (LHX), and Northrop Grumman (NOC), and Aerojet Rocketdyne (AJRD). I'll even lump Boeing (BA) in there too; although they make commercial airplanes, the company also makes a significant amount of revenue from the production of manned and unmanned military aircraft.
Also making an appearance in both ETFs are industrials conglomerate Honeywell (HON) and packaging Ball Corporation (BLL), both of which, again, have hefty defense subcontracting business lines.
These defense contractors haven't seen their share prices zoom upwards due to ARK's ETF filing in the same way Virgin Galactic and Maxar Technologies have. Quite the opposite: Most of the stocks in our ETF All-Stars® Space Select Top 10 List are down year-to-date.

Source: ETF Action
How We Did It: Load the ETF All-Stars® Space Select Top 10 List into the Model Tracker, then click "Portfolio Visualizer" in the upper right corner. Select "Performance > YTD" from the drop down menu above the heatmap.
ROKT Has More Weight In Defense Than UFO
But the fact that our ETF All-Stars® Space Select Top 10 List has so many defense contractors on it is probably something of an artifact. It's largely because ROKT, which isn't technically pure space play (it's deep space and deep sea) tracks, makers of drones and unmanned vehicles—an industry driven largely by aerospace and defense contractors. That distinction means that aerospace and defense companies account for 69% of ROKT's portfolio, whereas they're only 25% of UFO's: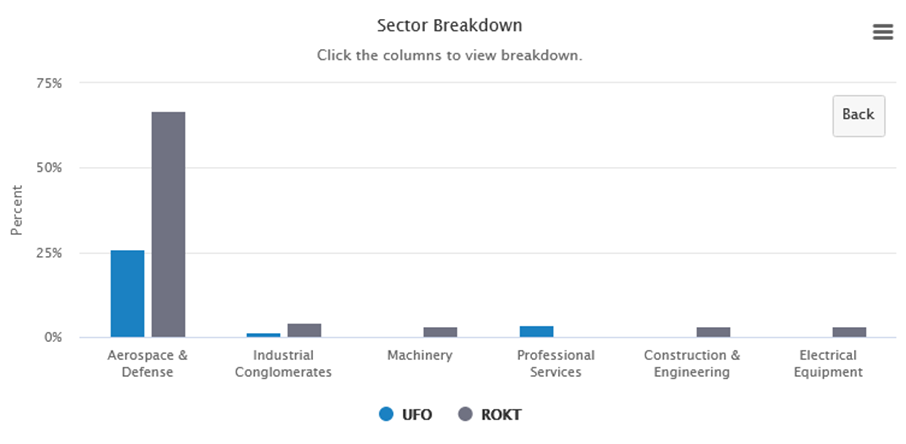 Source: ETF Action
How We Did It: Type two tickers into the ETF Terminal, click "Compare". Then navigate to the "Composition" tab for sector breakdowns.


How ARKX defines "space stock" could really move the needle here. According to the prospectus, ARKX will track four main space subcategories, delineated by the physical region in which the products and services are used.
·

Orbital Aerospace Companies launch, make, service, or operate satellites and spacecraft in actual orbital space (which starts 62 miles up, at a boundary known as the Karman Line).
·

Suborbital Aerospace Companies make aviation craft between the Karman Line and the ground, like drones, air taxis, or electric aircraft.
·

Enabling Technologies Companies are ground-based tech support, including firms developing artificial intelligence, robotics, 3D printing, and energy storage
·

Aerospace Beneficiary Companies are ground-based stocks poised to benefit from aerospace development, including GPS, broadband internet firms, construction, imaging, and agriculture.
On the surface, it sure sounds like ARKX leans towards UFO's approach, classifying space stocks as those companies building and using space technology to impact and improve life here on Earth, though the "aerospace beneficiary companies" bucket may end up pushing the fund's portfolio makeup somewhere between UFO and ROKT.
Still, I'd be willing to bet that the next time we run the ETF All-Stars® Space Select Top 10 List, we'll see fewer defense contractors and more satellite companies like ViaSat (VSAT), Loral Space & Communications Inc (LORL), and Gilat Satellite Networks (GILT), all of which appear in UFO but not ROKT. We'll just have to wait and see, once ARKX launches sometime in March or April.
Lara Crigger is the Editor-in-Chief of ETF Action. Contact her at lara@etfaction.com
Want to get this story and stories like it delivered right to your inbox?
Sign up to receive The Morning Focus newsletter.